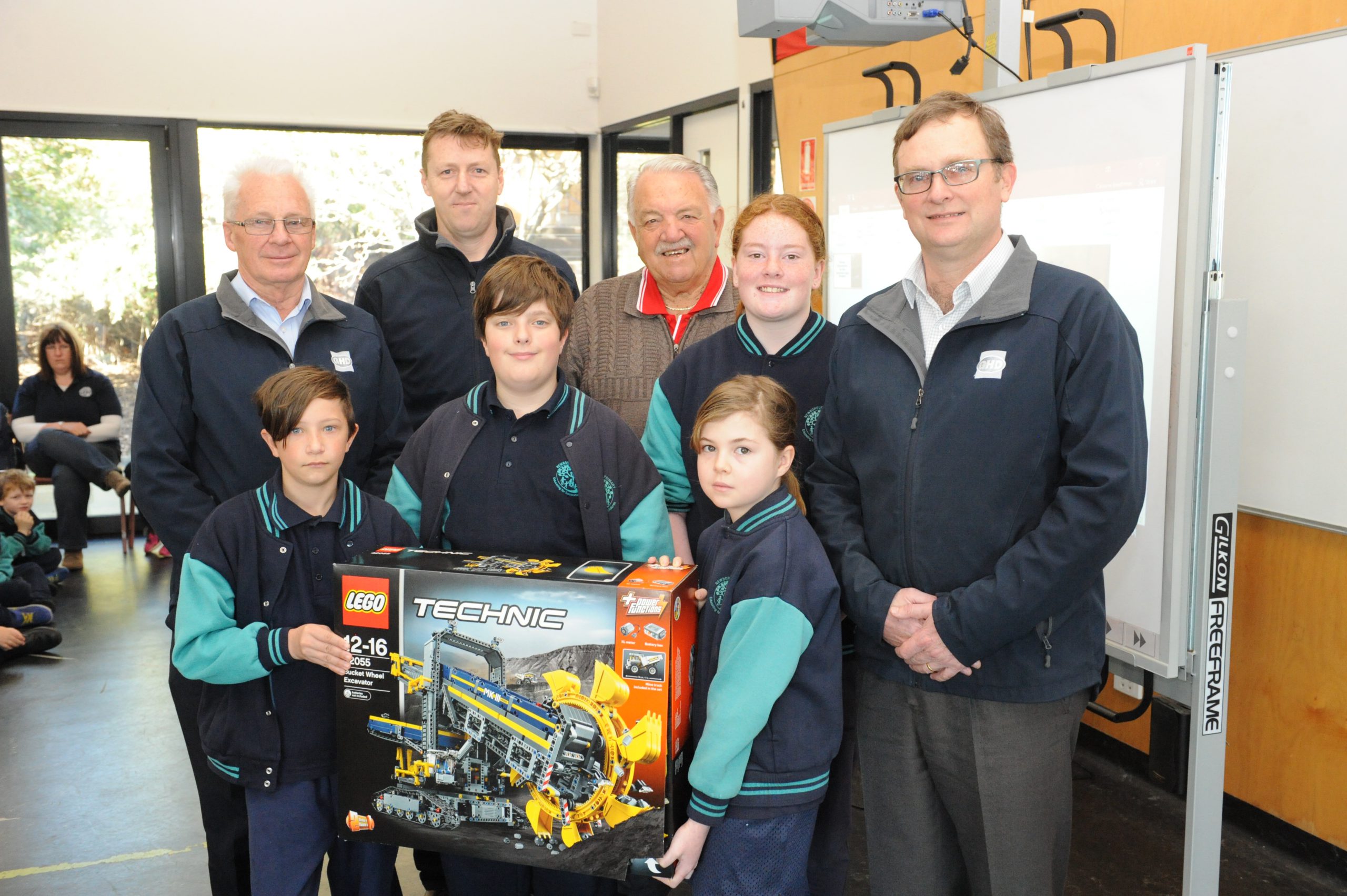 A challenge has been set for Newborough Primary School students to construct a model dredger in less than eight weeks.
The model Lego dredger was awarded to students at the school's assembly on Monday after it was announced the winner of a competition held during National Science Week by PowerWorks at Morwell.
PowerWorks chair Darrell White said each school that attended the energy education centre during National Science Week went into a draw to win the dredger.
"It's all about helping the students to inspire them in terms of their educational pursuits and encourage them to get a better understanding of the power industry and energy generation, and how it works," Mr White said.
"Power Works is very grateful for all the support we received from sponsors, particularly the Latrobe Valley Authority and those volunteers who gave their time to [occupy] the place during National Science Week."
Newborough Primary School principal Tim Delany said Power Works provided a hands-on opportunity for kids to engage with science and maths.
"We know that [students] are more engaged if they're hands-on with their learning, so by touching and doing, learning about scientific concepts gives them a really engaging experience," Mr Delany said.
The model dredger was provided through the support of GHD, a Traralgon-based engineering consultancy, specialising in engineering support to mines, power stations and general industry.
PowerWorks board member and GHD engineer Ian Newnham challenged the students to see if they could beat his colleagues, who only recently completed a model dredger themselves.
"We did it as a lunch-time exercise, [my colleagues] bought it out of their own funds and then the pieces were divided amongst the groups at work," Mr Newnham said.
"Then progressively the engineers assembled it over eight weeks during their lunch breaks… it's the largest packaged Lego model there is so it's a very complex model."
He said the dredger represented the Latrobe Valley's development in brown coal innovation and power generation.
"We started with a brown coal mine and the No.21 Dredger [at PowerWorks] was the first dredger in Morwell open cut. Now we have this association with engineering, science and technology so the dredger is a representation of our industry and our development in the Latrobe Valley," Mr Newnham said.
But the school's principal said if it took the GHD engineers eight weeks to complete, his school would set out to break the record "as a matter of urgency".
"We'll be aiming for seven-and-a-half weeks," Mr Delany chuckled.
"If we are going to provide real opportunities for kids in the future, these are the kind of partnerships that need to happen… GHD working with schools – fabulous, PowerWorks being there to support schools – fabulous. It gives the kids an opportunity to see what's ahead for them in the future."