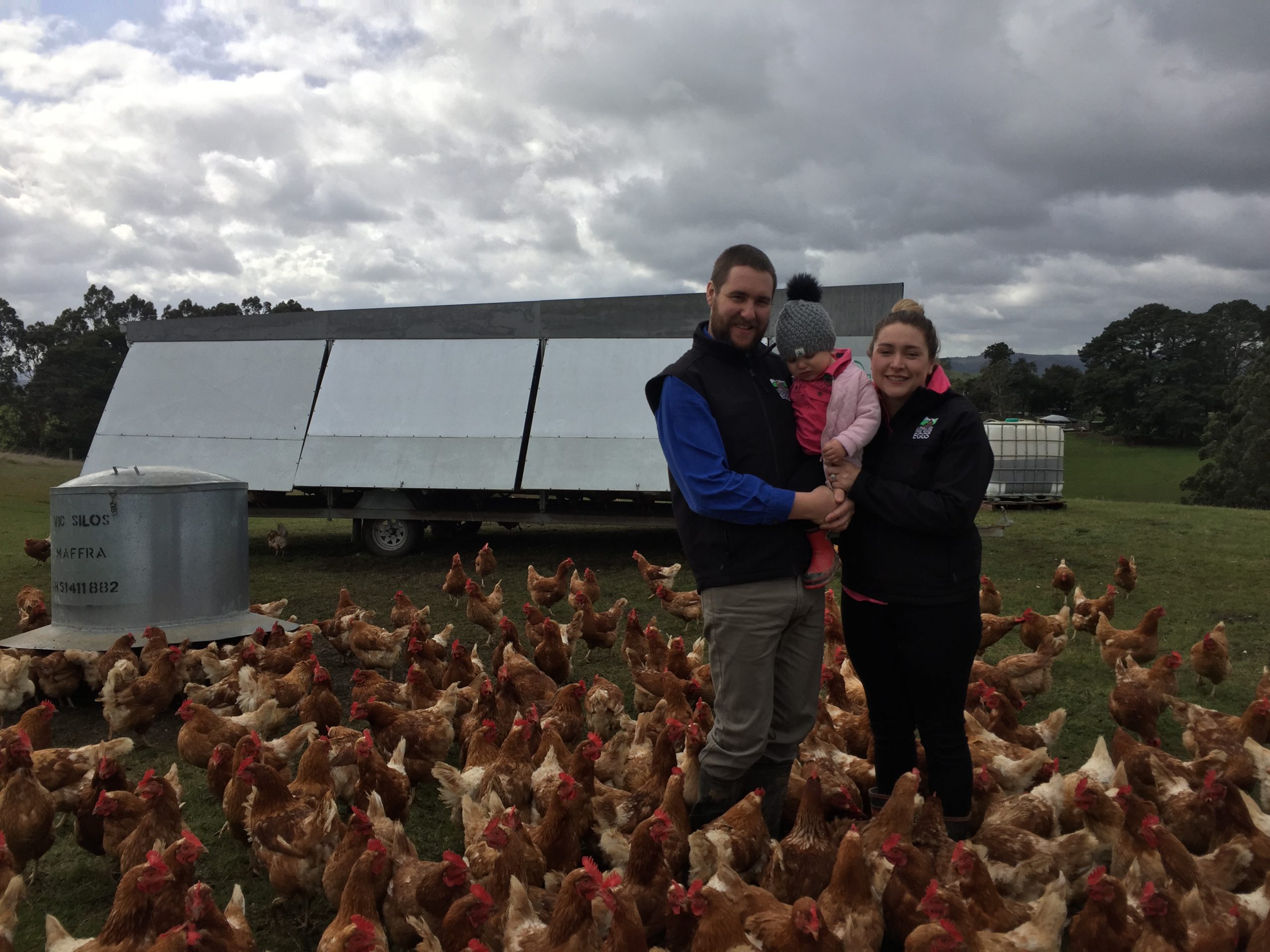 Perched on the rolling green hills surrounding Mirboo North, the 1200 chooks of Gippsland Free Range Eggs have quite a view.

New owners of the pastured free-range egg business Ashlee and Richard Clark took over the popular operation in April .

Gippsland Free Range Eggs frequents local farmers markets and supplies eggs to various retail outlets, restaurants and cafes within a 50km radius.

"We've been fortunate that the people we have purchased the business off did a lot of groundwork in educating people about the product," Ms Clark said.

"They've established their own way of farming, but because they have trialled and tested a lot of things they know what works and what doesn't work and they've been able to pass it on to us."
Mr Clark said there was a difference between a typical free-range farm set up and the pasture method they utilise to generate eggs.
"A free range system is about the room where the birds have to move, but not necessarily to do with the ground that they're on or the condition of that ground," he said.
"And then you look at what we do with pastured free-range, which is moving the birds consistently. Whereas a typical free-range set up would just have a run for them, or an enclosure they can access but might be a full dirt floor."
Mr Clark said a major value add to the property was fertilizer from the chooks as they are strategically manoeuvred around the pasture, which was further complemented by a beef operation.
"We manoeuvre [the heifers] through, they'll chew the grass to a suitable level. They'll also spread their manure around and then the chooks get in and scratch and dig and actually spread everything nice and flat and get their manure everywhere," he said.
"Once they've done their part, the birds will chew the grass to a relatively short level. Then we'll give the pasture bit of time of rest and it comes back thriving.
"It's very much a manure-based operation we're running out here."
Mr Clark said there was a place for every different style of egg farming.
"We look at the 1,200 birds that we have on board and it is flat out full time, he said.
"To get our bit over a thousand eggs a day back from those birds, that's a lot of work.
"There is no way we'd be able to supply enough for a whole region, so there has got to be room for those more intensive operations, just for the demand of the product."
Mr Clark said they purchased the business because they saw potential in it.
"Potential for expansion is absolutely there. We just need to get through the first 12 months first," he said.