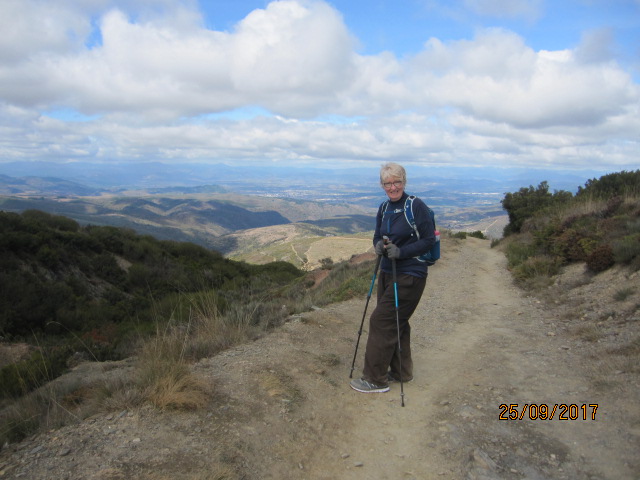 Eight-hundred kilometres is a fair ask for the average young person to walk, let alone someone who is getting along in their years.
However, 67-year-old Callignee South resident Margot Thimm recently walked about that distance on the Camino de Santiago pilgrimage from St Jean Pied de Port in south-western France to the town of Santiago de Compostela in the Spanish province of Galicia, believed to be the resting place of St James the Apostle.

While the trail has been used as a religious pilgrimage since medieval times, Ms Thimm said she didn't do the trek for religious reasons.

"I've always been interested in doing it," she said.
"I thought, 'It is now or never'.
"I enjoy walking, I wanted a challenge and I wanted to see if I could achieve that challenge."
Ms Thimm did the trek with a group of similar-aged women she met before a travel organisation and said she enjoyed the companionship of the group and other Camino pilgrims.
"It's a close-knit style community on the Camino," she said.
"You meet a lot of people.
"It's a great way to travel because you're walking in local areas, towns of about 50, 100, 2000 people, very smallish towns, and you're experiencing the local culture and meeting the local people."
Ms Thimm said there were many ways to do the walk, but her group walked a bit under 25 kilometres a day and slept in small hotels and homestays in the towns along the way.
"We started in the French alps. The first day was quite difficult and the scenery is mostly vineyards, olive trees and hills and mountains, stunning scenery," she said.
"As you progress along you go into what they call the Nevarra region, wheat fields, flat and straight. Then you come across to Galicia, which is more dairying [and the] fish industry.
"You're walking through people's farms most of the time. Cows are going one way and you're going the other."
Ms Thimm said she got a few blisters at the start but learned how to look after herself along the way.
"I'm just pleased I've done it. It's a joy of achievement when you have something in life that you want to do and then you go out and do it," she said.
"You're abandoning the comfort and security of everyday life, but you take joy in the fact that you cope and you achieve and you enjoy it and you say, 'Yeah, I'm doing it and I'm out there'."
At the completion of the walk, Ms Thimm received a certificate recognising her achievement and attended a special pilgrim mass at which the Botafumeiro, a giant incense burner, is swung around the cathedral, reaching speeds of almost 70km/h.
Ms Thimm said she hoped to inspire other people to do the walk, or at least inspire people to try things that may challenge them.
"It's a shame more people don't have the time or thought to do it," she said.
"It's a good thing to do."