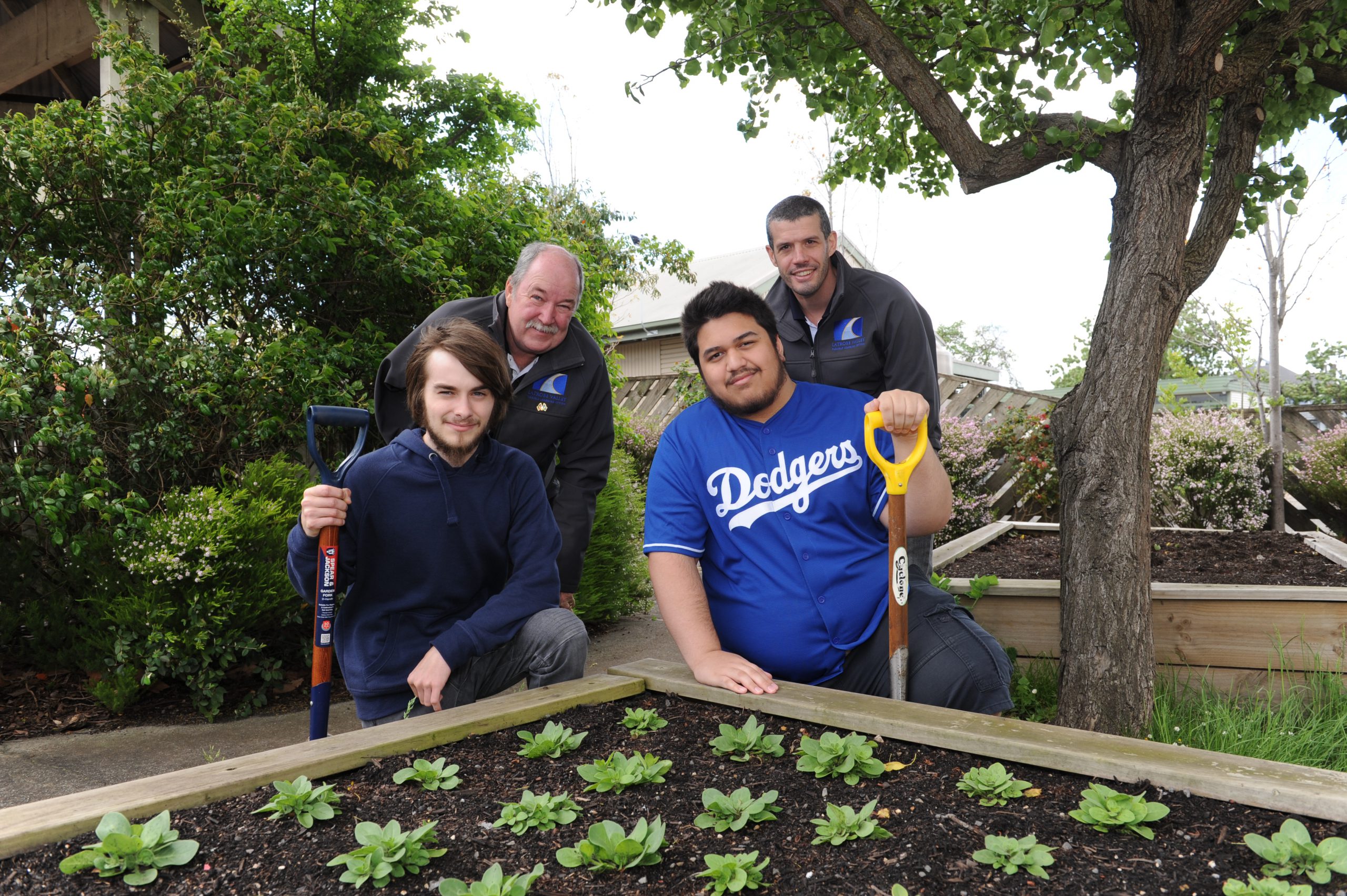 A community garden aimed to inspire and teach students life skills outside of the classroom in Morwell will be launched later this month.
It comes as the Latrobe Valley Flexible Learning Option [LV FLO] campus on Commercial Road has issued an appeal for volunteers and resources as the school plans to erect between 20 and 40 raised garden beds.
The garden will be used to grow fruit and vegetables and teach students responsibility while developing relationships with the broader community.
Program coordinator Paul Fawcett said the Green Valley Gardens project would help students improve their literacy and numeracy and learn skills like cooking and preparing meals.
"Linking in with the curriculum is something we are looking into as we speak, I've got some horticulturalists on board who are going to come and advise us how we can best incorporate this into our learning," Mr Fawcett said.
"We will be having some espalier fruit trees up against the chapel and we'll have some chook sheds in the garden. We hope to get some aquaponics in there too so we can do some work with carp or trout and grow our own fruits and vegetables in that respect."
LV FLO student Jonah Chittem said he "was looking forward to everyone coming together and excited to see everything come alive".
Student Liam Hammer said he was "looking forward to seeing the garden's progress … I haven't had a chance to do something like this before so it's going to teach us new skills we'll use later in life."
The school, which has about 130 students, will later this month hold an on-site information session and barbecue to gauge the project's community interest.
"We understand there might be lots of people who might like to get involved but may not do so because of the worry about getting a Working With Children's Check but we will assist on doing that on the day," Mr Fawcett.
"Anyone who can donate an hour or 10 hours … there's no prescribed amount of time but if there's people in the community who think they have anything to add whether it's time, resources or expertise, you will be welcomed with opening arms."
LV FLO acting principal Wayne Bass said the garden was receiving assistance from Kurnai College Morwell's 'Hands On Learning' project led by Michael Stubbs who has been assisting with the development of the garden.
"Our vision is to see it sewn, grown, harvest and over to our Learning Life Centre where the kids will use that food to learn how to cook, prepare meals, serve and cater for," Mr Bass said.
"Instead of the kids going down and buying groceries, we're going to teach them and give them an understanding where this food comes from and how much work goes in to growing it.
"We're also doing a Koori cultural garden … we've got some people on side who know the background of the Koori culture, so we're going to look at how we can implement that into this garden as well."
Latrobe Valley Flexible Learning Option will hold a community information session and barbecue for interested people on Tuesday, 31 October from 12-1pm.
For more information, visit the school at the corner of Commercial Road and Chapel Street, Morwell, email lvflogreenvalleygarden@gmail.com or phone 5165 0670.