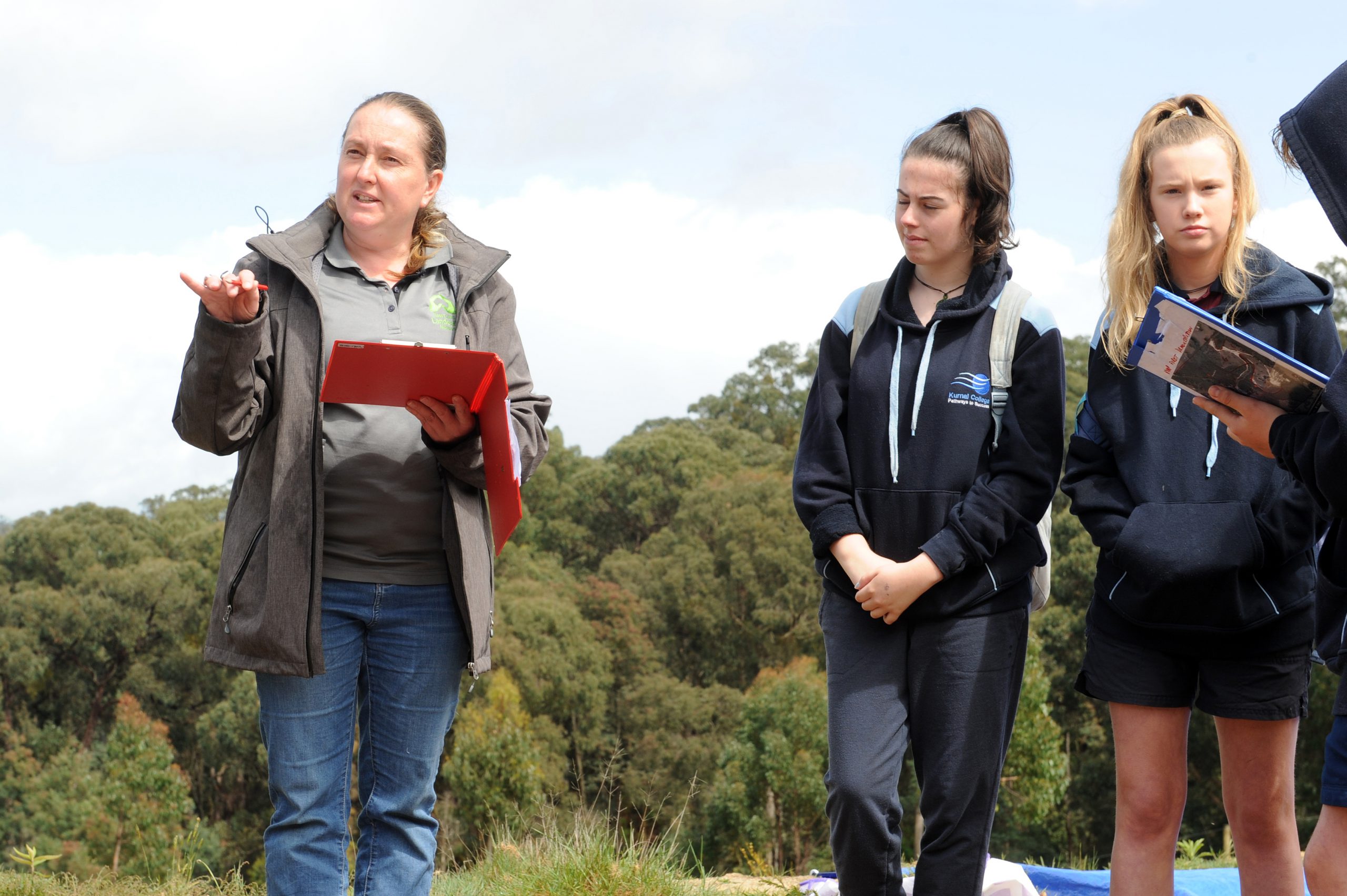 Students from Kurnai College and St Paul's Anglican Grammar School took part in a pilot sustainable farm management program on Tuesday which aims to incorporate science, technology, engineering and maths skills into practical learning situations.
The Managing Sustainable Farms with STEM secondary program is facilitated by Bass Coast Landcare with AGL Loy Yang providing $25,000 funding.
Bass Coast Landcare education officer Peter Baird said the day-and-a-half program would be offered to nine schools in the region.
"[The program] uses agriculture and specific farms as examples for students to come out and learn the practical application of STEM subjects in the management of an agricultural enterprise," he said.
"Agriculture touches on all areas of science, really. You've got physics, chemistry; you've got geology, biology and all those sorts of things."
"The land has to be surveyed, you've got to do soil testing, you've got to manage the quality of the water, you've got to decide what to do with your land and why you're going to do that with your land and you've got machinery to maintain and understand.
"You're always using, one way or another, science and maths and interacting with the enterprise."
Mr Baird said students participating in the first pilot program at Budgeree had performed a number of real-world applications of STEM subjects.
"They're doing a habitat assessment. They're going into the remnant bush and the agro-forestry plot and going through the assessment process. They're going to do a chemical water testing activity in this damn here," he said.
"And then Peter [Devonshire, the landowner] is going to take them down the hill and talk about his enterprise. He is growing goats which also keep his grass down, he is also growing trees commercially, and he's got some remnant bushland as well.
"We're hoping the pilot program works out and that we end up getting ongoing funding into the future."
AGL Loy Yang general manager Steve Rieniets said the partnership between AGL and Bass Coast Landcare Network would provide local students with valuable education on agribusiness.
"As the Latrobe Valley transitions away from coal it is important that we at AGL invest in ways we can help the region grow and diversify," he said.
"As the energy industry transforms over the next 20-30 years in this region, we need to provide diversity options for people. It's about getting at a grassroots [level] and providing those opportunities.
"[Secondary school] is really the time when people start to think about careers in those formative years, so it is really about making sure these young people can look at other types of diverse industries."