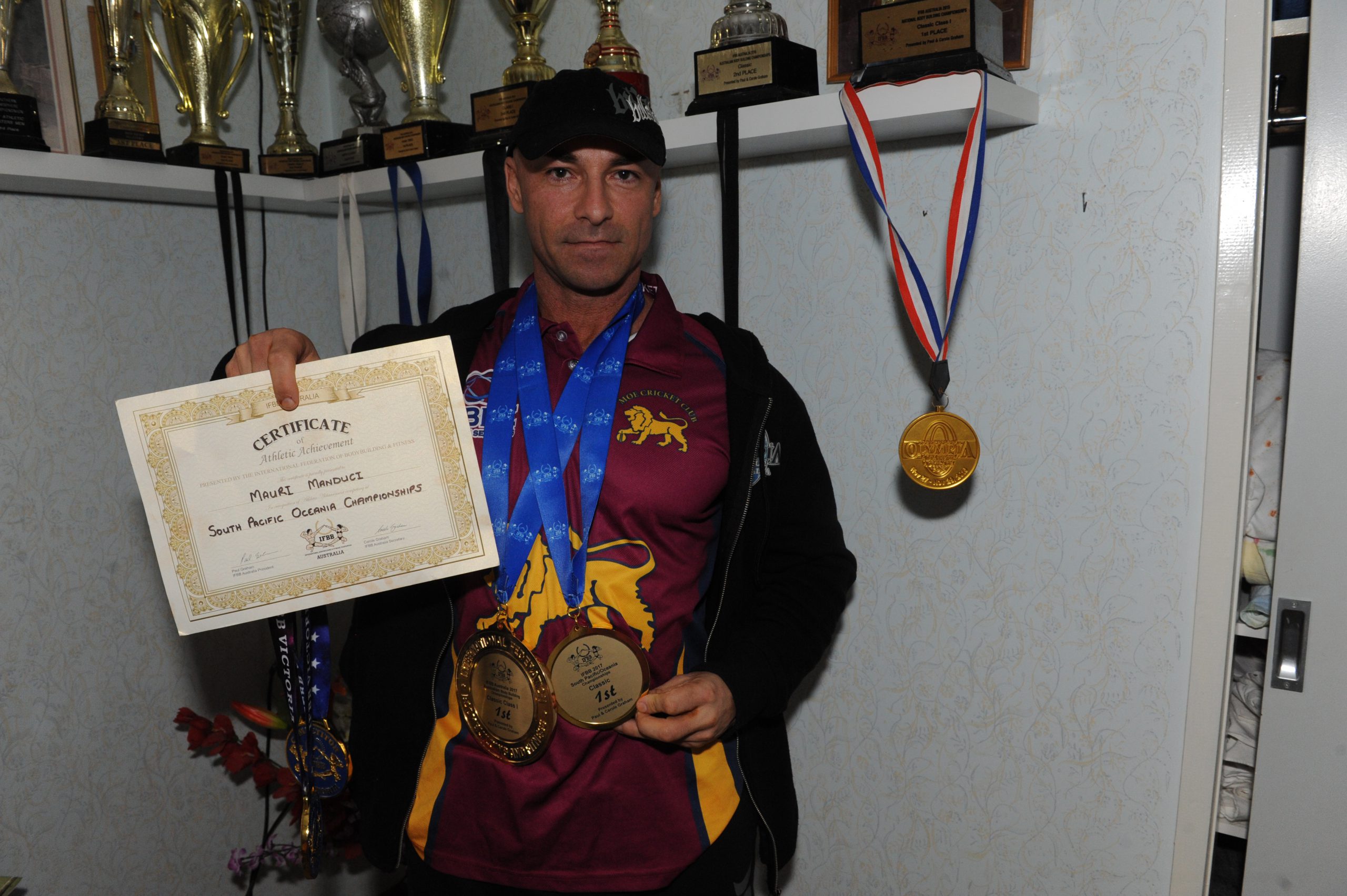 Moe resident Maurizio 'Spud' Manduci is nearing 50 and is in the best shape of his life.
The 48-year-old has enjoyed a stellar year on the body-building circuit and recently took out the International Federation of Body-Building Australian Championship and the IFBB South Pacific Oceania Championship double in Cronulla.
The titles place Manduci among the best body-builders in the country and add to an already phenomenal year of competition.
He competed at the Victorian and Queensland championships earlier in the year and narrowly missed out on clinching a pro qualifier title.
Most people Manduci's age choose to compete in the masters events for over 40s, but his achievements are made all the more remarkable given he beat out men half his age in the classic (open-age) class.
"I'm 48 and I'm competing against young guys all the time. They're all cocky but I just do my thing, get on there and that's it. I love it," Manduci said.
With 20 years of training under his belt Manduci has been in competition since 2012 and still dedicates the bulk of his time to his body-building pursuits.
In preparation for major events he implements a rigorous, no-nonsense approach to making sure his body is competition ready.
"It took four months to prepare for these [championships] … bed early, up early and that's it," Manduci said.
"I'll get up at six in the morning every day and do weights for an hour and then straight after that do 20 minutes of cardio, flat-out.
"Then I'll go home and have something to eat and rest and I might go for a walk after lunch and have another rest, then I'll do another hour on the bike, flat-out.
"Weights involves two body parts a day and I don't go light, I train heavy to keep my hardness up and it's hard yakka."
In terms of culinary discipline, Manduci exists on a high protein, no fat, no sugar diet in the lead-up to competition.
"I eat kangaroo and spinach twice a day and half a cup of oats with six egg whites in the morning and then three or four egg whites before bed," he said.
"I take about 15-20 vitamins and minerals a day, I don't touch sugar and I don't touch protein shakes because they don't work."
With competition over for the year Manduci is now turning towards less regimented sporting pursuits.
He padded up for Moe in the Central Gippsland Cricket Association at the weekend for the first time in 21 years and found it quite challenging.
"I played cricket for Moe for 10 years and my brother has been here forever," he said.
"I haven't bowled in over 25 years so I'm stuffed.
"I'll train less and enjoy the team sport now, I've seen guys I haven't seen for 20 years so it's great, I love it."
With no plans for rest any time soon, Manduci is looking forward to his body-building future.
"I just want to stay in shape as long as I can. I love competing, I don't know what drives me but I just love competing and I'll do it forever," he said.
"I can't wait until I turn 50 because that means I can do the over 50s … nobody likes to admit they want to turn 50 but I can't wait."