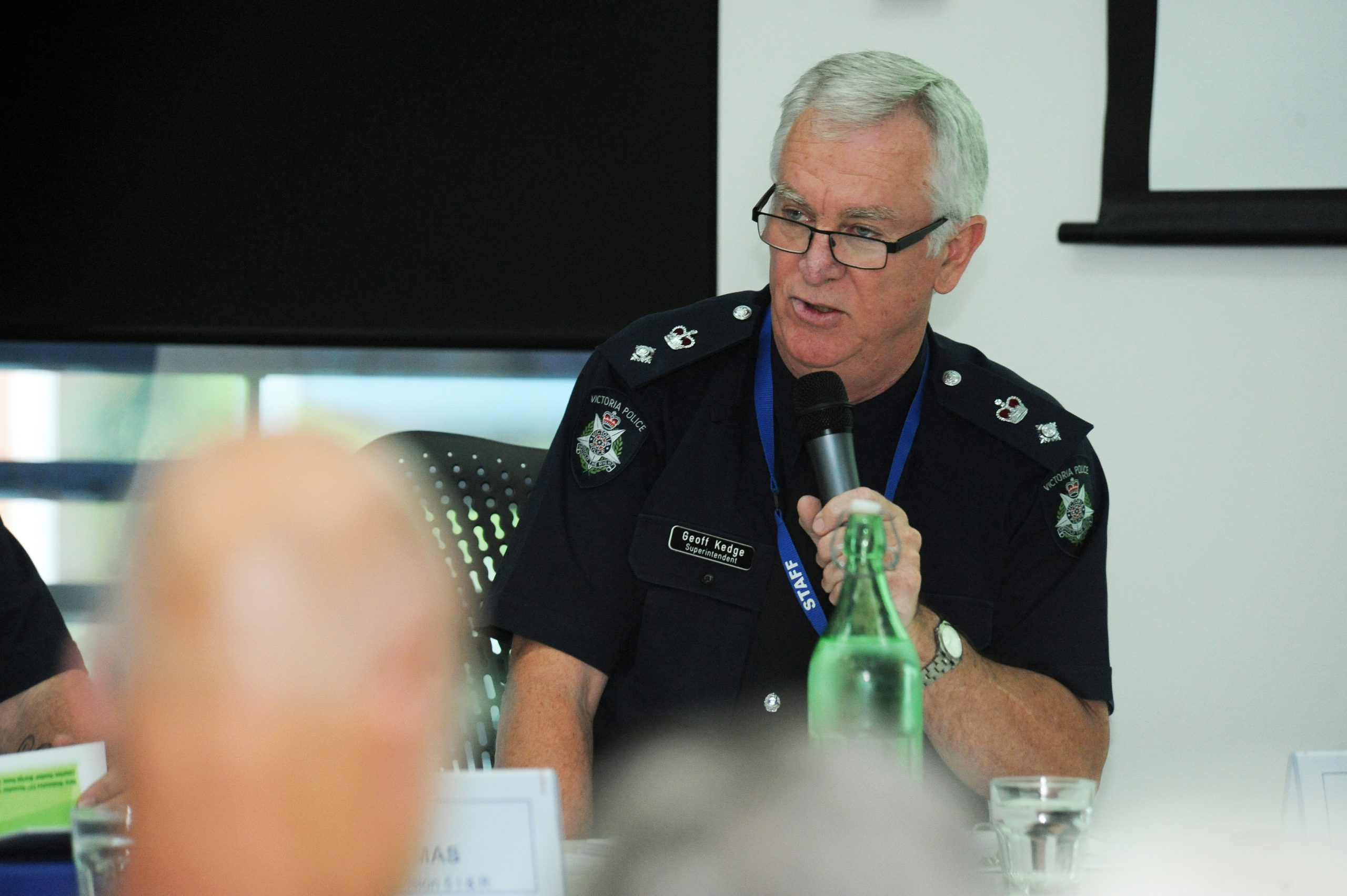 Family violence, illegal drugs, emergency management and hoon driving were top of the agenda at yesterday's Victoria Police CommSafe meeting at Morwell.

About 30 of Gippsland's highest-ranking police officers along with two of the force's assistant commissioners attended the safety forum at Latrobe City headquarters.
It was the first meeting of its kind in the division as local police were publicly quizzed on a range of community safety issue responses by the respective assistant commissioners and commanders in front of community members.
Eastern Region Division 5 Commander Superintendent Geoff Kedge welcomed the new initiative and said it would change the way police look at statistical evidence in the future.
"Victoria Police have always reported on this crime data but in the past we've done it internally," Superintendent Kedge said.
"We as a division nominated the topics that I thought would relate to the local community; vehicle crime, assault, family violence, etc.
"That was put up to the CommStat who in return asked questions about how we are addressing specific areas in front of those who were present."
Victoria's top traffic officer, Assistant Commissioner Doug Fryer, along with Latrobe-based Inspectors Rob Wallace and Dean Thomas were present during the discussion.
Work to combat non-family violence assaults, road trauma, re-offending and high-risk youth were also discussed during the two-hour session.
Superintendent Kedge acknowledged the Latrobe Valley was experiencing extreme rates of family violence and sex offences compared to the rest of the state.
"So that's the real focus of our management team to try and understand what the problem is, understand the drivers and have a clear strategy going forward to combat those problems," he said.
The potential for electricity interruptions was also raised by police during the emergency management section.
Police said they understood the region could experience power outages before the end of summer.
Assistant Commissioner for Eastern Region Rick Nugent said it was important for police to work closely with the health and human service sectors, along with other agencies, to ensure people are not placed at risk.
"What we understand now is that there may be some power outages this summer. Now with power outages they tend to occur on hot days and we end up with heat stroke and particularly vulnerable people can struggle," Assistant Commissioner Nugent said.
"A vulnerable resident register, do we have those? Are we having the right communication? Do people understand the potential risk? We need to ensure all agencies work together to understand the risk so it can be mitigated."
Similar forums have been held in Wangaratta and East Gippsland in the past year.
"Down here in Latrobe, you have significant road trauma, you have significant crime challenges and a high level of unemployment and that can all impact on community safety so it's essential we discuss it," he said.