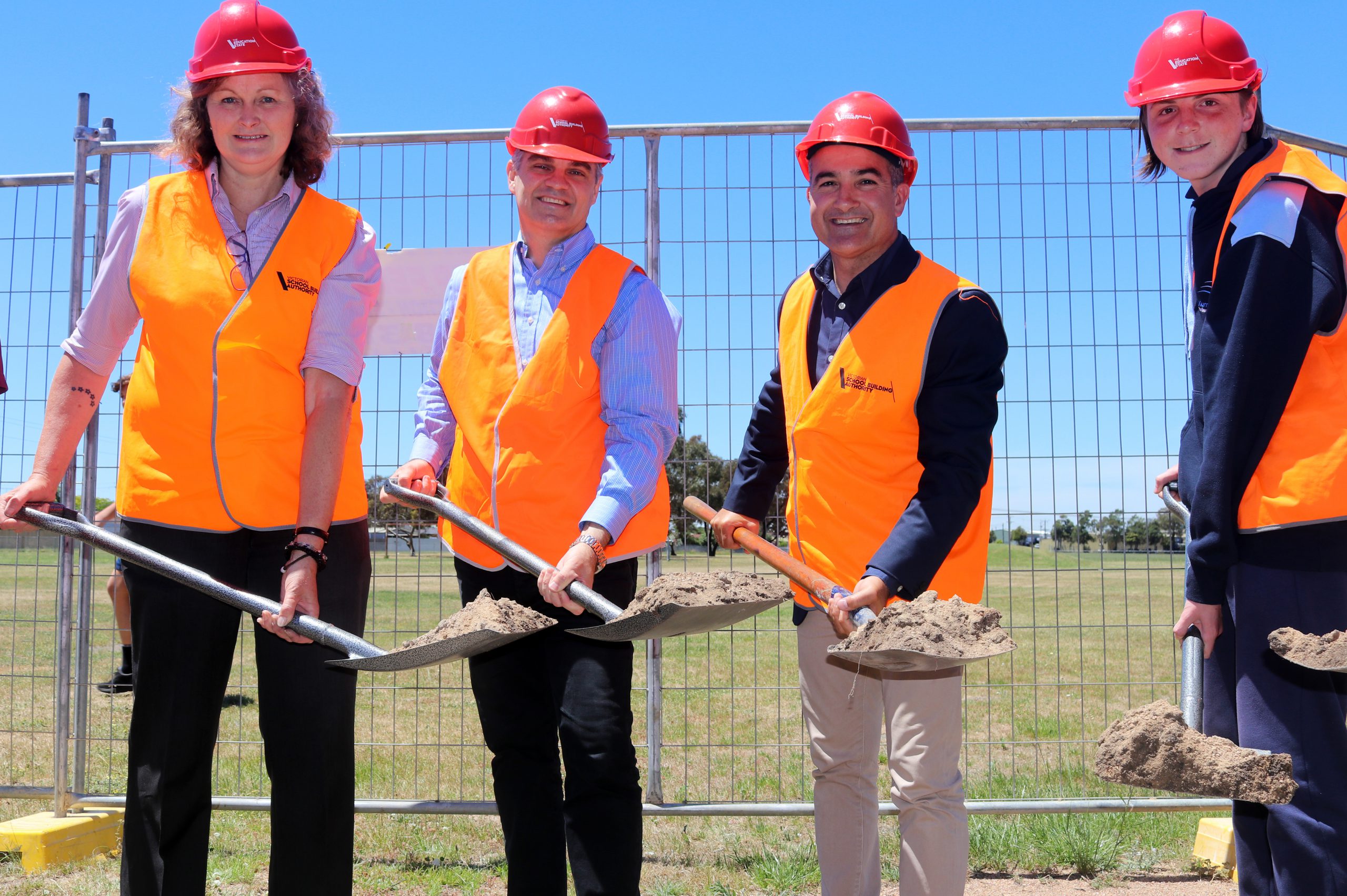 The shovels have hit the ground in a major building revamp at Kurnai College Morwell as part of a $10.1 million upgrade to replace old and outdated classrooms.

Education Minister James Merlino was at the school on Wednesday to turn the first sod of soil with the help of staff and students.
"This has been a high priority for the Andrews' Labor government," Mr Merlino said.
"It's been a long time coming for the hard work from school principals, school council, students and teachers engaging with the education department."
Mr Merlino said the funding was delivered over two state budgets, and phase one of the project should be ready by the end of next year.
"This sends an important message that, no matter where you live, and no matter what your background is, we are here to deliver class education, and we want to make this investment.
"We need to make investments right across regional Victoria. There is a big enrolment demand right across the state. We need to accommodate an additional 90,000 students over the next five years."
Kurnai College campus principal Michelle Reid-Metcalf said the campus buildings were riddled with age-related problems, including leaking ceilings, cramped teaching spaces and doors that don't shut.
"We are looking forward to working out of state-of-the-art buildings to deliver 21st century teaching skills to make sure our kids are employable into the future," she said.
Ms Reid-Metcalf said the school would get a new arts centre, library, science lab, staff rooms, and student learning centres.

She said the front administration block was also scheduled for a future rebuild.
The project was awarded to Gippsland builders Farnham Developments following a tender process.
Newly-endorsed ALP candidate for Morwell Mark Richards said he was pleased the tender went to a local outfit.
"The Latrobe Valley Authority has been active in encouraging locals to apply for tenders, and hopefully, more businesses will be involved to keep jobs local," he said.
Mr Richards said he was also a former pupil of Kurnai College.
"It's fantastic to see this local investment. Education is a key issue in terms of getting local jobs, starting from the ground up," he said.