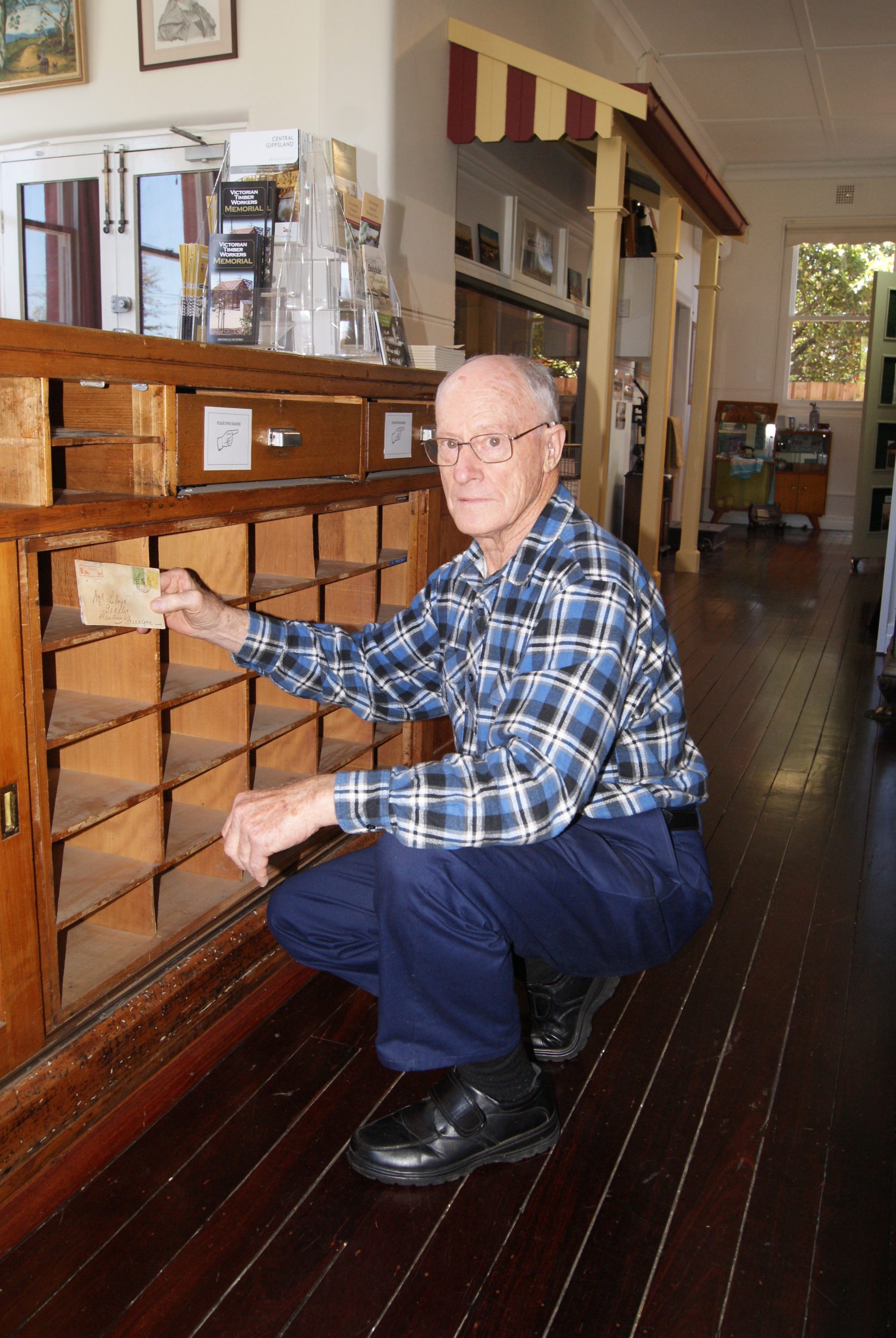 An 87-year-old unopened letter addressed to a Traralgon resident was found in the former Heyfield post office, now home to the Heyfield museum.

Heyfield and District Historical Society member Louise Hill-Coleman said another member, Ron Lancaster, made the discovery while taking some pigeon holes out of the old counter.

"He thought he spotted something down the back and managed to manoeuvre it out and it was the letter," she said.
"It was dated November 25, 1930.
"The letter had been stamped, franked, which means it has the official post office stamp, and it was registered, which means they had paid for it to be treated very specially."
Ms Hill-Coleman said the society had formed a theory that there was a small gap between the pigeon holes at the bottom of the desk.
"We believe it has been put in there accidentally, gotten stuck in there and stayed ever since."
Ms Hill-Coleman said the letter was addressed to a businessman in Traralgon.
"His name was H J Lloyd, he was in Franklin Street and was a saddler and harness maker," she said.
"I looked it up on Trove and apparently he also did celluloid windows, so not only was he a saddle-maker, he may have expanded out, as cars were coming in and he might have been losing business."
Miss Hill-Coleman said the society had done some research to see if any descendants of H J Lloyd were in the area, but hadn't found anything yet.
"We've researched, but haven't found any in the area, but that is not to say there aren't any out there."
The society will reveal the contents of the letter at a letter-opening ceremony.
"We don't know who the sender is," Ms Hill-Coleman said.
"Who knows, a descendent could still be here, we don't know.
"Plus, I don't know, but it could be the oldest, unclaimed or unsent letter in Australia, 87 years is a pretty long time."
The letter-opening ceremony will be held on November 26, at 12pm at the Heyfield Museum.
"Everyone is welcome to attend," she said.
Ms Coleman said anyone interested was welcome to contact her on 5148 2093.