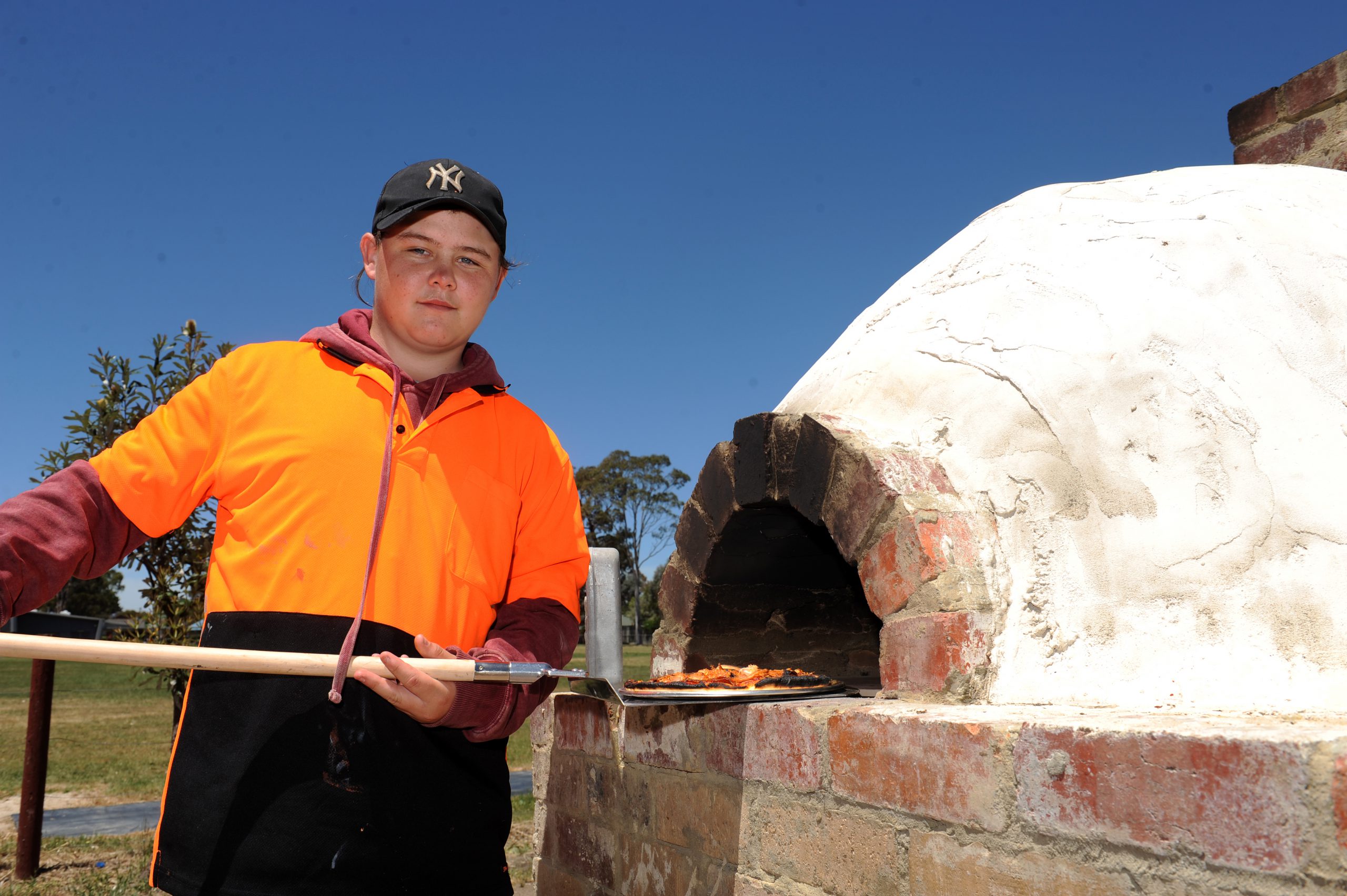 Students, teachers and parents gathered at the Traralgon College junior campus to celebrate the success of a program that engages disengaged students through practical, skills-based learning.

The Hands On Learning program, supported by Save the Children, has been operating at Traralgon College for nine years and celebrations were centred around a pizza oven made by the participants.
The event also celebrated and thanked Hands On Learning artisan teacher Sandy Williams who has worked with the program at Traralgon College for seven years.
Traralgon college campus principal Sue Coffey said students had built the Hands On Learning facilities themselves, including the shed and workshop area.
"[They've] made the pizza oven, obviously, the tables around the school, concreting and lots of gardening," she said.
Ms Coffey said students involved in the program generally found sitting in a classroom five days a week to be quite challenging.
"It gives them the opportunity to have a day in this program where they get to do something physically as well as the applied learning they have and developing their skills," she said.
"Some of these kids, there is on occasions where this is the only day they come to school, for Hands On Learning.
"It's about building that connection, that connection to school and keeping them engaged for longer so they can get to the senior school, rather than just be dropouts."
Assistant principal Richard Dungey said about 20 students participated in the program.
"It creates better ownership around the school because they built them themselves so they're not getting wrecked. The kids actually did it for themselves," he said.
Hands On Learning schools development manager Lisa Vagg congratulated Ms Williams for her seven years with the program.
"Sandy is a real doer who just gets in there, a quiet achiever. She doesn't blow her own trumpet," she said.
"[She] has been there in the wet and cold, some days it'd be pretty cold, some days it would be pretty hot, some days it could be fairly full-on.
"Ultimately she is here for the kids… and I think she is a legend."
Ms Vagg said Hands On Learning had been operating for 20 years and aimed to engage disengaged students and allow them to learn in a different way to make learning more relevant for them.
"Forty per cent of kids are disengaged at school, the Gratton Institute put those figures out… so we need to be constantly innovating in the way that we make learning more engaging and it is great to see Traralgon College's commitment for nine years to run something like this to make sure they are catering for the learning needs of all their students," she said.