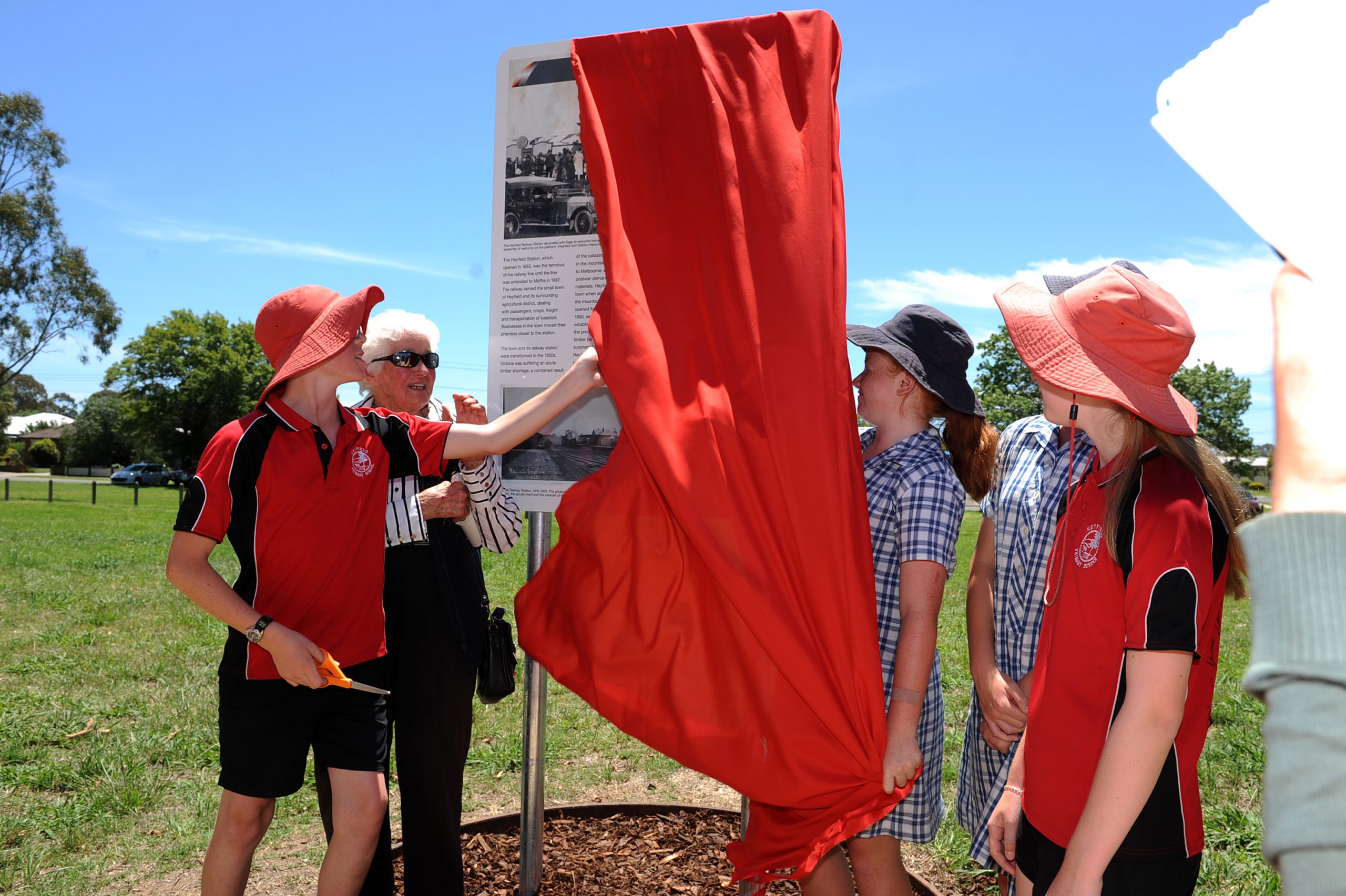 Cyclists will now be able to piece together the surviving remnants of trestle bridges and weighbridges of the Gippsland Plains Rail Trail into a comprehensive history of the old train line with the installation of new information panels with historical photographs.

About 100 schoolchildren gathered around as the rail trail's committee launched the signs at Heyfield's Apex Park on Wednesday, December 13.
Over the next couple of months the committee will place each panel at the original location of the past stations on the 67-kilometre track from Traralgon to Stratford.
Gippsland Plains Rail Trail Committee of Management chairperson Helen Hoppner spoke at last week's event of the tourism benefits of the project.
"We get 3000 people come in onto the trail every month. A lot of those people come on the train from Melbourne. They have no idea the history of what the railway has brought into our small communities," Ms Hoppner said.
"And quite often you'll get some riding through and saying, 'oh my grandfather used to work on this railway line'.
"In '83 all the lines were pulled up so a lot of the history went with it, so we're now trying to make people understand there was a real history of the railway lines through Gippsland."
Ms Hoppner said the only existing station along the line was at Glengarry, because by a lucky coincidence there was an art group using the building about 30 years ago.
The railway opened in 1883, closed about 100 years later, and the rail trail has followed a general route of the original line since 2005.
Local historian Meredith Fletcher, who was involved in writing the panels, said the railway's significance was tied to its ability to connect booming agriculture, mining and forestry trades to Melbourne.
"It's hard to imagine this … but in the 1880s Toongabbie was among the busiest stations in Gippsland. We all know the size of Toongabbie today," she said.
"The reason for that was it was closest to the famous gold town of Walhalla, so heavy machinery for the mines was unloaded from the trains in Toongabbie, and then it had to be hauled through those steep hills by bullock teams."
The stations were also meeting points in the community for celebration.
"As the Dawson photo shows us, a common sight at railway stations was newly married couples leaving by train for their honeymoons so crowds of well-wishers would come to the station," Ms Fletcher said.
"They'd cheer the young couple and say goodbye to them, and then as the couple gets onto the train, they'd shower them with rice.
"You can imagine there was a heck of a lot of rice that was left on the platforms."