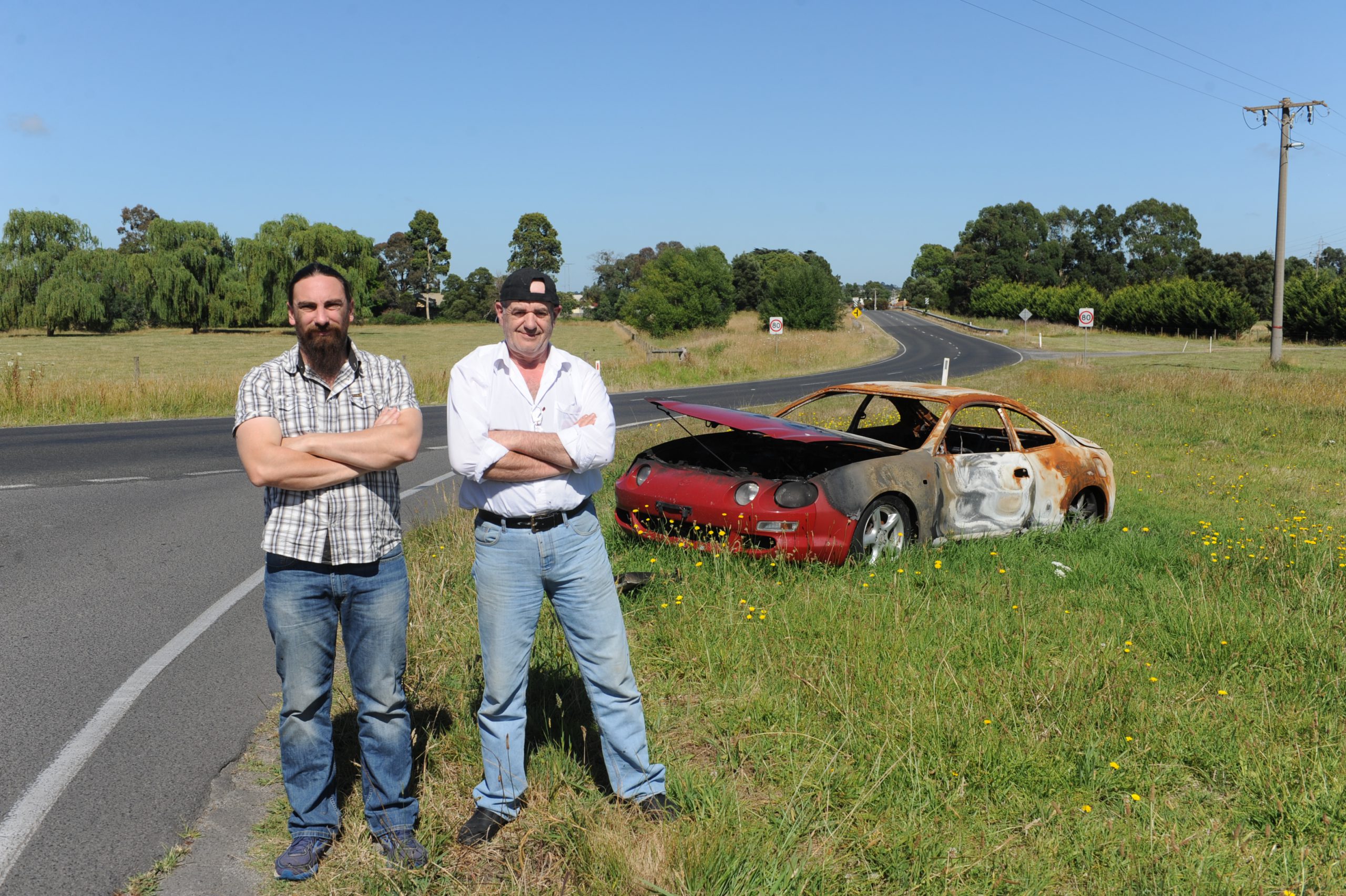 Yallourn North residents have voiced their frustration after an "increase in dumped cars" around the region has left the town's three main entrance points looking "disgraceful" and "unsafe" in recent months.
A red burnt-out Toyota hatchback sits on the corner of Becks Bridge and Old Sale roads in Moe – almost two months after the car was set alight – despite requests by community members to have the car towed.
Yallourn North Café owner Gani Ardolli, who opened his business about six months ago, said the increasing sight of dumped cars on the outskirts of the town was "devaluing the area" and "driving visitors away".
He described the lack of inaction as a "slap in the face" to the town's residents, and local traders like himself who were "investing in the town".
Local resident and community advocate Anthony Wasiukiewicz said there had been at least four cars dumped on roads leading into the town in recent months and left for extended periods of time.
"We've got community members who will go to great lengths to clean swathes of roads in Yallourn North. We have morning hikers who always pick up the rubbish," Mr Wasiukiewicz said.
"Yet this is the example Latrobe City Council and VicRoads are laying out for us, unfortunately."
Yallourn North Hotel owner Daniel Potts said dumped cars were "something the town has always unfortunately dealt with".
"We got 60-odd households who displayed Christmas lights on their houses throughout the town in December but unfortunately the dumped car on Becks Bridge Road was spoken about almost more than the lights themselves," Mr Potts said.
Latrobe City Council said "the vehicle was not located on a council-governed road" and it had asked VicRoads to remove the car back in November.
"Council was advised there was an investigation underway and therefore the car could not be removed until that investigation had been completed," Latrobe City Council acting chief executive Phil Stone said.
On Friday, police said the investigation into the burnt-out car, which was being treated as suspicious in November, was ongoing but the vehicle itself was no longer part of the current inquiry.
"People have being telling me 'it should be gone' and 'it shouldn't have been here this long' but ideally if it's a police matter, once the police have done their thing it should be towed to an impound yard," Mr Wasiukiewicz said.
"There's no way in the world it should stay here for months on end."
VicRoads eastern region alliance manager Michael Flegg said the organisation was responsible for the removal of vehicles abandoned on the side of roads but was unable to remove cars until it received the go ahead from police.
"We are following up with Victoria Police to confirm the car is not part of an ongoing investigation. Once this is confirmed, we will make arrangements to remove the car," Mr Flegg said.
Reports of dumped cars can be made to Latrobe City Council by phoning 1300 367 700, at www.latrobe.vic.gov.au/reportanissue or by using the 'SnapSendSolve' mobile device app.