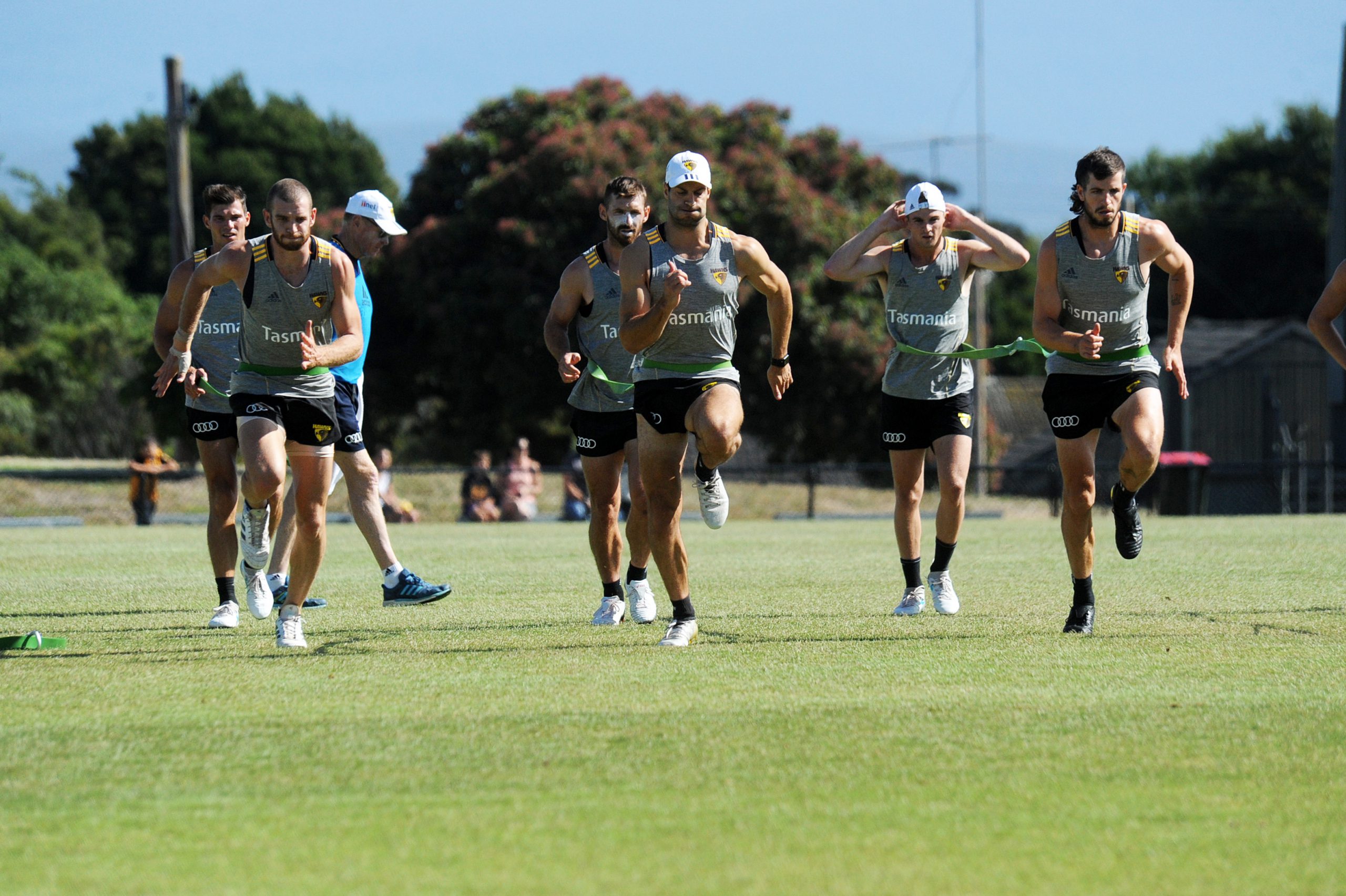 More than 500 die-hard Hawks fans flocked to Ted Summerton Reserve in Moe yesterday to get a glimpse of the boys in brown and gold at an open preseason training session.
The Hawthorn faithful were treated to a sneak peak of the 2018 squad with new recruit and Morwell's own Changkuoth Jiath clapped onto the track.
But the biggest cheer of the day was reserved for captain Jarryd Roughead, who returned the love with a round of applause for spectators.
Gun forward Luke Breust spoke at the open training session and was chuffed with the turnout of loyal fans.
"It's great to have so many numbers out here in Moe, it's a great day so we're really looking forward to training," Breust said.
The 27-year-old admitted that while Hawthorn's 2017 was "disappointing", there was plenty to look forward to in 2018.
"It was disappointing to miss finals, but the good thing about last year was that we got a lot of games into the young guys," Breust said.
"We're looking forward [to] 2018 and for those young guys to continue to improve and come on and we'll see what happens."
An injury-riddled list didn't help Hawthorn's plight in 2017, with big names Cyril Rioli, Grant Birchall, Ben Stratton and James Frawley missing for most of the season.
After the exits of leaders Sam Mitchell and Jordan Lewis at the end of 2016 and the retirement of Josh Gibson halfway through 2017, Breust put the hard word on the playing group to step up ahead of season 2018.
"We've still got a good core of leaders with Roughead leading the way, but we've got a number of guys whose responsibility it is to step up and fill that void," he said.
"Ben McEvoy, Taylor Duryea and guys like Jaeger O'Meara and Tom Mitchell really need to step up.
"But this is probably the closest the group has been for a number of years I think, and I think we're in a great spot."
Hawthorn launched its new vision, 2050, at last month's annual general meeting, which aims to take the club's premiership count to 20 – two of which it wants to achieve in the next five years.
"[The 2050 vision is] a bold statement, but one we feel as a club it's better to put it out there and continue to work towards," Breust said.
"We're united behind that plan. It's optimistic but … we know where we're heading and what we have to do and hopefully we can finish top four and go from there."