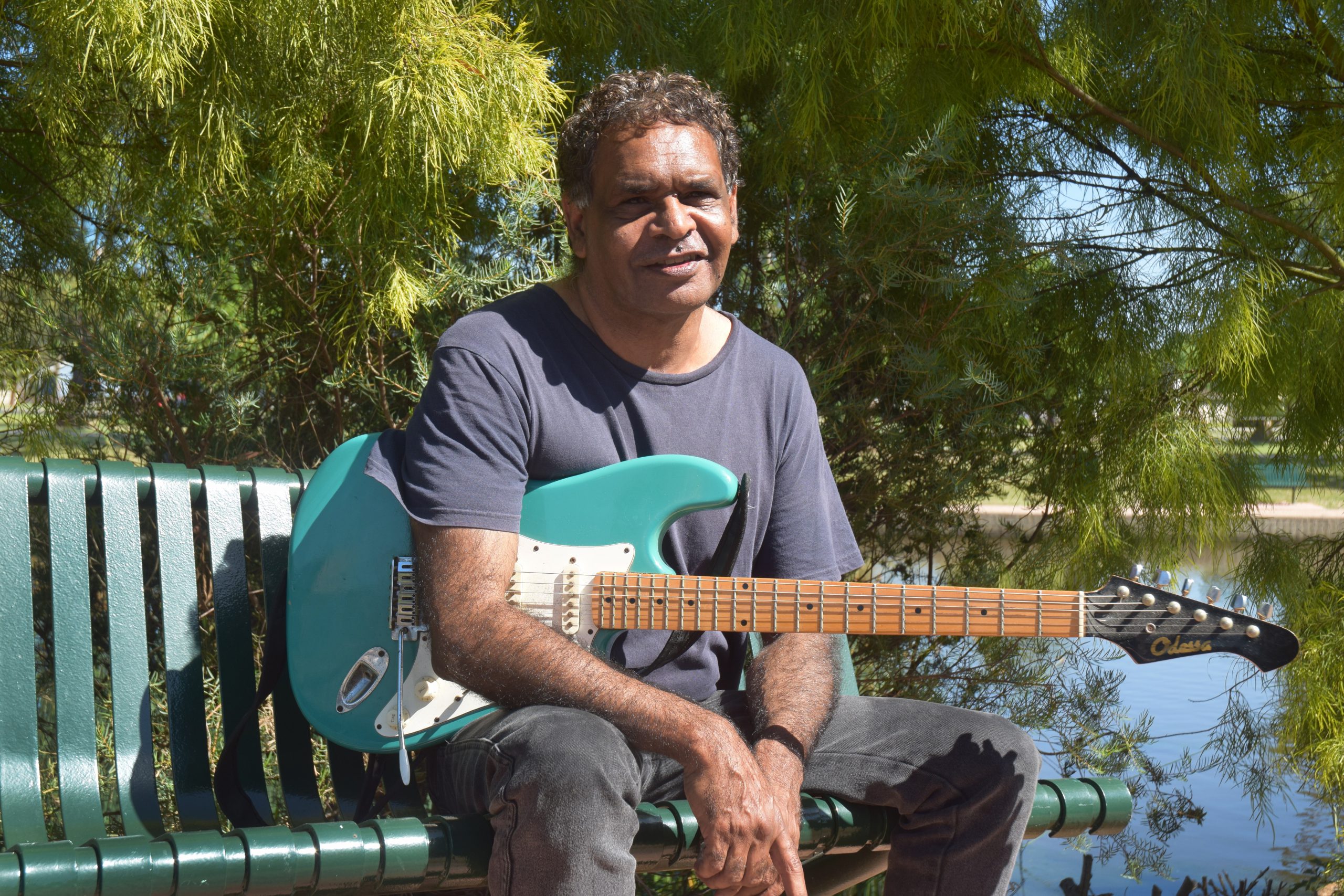 Reggae musician Ricky Harrison said returning to Morwell in May last year was "like coming home".
The Bairnsdale-born songwriter moved from Lake Tyers to Morwell when he was five, then hitchhiked to Adelaide in 1979 where the Centre for Aboriginal Studies in Music equipped him with the basics of reggae and led him to co-found No Fixed Address.
The band would offer Australia a new voice in the mainstream pub rock scene which fearlessly told of what it was to have 'survived the white man's world'.
After Cold Chisel's Don Walker saw the 1981 award-winning film featuring the band, Wrong Side of the Road, No Fixed Address was off to Sydney for a support set, yet were initially stopped by security from entering the band room.
The man said, "where are you blacks going?"
The racism unfortunately followed the band even at the height of their career as they shared shows with icons of the era such as INXS, Men At Work and The Clash and a gig on Countdown in 1982.
"We were really rapt, eh, because we used to watch it when we were teenagers … You go on Countdown and you start doing the big gigs," Mr Harrison said.
Now Mr Harrison is wanting to pass on his knowledge of the industry and provide recording opportunities to people in the Gippsland community who may not have access to instruments.
The ultimate outcome will be a compilation album weaving together music, poetry, comedy, radio plays, field sounds and more to tell a Gunai/Kurnai story, even drawing on archival reel tapes, with permission, from Lake Tyers in the 1960s before people left and the language and stories changed.
"[In those recordings] my uncles are telling their stories in the original forms and singing songs in original forms," Mr Harrison said.
Part of Mr Harrison's mentoring, along with stage and promotional skills, will be sharing the kinds of racism he experienced to warn aspiring artists about what they may encounter in their careers.
"I had a lot of great mates [in Morwell], you know, a lot of good friends in school. Of course, there was a bit of racism here and there but nothing like I experienced out on the road though," Mr Harrison said.
He said "painful" police violence made the band angrier, so they wrote more.
"I wrote a song called Pigs which was back in 1979 – that early – and it … talked about deaths in custody before it was even a word that was used," Mr Harrison said.
He told a tragic story when his uncle Arthur Moffatt had a heart attack on a train and the surrounding commuters thought he was drunk.
"Cops came and took him to the cells … Medics came in, they just left him and he died," Mr Harrison said.
"It was really tragic because he was like probably the most loving I guess, he loved all our family and that and he was as loud as, you know, a semi."
Mr Harrison said No Fixed Address's main audience was middle class and non-Indigenous, however, they found when they did the community gigs, the cops would show up.
Police came to shut down a show in Sydney's Redfern.
"They started dragging people out. Some old lady walked up to the cop and goes 'what are you doing?' and [he] smashed her in the face and broke her teeth with his baton," he said.
Another instance when the band was on its way to 20 booked gigs in Perth that paid $12,000 in 1982, halfway across the Nullarbor they heard 13 had been cancelled – the people booking the gigs found they were Aboriginal, not of African descent.
Fortunately Cold Chisel were in Western Australia at the time and offered a support slot.
"Those are the stories I like to tell people about because it shows musicians stick together and they like to work with each other and learn from each other," Mr Harrison said.
Sadly, Mr Harrison views the band as being "cut off at the knees" by a new fashion in the early '80s for non-Aboriginal bands like Goanna to sing about Aboriginal issues and achieve even greater commercial success.
"We didn't need their help, it's just that Australia could not accept the fact an Aboriginal band were as good as any band at the time," he said.
Mr Harrison will set up a portable isolation booth in seven locations across Gippsland, stopping a month in each town starting in February to record music or vocal arts, then take the recordings to a studio for mixing and mastering.
The locations are Orbost, Lake Tyers, Lakes Entrance, Bairnsdale, Sale, Morwell and Drouin.
Those interested in the 'Muk Wane' project, can phone Ricky Harrison on 5133 6302 or email
munjimusic@outlook.com