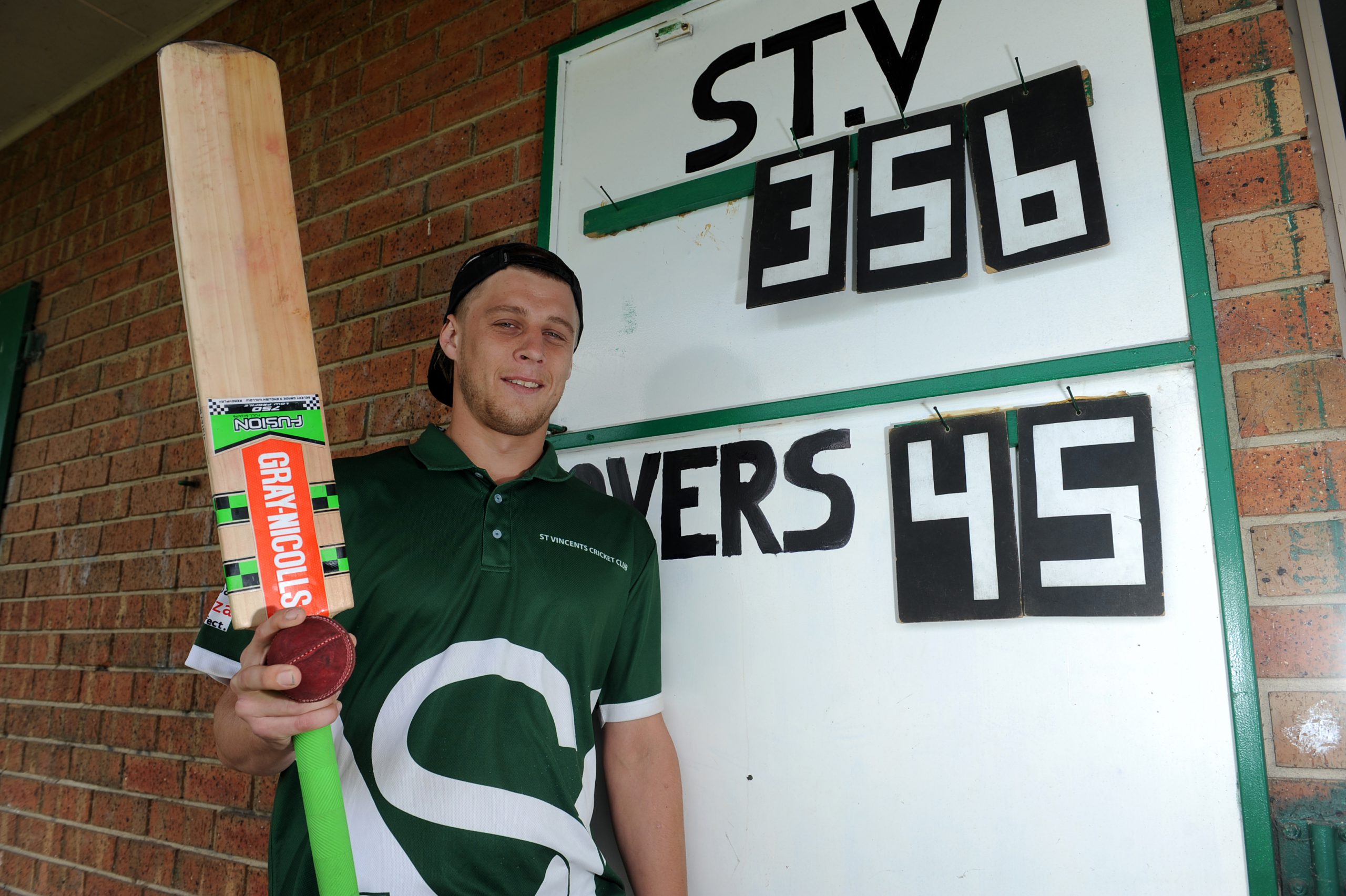 CRICKET
​CGCA

Troy Tobin is still recovering from celebrations after becoming a CGCA local legend at the weekend by scoring 356 not out in third grade against Newborough.
The 20-year-old whacked his way into the history books after hitting the club and association's record-breaking score in just 29 overs at Crinigan Road Reserve in less than ideal conditions.
The local sub-contractor and former Kurnai College student hit 34 sixes and 23 fours from just 174 balls before the end of the innings in the round 11 showdown.
Not only did he break his club – St Vincent's – highest batting score of 254, but he also topped the CGCA record of 277 set by Clay Dobson in 1995/96 – a year before he was born.
"I got to 50 and I thought 'here we go'. I'd never had a 50 before and then I got to me hundred in the next 10 balls and then it just kept climbing and climbing," Tobin told The Express.
"Three-hundred-and-fifty-six is a fairly big score and I never thought I'd get close to it … I'm a pace bowler so I usually get a five-for or something and that's a good day for me."
Tobin only strapped on the pads this season after suffering a shoulder injury last year while playing for Boolarra in the Mid Gippsland Football League.
But the game-changing score seemed unachievable for the Latrobe Valley lad after rain set in and play was put on hold.
"The conditions were pretty bloody average, it was raining through the game and it nearly got called off halfway through it," Tobin said.
"We came off for 10 minutes and I was sitting on about 170 and we were going to declare so we could bowl 'em out and get the win but then the captain-coach said 'nah mate, go for it and have a bat and see what you can make'.
"We went on a short time later and got to 200, then 250, 300 and 350 and then I ran out of overs."
Former St Vincent's Cricket Club president Graham Hutchinson said it was good to see the "young fella" break the record following a long family association with the Morwell-based club.
"I remember him playing here as a junior when he was knee-high to a grasshopper," Hutchinson said.
"His father played here as did his brother … it's good to see the young fella have a crack."
Tobin said the Newborough bowlers were "less than impressed" with him after sending three of the game's four balls out of sight.
"The first ball they had after the break was pretty bad, but I knocked that over the roof and the fellas couldn't find the bloody thing," Tobin said.
"The second one we had was pretty decent I thought, but I knocked that one into the creek."
"The third one was borrowed from the game that was washed out at Newborough and we lost that one as well, you wouldn't believe it, would ya? So we ended up using a scrubby old thing someone found laying around."
Tobin's efforts lifted his team to a total of 570, which broke the previous CGCA total of 5/540, made by Moe against Club XI in 2000/01 in second grade.
The incredible record meant the Churchill local averaged 12.29 runs an over.
"I got on the beers with the boys [after the game], a few boys came back from the game that was washed out at Mirboo North so they all got back for me and cheering every six," Tobin said.
"They were absolutely giving it to the boys who were bowling."