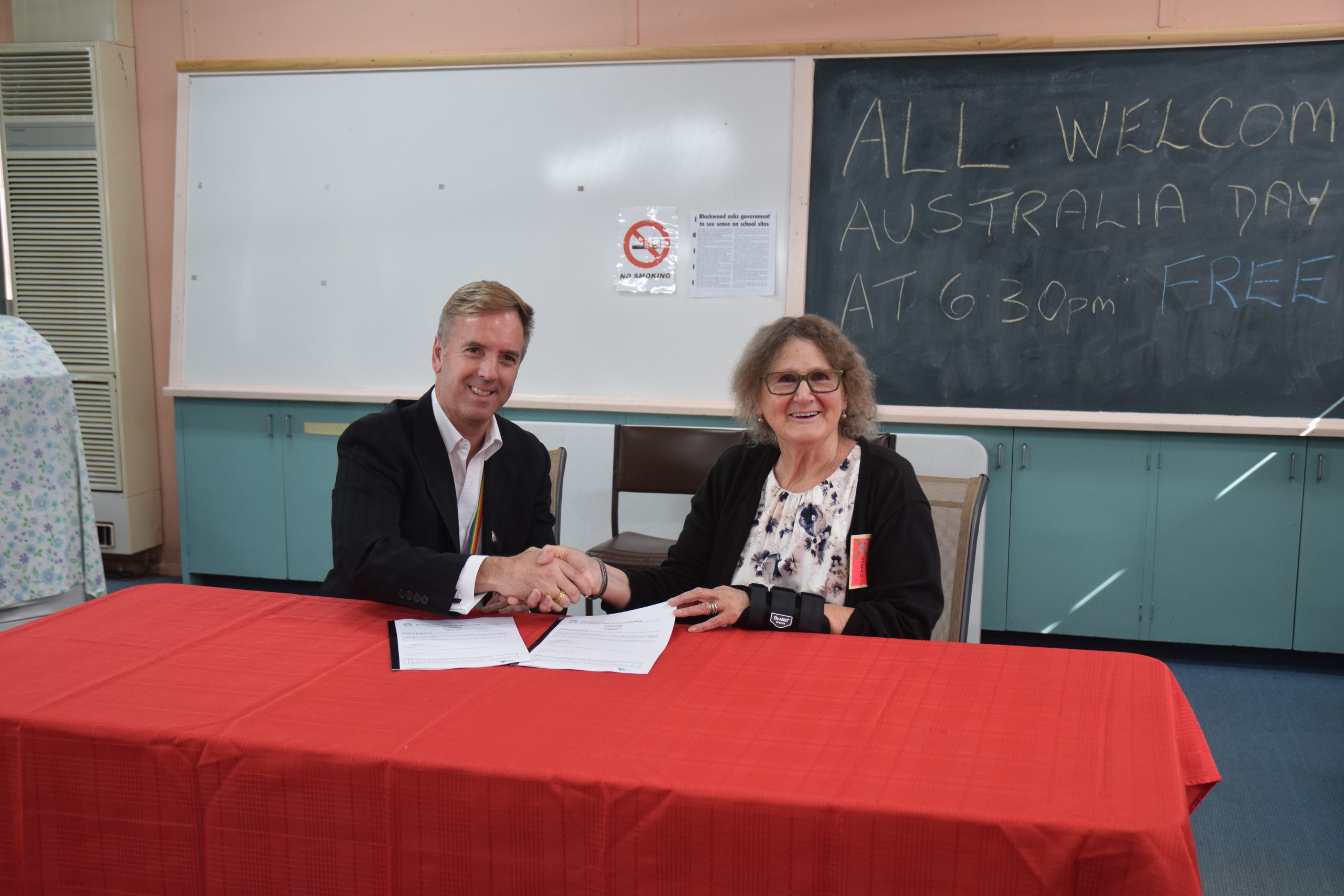 After almost 10 years of hard work and campaigning, a community group now has formal occupation rights over the former Hill End Primary School site.
Hill End Community Inc. president Chris Williams signed the licence papers with Department of Environment, Land, Water and Planning regional director Stephen Chapple on Monday, transferring the Crown land to the group for a term of 10 years as an interim measure.
Mr Chapple said DELWP proposed to appoint HECI as a committee of management for the land "which will delegate land management responsibility to the group on an ongoing basis".
It comes after the Department of Education and Training declared the former primary school site to be surplus to requirement and the Department of Treasury and Finance announced it intended to sell the land early last year.
HECI, which had been using and maintaining the site for almost 10 years, began campaigning to prevent the rezoning and subsequent sale, drawing bipartisan support.
In November, the Department of Education and Training agreed to transfer the site to DELWP to manage.
Ms Williams said it was a "fantastic" outcome and the group had plans to improve the site now they had certainty of tenure.
"The community has been fantastic," she said.
"They have carried the load and we probably wouldn't be where we are today without them."
Baw Baw Shire councillor Michael Leaney said it had been difficult in the past for HECI to apply for grants because it had no official tenure.
"So they've kind of been in this no-man's-land of not being able to really progress and, on one hand, they've wanted to do things, but they've been reluctant to," he said.
"From a shire perspective, we give out an annual grant to community halls in the shire… but HECI has never been entitled to it, why? Because they've never been able to show [tenure]. Whereas this puts pen to paper to show they have real tenure, and some control over what they are doing."
DELWP regional director Stephen Chapple said HECI could now "be secure in the knowledge that they can continue their work well into the future".
"This is great news for a small, rural community who are passionate about protecting this historic local site and have been working hard to maintain and promote its use for community events," he said.