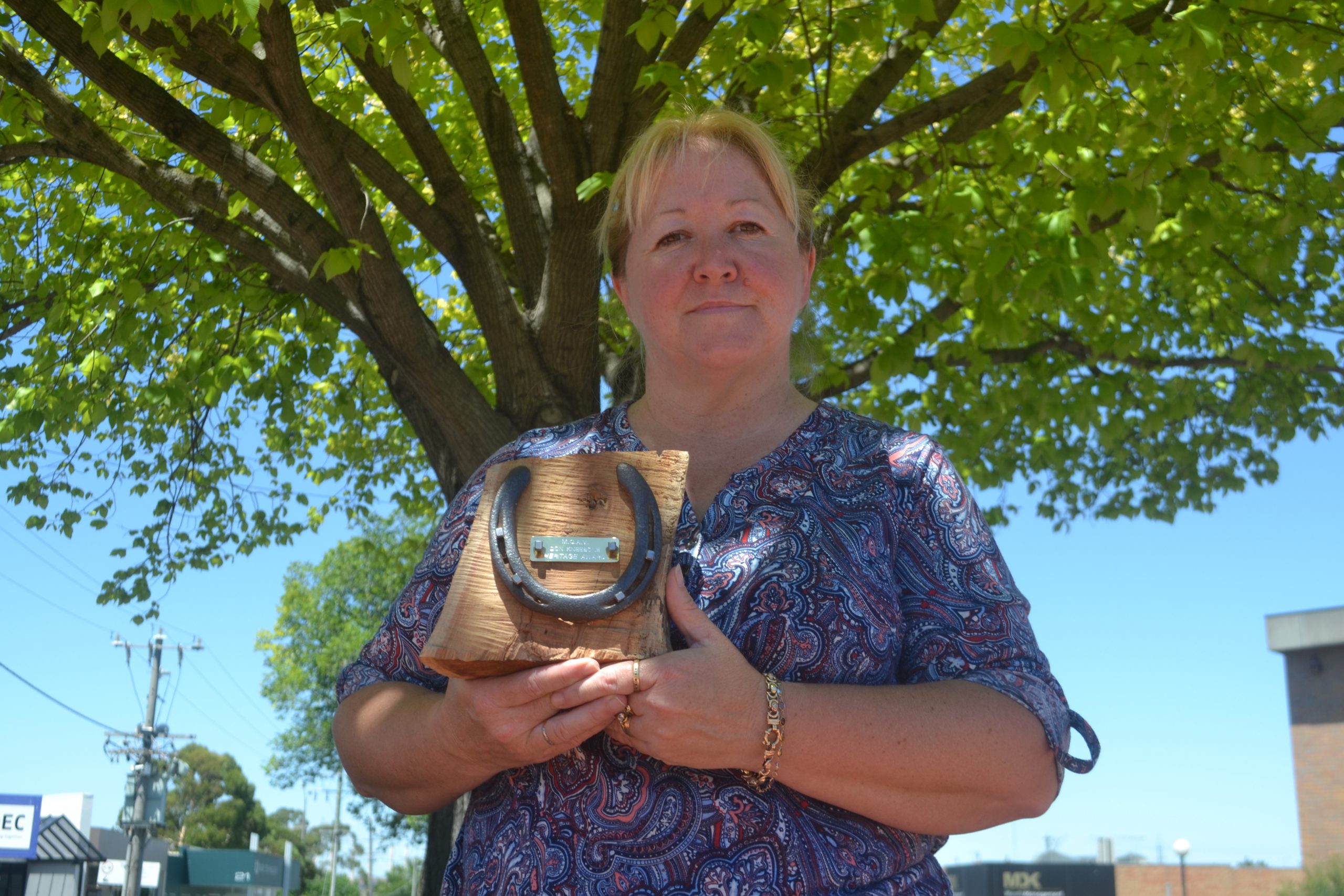 Hazelwood North's Maria Harkins has won so many prestigious poetry awards at the Mountain Cattlemen's Association of Victoria annual get-togethers, this year she returned her trophy and did not want it back.
"I decided this year I wouldn't enter it, I'd return the trophy and say 'somebody else take this somewhere and talk about it'," Ms Harkins said.
She first won the Don Kneebone amateur bush poetry award, then for the next three years, won the Bill Hicks Bush Minstrel, reserved for established artists.
Much of the fire in Ms Harkins' belly is about the politicisation of the issue of alpine grazing since the Bracks' government first banned cattle grazing licences in the Alpine National Park in 2005. She is now scratching her head, wondering why politicisation of issues has become a recurring theme in her life since her early years in Buchan.
"I'm a kid who grew up in the timber industry and that got closed down. Farming industry; that got closed down – a lot of things that have been government decisions," Ms Harkins said.
Ms Harkins recited a poem at the get-together in Omeo, outside of the formal competition, recounting the industrial changes she has witnessed in her lifetime which have affected the workers and their families in Gippsland.
She had a receptive audience.
"People were talking a bit and by the end of [the recital], it was silence, and they didn't clap or anything … then they clapped," Ms Harkins said.
The Traralgon school teacher is the first Gippsland coordinator for the Australian Songwriters' Association and is hoping to begin monthly songwriters' evenings in February to share some of her skills and insight.
The evenings will be an opportunity for songwriters to collaborate, network and share their work in a live venue.
"If they, for example, are a good songwriter but they're not a good singer then they may find someone in that network to be able to get their songs sorted," she said.
Ms Harkins is inviting venues to express their interest in hosting the sessions.
Email Ms Harkins at maria.harkins@live.com.au.
Ode to Australia – it really doesn't impact me
By Maria Harkins
I acknowledge the indigenous beginning of this place and the elders who have passed stories to their young
But I have a problem with the changes since we got to make the rules – the rules that seem to only serve some.
Many years ago when I was very young, it was the radicals pushing us around
Timber industry built the homes, standing strong today, no support, we fell to the ground
No worry, said the people, it's just the timber blokes, it really doesn't impact me
Who cares, not my issue, don't give it one more thought, they'll go soon, just you wait and see
Not long after, the farmers were the next, to be told what they could and couldn't do
By the government – the people who create and produce nothing- but consume like no others do
Then the cattlemen from the high country, doing what they do, living green upon the mountaintop
No science could prove otherwise, no evidence be found. Move 'em out, lock the gate… and for what?
No worry, said the people, timber, farmers, cattlemen it really doesn't impact me
Who cares, not my issue, don't give it one more thought, they'll go soon, just you wait and see
Then the car manufacturers, the workers in the factories, people that no one sees
Said, now wait a minute, what about our jobs? But the votes flowed in, green and free
Now it's here on our doorstep, we have no one left to fight for our right to work free
Close the coal, close the town, close your minds and forget, that we could have stopped this killing spree
No worry said the people, manufacturers, industry, it really doesn't impact me
Who cares, not my issue, don't give it one more thought, when the lights don't turn on we will see.
And the CFA volunteers who places themselves in danger, for a very long time, commitment strong
But a deal had been done with politician-speak – again who will right this wrong?
And the people who have helped shut us down one by one, when the country cries out in disbelief
Where will you be? How will you explain? To the children who are left with no relief
So what am I to do with corruption through and through, where the vote means more than the truth?
I am old, I'm not wise, I am but terrified, of the legacy we leave for our youth.
To the children, I am sorry for the problems here before you, in the name of a lie to suit some
I can do no more, I have fought every fight, but sadly I have not won one.
No worry, said the youth, contempt in their eyes, It really doesn't impact thee
But it does! I am guilty for not stopping this charade – and the loss our own identity
May you find your own way through the mire of deceit, through the lies and the stories, small and pale
May you stand as one against the government of shame? Before the essence of this country has set sail.
No worry, said the echo, the end is in sight, are you now talking to me?
Who cares, not my issue, don't give it one more thought, the lies have won – nothing left to see.