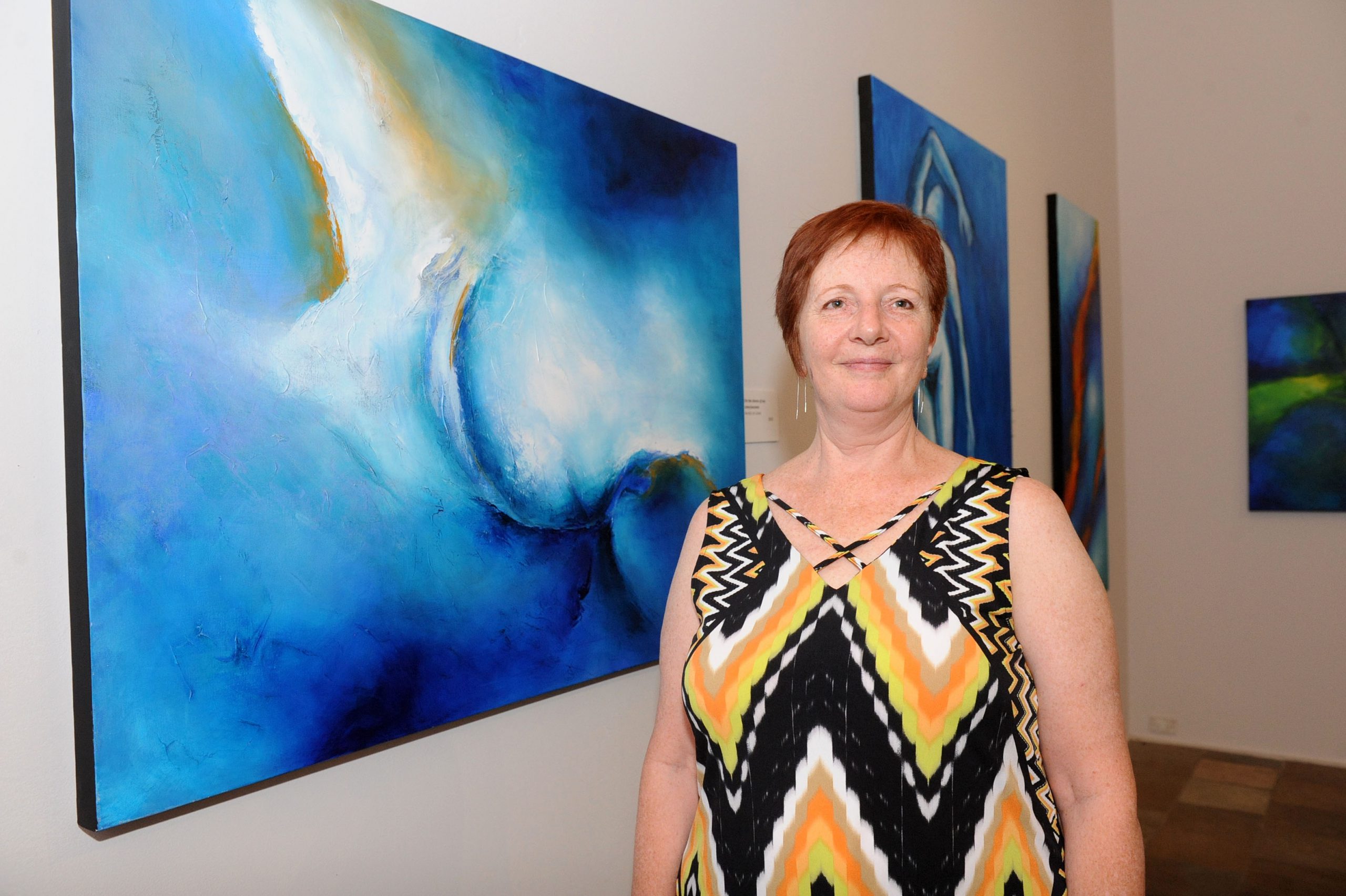 It was July 2016 when Yallourn North artist Carolyn Henry heard her cancer diagnosis.
"We went from BreastScreen to my doctor's, to my surgeon, all in one day. Yeah, it was pretty horrific," she said.
"You're still reeling from what you've been told.
"I just remember all those [wattle flowers] were out in bloom, and it was just this lovely moment of seeing something other than what was stopping my world for that minute."
A painting of wattle is one of the first works in her chronological exhibition at arc Yinnar which documents the art she produced during her chemotherapy and radiotherapy treatment which finished in November 2017.
She had already begun some of the pieces before her diagnosis, and others in the exhibition are directly related to her experience as a patient at the Gippsland Cancer Care Centre, such as Madonna with a grey halo for "chemo-head" and used saline tubes glued to the canvas.
Ms Henry's cheery sense of humour, despite her circumstances, shines through as she poses for a selfie.
"The best part of going into the studio was I could take my chemo hats off and just be myself and I was just having a really silly day and just took a really bad selfie that I really like," she said.
"Every time I look at it, I laugh because I literally was jumping around, having fun because I felt good."
Not long after, the first crab appears in her work – a recurring symbol for cancer.
One small crab is suspended in black.
"I had been nursing my father before I was diagnosed and taking him to his chemo," Ms Henry said.
Then when she was diagnosed she had to organise someone else to take her father David Morrison to his appointments.
Ms Henry said his cancer metastasised and that was a "very dark" moment.
"Not long after Christmas, dad died and that was really tough because when you've got your full chemo, happening your immune [system] is so depleted you can't visit anyone in hospital," she said.
"So I couldn't be with him in the last month until they put him into a palliative care unit and then I was able to see him again."
Despite such emotional hardship, Ms Henry promised herself she would try new things, such as linocut printing.
"I couldn't lift my arm, let alone hold a paintbrush, so every night I had to do physio on it so that I was able to paint again," Ms Henry said.
"So my paintings here, they're not up to my usual standard because I didn't have the movement I needed."
A detailed scratchboard of a young boy shows incredible detail and determination to create art despite being in hospital.
"I was on steroids to help with the medication so I couldn't even write my name during the day my hands were so shaky," she said.
"That wore off around one in the morning so … I would get up and work on this because I could control my hand."
Ms Henry said her main aim with the exhibition was to show people they never know when they might be in the office being told they have cancer, then the fear of chemotherapy begins.
"I was one of those people. The oncologist kept saying, 'people don't get sick anymore'," she said.
"He kept repeating it until it sunk in.
"I've never laughed so much in the last 16 months … you get more of a joy of life because you're looking at things differently."
Learning to Dance in the Rain is on display at arc Yinnar until February 24.