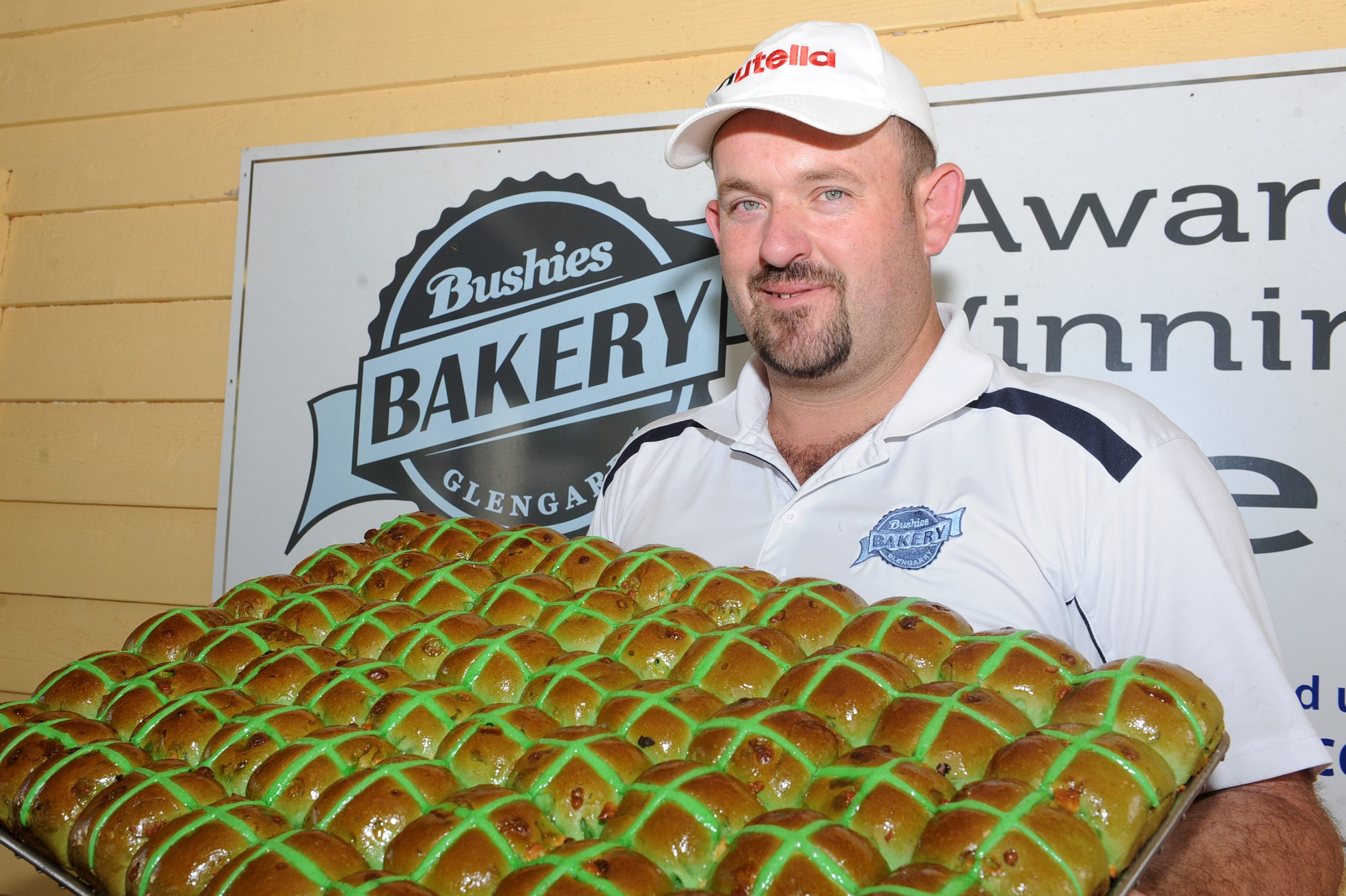 Bushies Bakery owner Trevor Ewert said it was "open slather" from after Australia Day as people lined Glengarry's main street for his crazy take on hot cross buns.

The fever-inducing buns take on the taste of other well-known sweet treats, before they are iced with a cross and sent out the door in bags of six with another dollar raised for the Good Friday Appeal.
The Glengarry bakery has two weeks less thisyear – because of the earlier Easter date – to beat last year's fundraising effort of $76,000.
Mr Ewert said the bakery was already well on its way to achieving its goal of $50,000 for the Royal Children's Hospital.
"Friday, [February 2] was a sell-out day. I think we made 78 packets or something. They'd just sell out by lunchtime," he said.
"At the moment … the ovens are running 20 hours a day and by the time it hits two weeks out of Easter they don't turn off."
Mr Ewert spoke to The Express while a one-hour auction was live on his Facebook page for a one-off tray of 60 double choc chip buns filled with honeycomb custard.
All the proceeds of the tray would go to the Good Friday Appeal.
The highest bid at that time was $420 as friends were tagging one another asking if they would share the costs.
"Social media is the key to our success," Mr Ewert said.
To keep up with the incredible demand the store has started planning for a larger kitchen outside of Glengarry where there is access to natural gas.
"We love our little Glengarry shop; we're never going to want to leave Glengarry but from a manufacturing sort of point of view we probably need to produce where there is natural gas, for the reason being it's more efficient," he said.
Mr Ewert said last year Glengarry entered the top 10 of Victoria's highest fundraising towns for the appeal and last year's Good Friday event in the park brought the town together.
"Coming off the back of the Great Victorian Bike Ride; that was a bit of flop. That was a bit of a dampener for the town but they all get back up," he said.
He reminded people to come in early each morning to have their pick of bun flavours, as their main "stress factor" was disappointed customers.
"We want it to be fun … right across the whole season," he said.