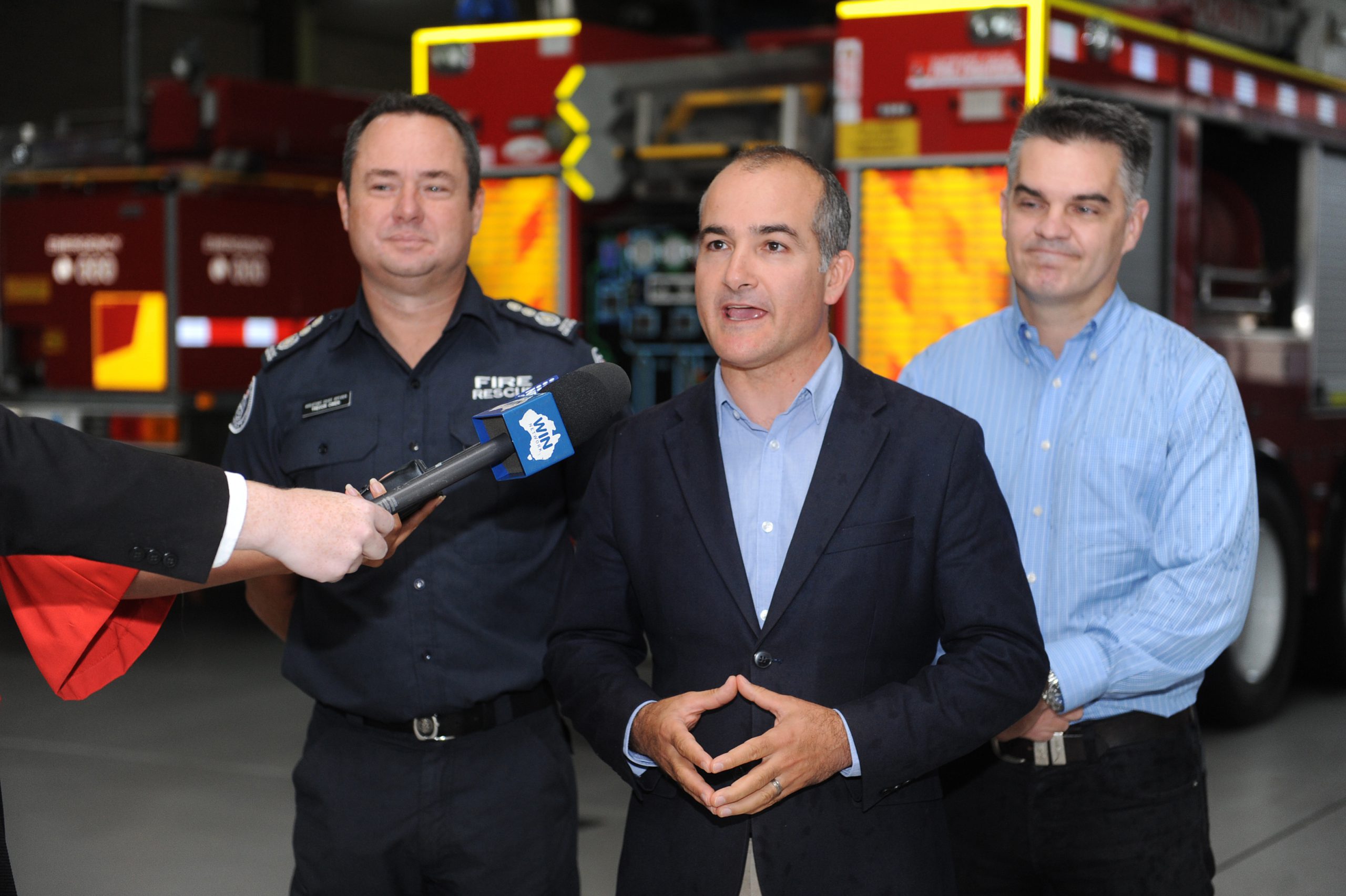 Twenty new career firefighters will be based in Moe and a review of the Latrobe Valley's current fire resources will take place before the end of the year as the state government strives to improve emergency response call out times for local CFA units.

Quarterly data released by the CFA yesterday showed Moe, a fully volunteer-run brigade, responded to just 28 per cent of incidents within the authority's standard eight-minute period between October and December last year.
This compared poorly to Churchill Fire Brigade who responded to 56 per cent of call outs and integrated stations at Morwell and Traralgon which attended 95 and 100 per cent of their call outs, respectively, within eight minutes.
Emergency Services Minister James Merlino announced the changes at Morwell Fire Station yesterday and said the introduction of 20 new career firefighters to Moe would improve response times.
But while Moe Fire Brigade captain Rod Day welcomed the additional staff, he said the brigade was "disappointed" it was not consulted about the introduction of career firefighters to the town.
Career firefighters will provide "24-hour protection" according to the state government, but Mr Day said the station's current facilities were ill-equipped to accommodate career firefighters, citing a lack of amenities and sleeping quarters.
"The facilities are run-down, dilapidated and they're not fit to hold career staff let alone our volunteers," Mr Day told The Express.
In the coming months the CFA is expected to undertake a review of its resourcing allocation for District 27, which covers the Latrobe Valley, to ensure the authority has the appropriate resources to "keep the community safe".
But Mr Day said the only way to improve poor response times would be the construction of a new fire station on the south side of the train line, which the brigade has been campaigning for since the late 2000s.
"We will be having discussions with the CFA about whether or not we go to a joint location with the career guys or we go out on our own," Mr Day said.
"The brigade at the moment would prefer to go to two separate locations because it would serve the community better.
"It will give us a better coverage so, for instance, you could have one brigade on one side of the town and a second [brigade] on the other side."
Mr Merlino said the additional firefighters and resources' review was a result of findings tabled in the Victorian Bushfires Royal Commission and Fire Services Bill currently before the Senate.
"It's time we talk about community safety – that is the number one issue," Mr Merlino said.
"The CFA will work with local brigades and determine where … the best location for these additional 20 career firefighters."
The career firefighters will be deployed by the end of the year.