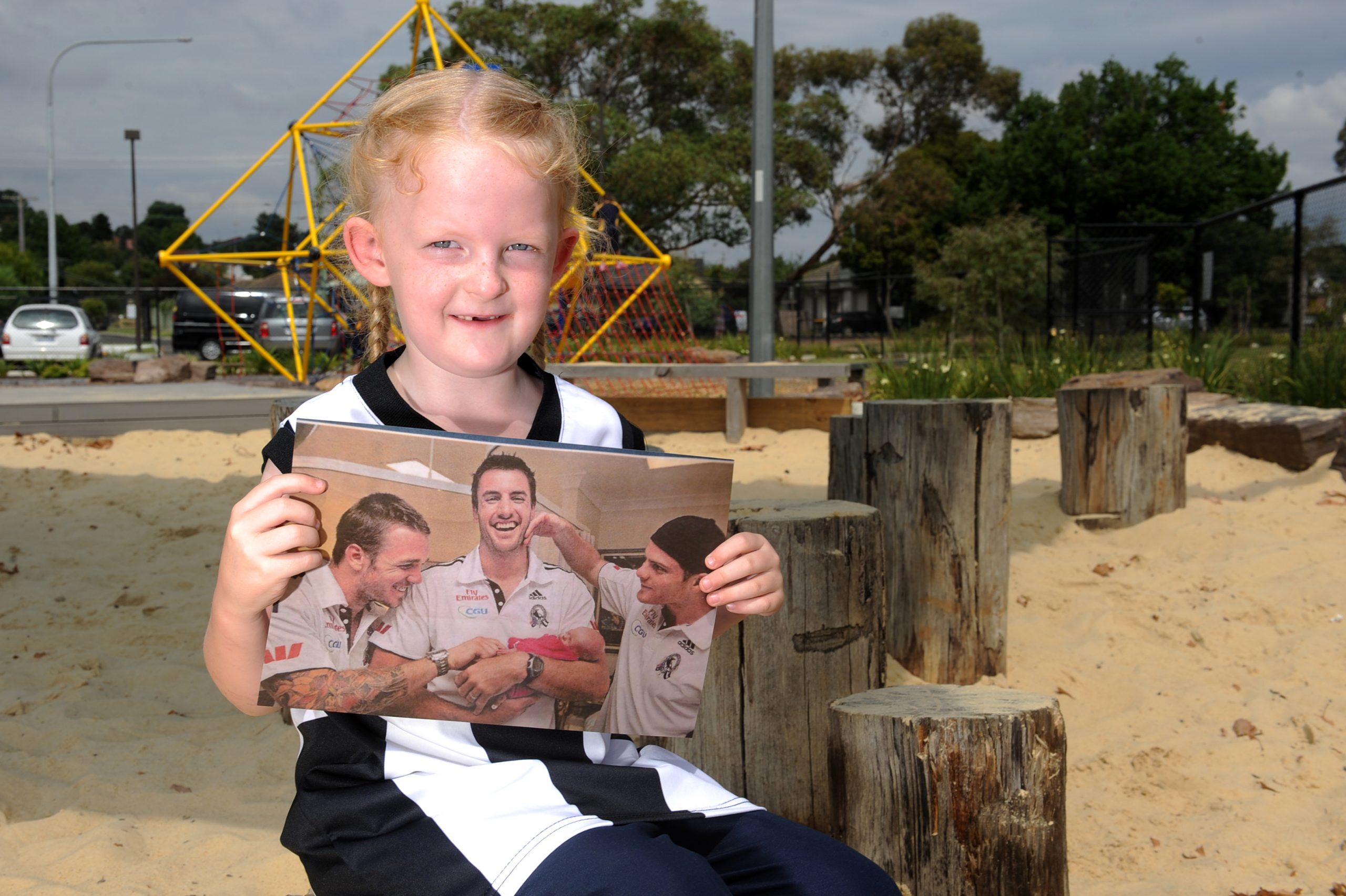 Seven-year-old Morwell Central Primary School student Allie Wilson had the opportunity to recreate one of her baby photographs when players from Collingwood football club visited her school recently.
Born at just 33 weeks Allie spent the first month of her life in the neo-natal intensive care unit.
Allie's mother Kathleen Wilson said Collingwood players were in emergency and she asked them if they would visit her baby.
"It gets pretty lonely sometimes in there. So they said, 'yeah, that's fine'. So they came and visited her," Ms Wilson said.
"They came in and asked if they could hold her, because they are pretty strict when you are in the neo-natal part, it is pretty much just family or siblings [that are allowed to come in]. So it was kind of a big deal.
"They just picked her up and that is how the story came about … and how the picture got taken."
Allie's photograph with the Collingwood players made it into the Herald Sun at the time along with an article.
"When we found out [the Collingwood players] were coming [to the school] the other day, we said 'you should take your article in and show them'," Ms Wilson said.
"She got to say 'hi' and we got pictures with them all, and they checked out the article.
"Some of the new players had played with the three guys in the picture."
Allie said the Collingwood players told her they "couldn't believe" it was her as a baby in the photo.
"They said 'that's not really you, is it?'," she said.
Ms Wilson said Allie had had "no choice" but to be a Collingwood supporter.
"I'd always loved Collingwood since I was a kid. My mum was a Collingwood supporter, we're not so big on football, but we definitely go for them," Ms Wilson said.
"When Allie got older we told her she had no choice; she had to be Collingwood.
"We used to always joke when we'd see them on TV, 'oh, look Allie, there is your family'."
Ms Wilson said Allie was just three pounds, less than 1.5 kilograms, when she was born.
"One of the footy players said 'she is smaller than the footy we kick around'," she said.
"It was pretty special for us, maybe not for [Allie] but it was for us.
"We show her [the article and photo] all the time."
Allie said although she had never been to a live AFL game, she liked to watch the grand final on television with her family.