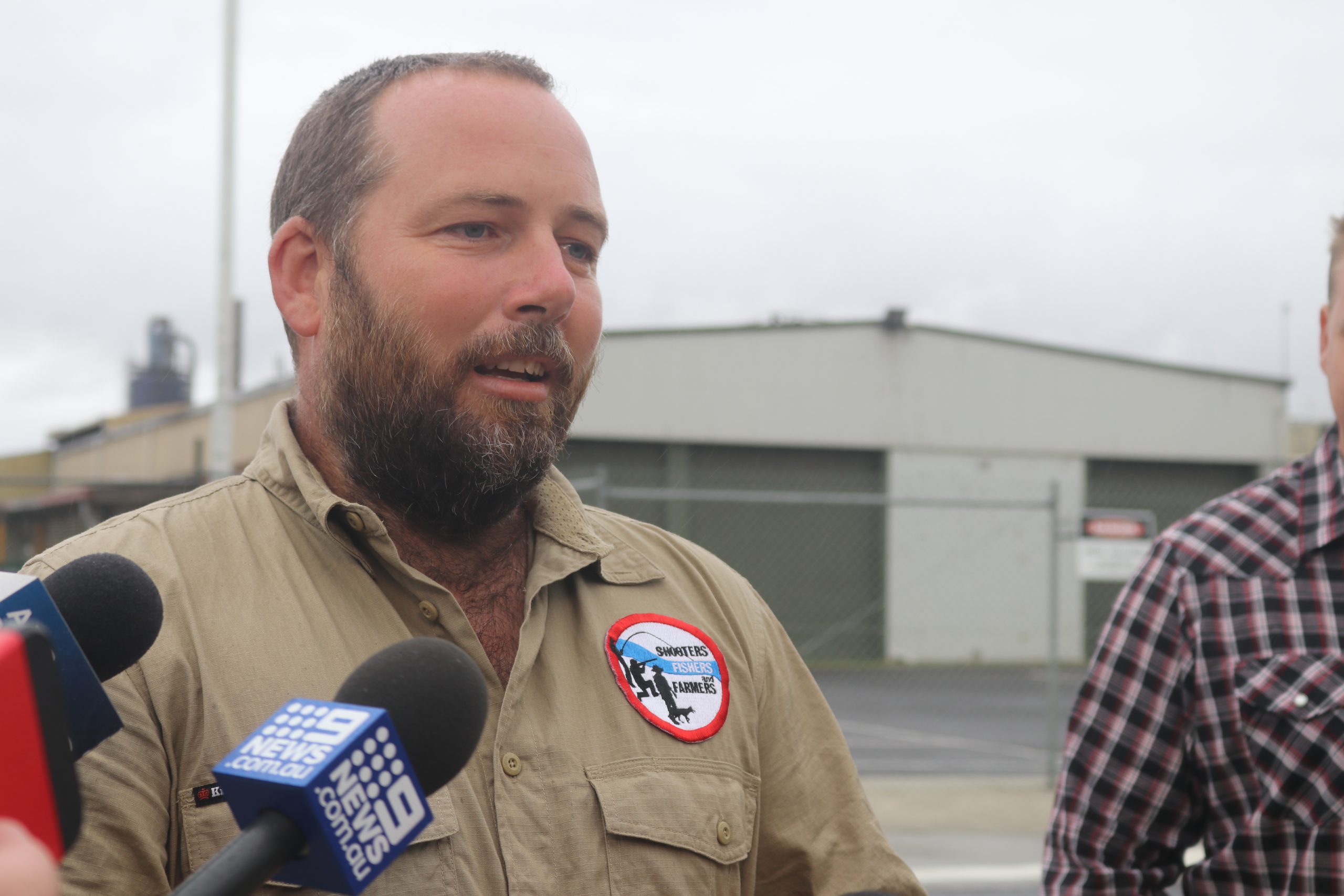 Former Victorian Senator Ricky Muir has announced he will contest the seat of Morwell for the Shooters, Fishers and Farmers Party in November's state election.
Mr Muir, who lives just outside the electorate in Denison, told media on Monday morning he did not see that as a problem and would he provide a "positive difference" to voters who are dissatisfied with the major parties.
While he did not specify his plans on power generation for the Latrobe Valley he said the party would "be coming out with strong positions and stances in relation to energy policy".
Mr Muir became an unlikely senator for the Australian Motoring Enthusiast Party in 2013 when he was elected on preference flows despite polling just 0.51 per cent of first preference votes.
He failed to retain the seat in 2016 during a double dissolution election and resigned from the AMEP last year.
Despite a lack of clarity over his position on the power industry, he did flag "constant, reliable [and] affordable energy" for the region's famers as a priority.
"I live very close to where the east Gippsland, south Gippsland and Morwell electorates meet and I do understand how a decision in one of those electorates can very negatively impact on another," Mr Muir said.
"One thing I'm incredibly passionate about is outdoors recreation and employment in regional areas and I've chosen [Carter Holt Harvey] for the announcement today … to highlight the importance [of why] we cannot allow anymore regional employment to go to the wayside."
He said he would oppose any potential push for a Great Forest National Park which he said would have a "very negative impact" on the region.
Mr Muir said there was a lot of "voter discontent" with major parties and acknowledged he had chosen the seat of Morwell to "strategically" contest as part of the thought process.
"I'll be very much relying on my profile but also my actions within the electorate within the coming months to November this year [to get elected]," Mr Muir said.
"I still understand the importance of making sure that decisions made politically around all the electorates don't have an impact on an electorate that is in absolute need of certainly."
Mr Muir runs a small sawmill business at Heyfield with his wife Kerrie-Anne which employs two additional staff.
The seat of Morwell is currently held by independent MP Russell Northe on a two-candidate preferred margin of 1.8 per cent.
Mr Northe has held the seat since 2006 and resigned from the Nationals in August last year after taking leave to deal with personal issues.
He has not confirmed whether he will recontest the seat at the state election and the Nationals have recently sought nominations for a new candidate.
VSFF member for Eastern Victoria Jeffrey Bourman said while the party did not have a "published electricity policy" it would look to "common sense" and try to be as "adaptive as practical" to form the party's stance.
"We don't actually have a published electricity policy but what we have is a position basically on the provision of affordable, reliable energy and as Ricky said before we produce the power for this state," Mr Bourman said.
"We just try and take a stance of common sense. If we're providing all this energy and we lose 15 per cent of the energy provision, then there really needs to be another way of providing the power and we're not seeing that.
"If we lock ourselves into policy and there is a change in technology or another change then we may not be able to deal with it but in this case we need to have cheap, affordable and most importantly reliable power or it's not just the rural areas that will suffer, it will be the whole of Victoria."