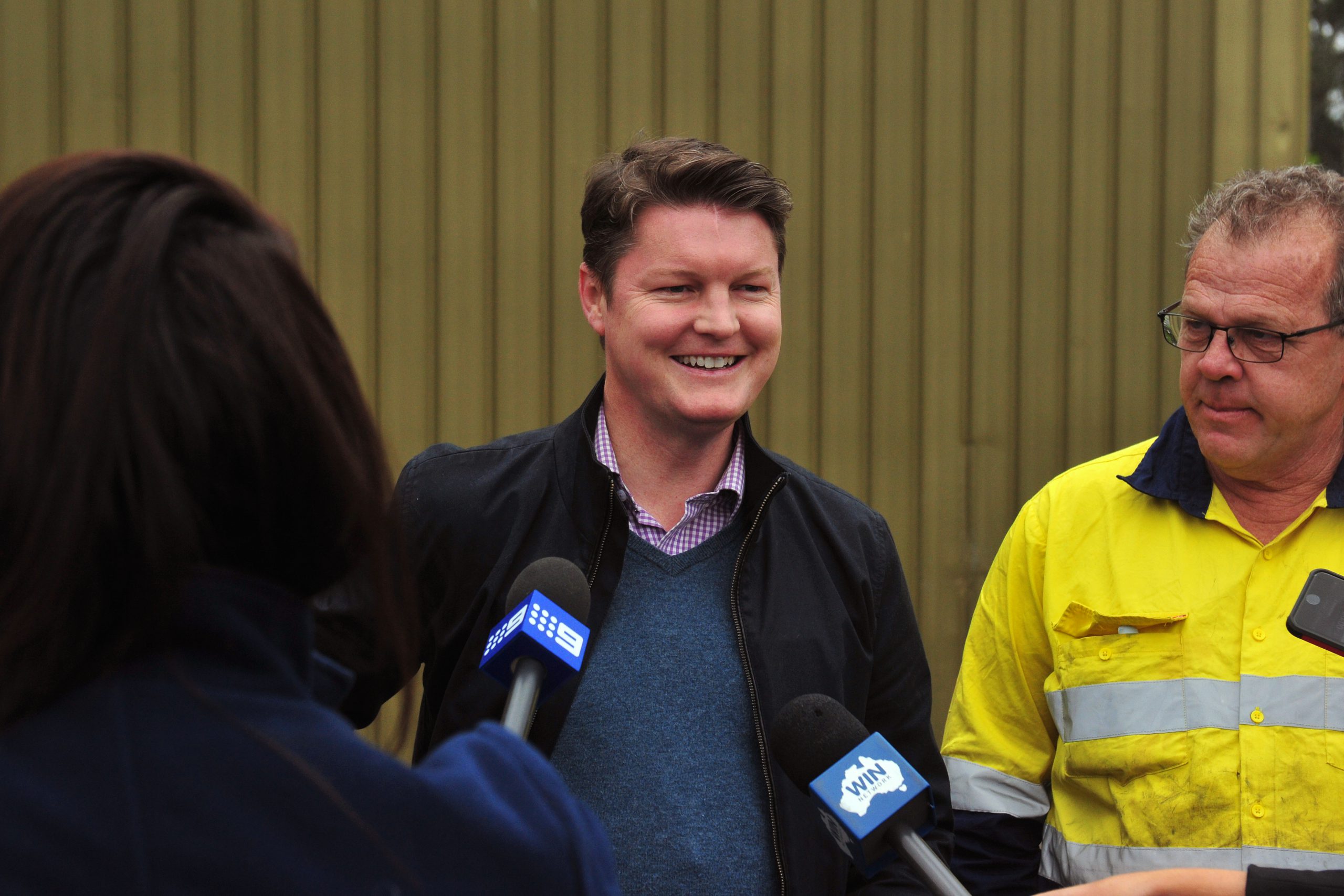 A Morwell business which designs and installs high-security products will create a precast concrete and manufacturing facility and could employ more than 55 people with skills suited to former Hazelwood workers, following a boost from the state government.
About 20 jobs will be created at the business which has designed and installed a range of steel and blast-proof products in places like the Melbourne Convention Centre and Parliament House in Canberra.
The development was part of a larger commitment by the state government announced when Industry and Employment Minister Ben Carroll visited the Morwell business Steelvision this morning.
The state government said more than 570 jobs had been created through the Latrobe Valley Economic Facilitation Fund to date and has led to more than $50 million in private investment.
Speaking to The Express yesterday, Steelvision operations manger and shareholder John Chaponnel said the business would expand into manufacturing and said ex-Hazelwood workers would have the skills required to take up the jobs.
For the past six years, the company has designed and installed its high capacity security products but outsourced manufacturing of its components.
"There's unemployment in the Valley and we know where they have come from so we want to hire these people and progressively train them on our systems as the business develops," Mr Chaponnel said.
"We believe there are plenty of boilermakers and welders in the Valley and probably fitters and turners as well and most of them would've been at Hazelwood."
Steelvision is one of six businesses in Gippsland to receive a slice of the $1.5 million in funding, with an estimated 110 new jobs expected be to created.
Other companies include Radford & Son, Gippsland CNC, Elite Pack, Quality Motorcycle Training and Gippsland Greenhouse Produce.
Steelvision, which specialises in architectural secure steel and glass products and does a lot of its work for prisons, said it would also be on the look out for experienced concreters, glaziers and aluminium assemblers.
"There will be a lot of steel work so we'll require a lot of boilermakers. We've developed prefabricated concrete prison cells which are unique and we've got a substantial aluminium assembly process for a new window we're launching in the market so we need skilled people," Mr Chaponnel said
He said the creation of a manufacturing centre on Miners Way in Morwell – in the old SEC transformer building – would improve quality control and the speed of production, an area which was previously controlled by a third party.
"It's two acres under one roof and we have flexibility to move as we see market opportunities," Mr Chaponnel said.
"We've also been innovative and tried to stay ahead of the game and that will be the case when we see new opportunities."
Member for Eastern Victoria Harriet Shing said the announcement was fundamental to increasing local employment for new long-term jobs in the Latrobe Valley.
"Investments like these through the [fund] are assisting companies like Steelvision to fast-track their growth and to employ new workers sooner," Ms Shing said.
"Alongside the infrastructure investments that are also creating jobs in the region, private investment is a crucial part of creating a diversified and strengthened economy."
Industry and Employment Minister Ben Carroll said, "There's a lot to be proud of in the Latrobe Valley and these new jobs show the momentum that's being created right through the region".