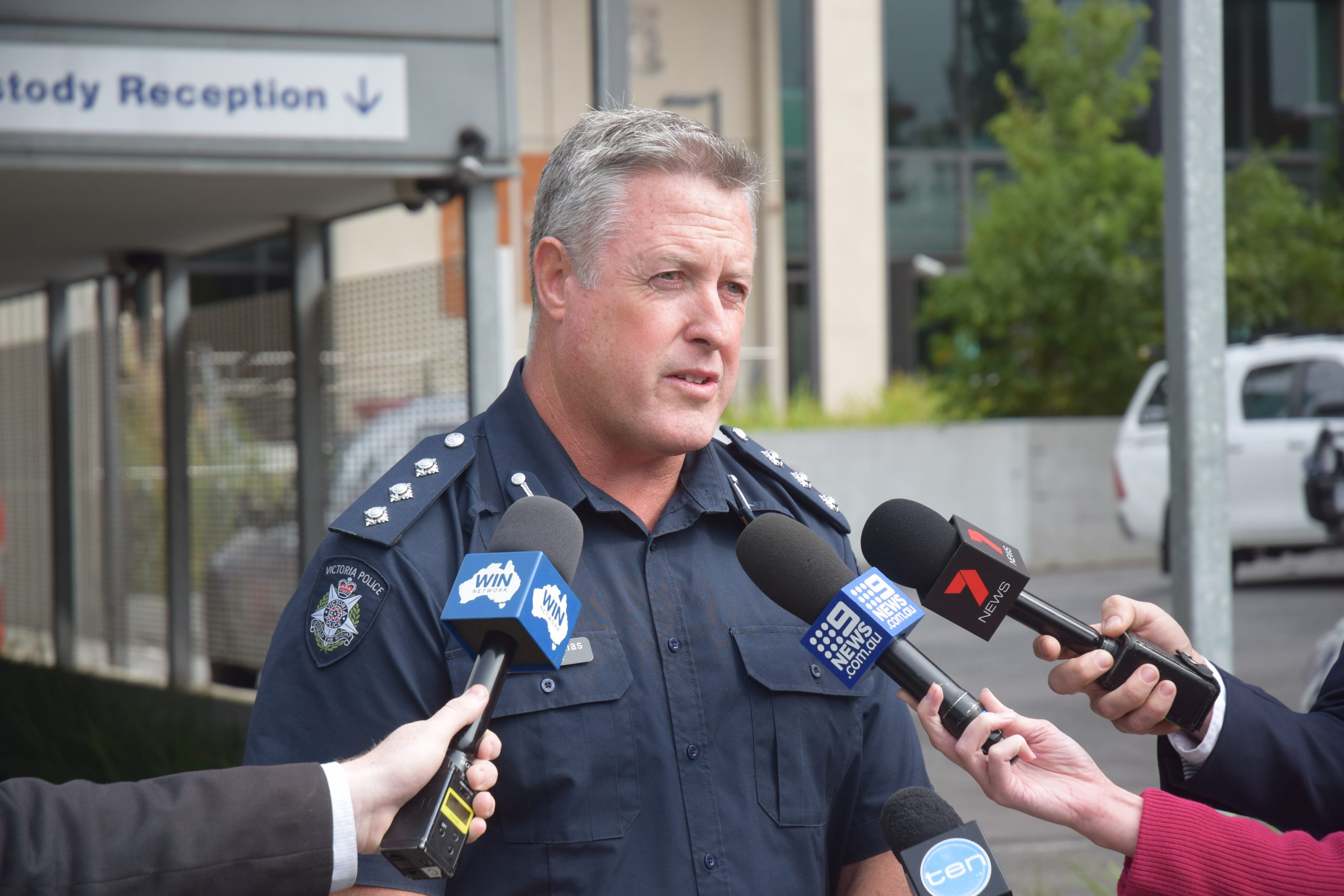 Police heard screams from inside a McDonald Street, Morwell unit on Wednesday morning when they attended the scene of a triple stabbing which left two women with life-threatening injuries.
Inspector Dean Thomas addressed media outside Morwell Police Station yesterday.
He said police received reports about 3.30am of a dispute taking place at the property.
"On [police] arrival they heard a female scream so they made their way to a unit at that address and they looked inside and they could see a male with an edged weapon," Inspector Thomas said.
"They forced their way into the premises and they were able to take that person into custody."
A 54-year-old man, believed to be the partner of one of the women stabbed, was arrested at the scene but later flown to the Royal Melbourne Hospital with self-inflicted injuries to his upper body.
Two women, a 54-year-old and a 34-year-old, were flown to The Alfred hospital both in a critical condition which was later downgraded to serious but stable.
In a statement, Ambulance Media said a woman in her 50s had multiple upper body injuries while a woman in her 30s had chest injuries.
"There had been a domestic incident occurring prior to the stabbing taking place. A female neighbour had gone to render assistance to the female victim and taken her back into her apartment," Inspector Thomas said.
"The offender, we believe at this point in time, has forced his way into that unit and stabbed both women and upon police arrival he has inflicted injuries to himself."
Inspector Thomas said police forced entry through the locked front door.
"It's important that our police do respond quickly and we were able to do so on this occasion and take affirmative action and force our way into the premises to stop any further injuries to the victims or the offender himself," he said.
He said the officers were left traumatised by the incident but praised them for their work in arresting the man, who remains in hospital under police guard.
"Morwell is a great place to live, it's a safe place to live," Inspector Thomas said.
"You can walk down the street and people say hello but of course when an incident like this occurs everyone takes a hit and it's important the community realises this is a particular [incident] that's specific to that particular location and we're investigating it to get to the bottom of the circumstances and the reasons and the motive behind it."
Investigations are ongoing.
The women remain in hospital in a serious but stable condition.
Anyone with information is asked to phone Crime Stoppers on 1800 333 000 or report confidentially online at crimestoppersvic.com.au.