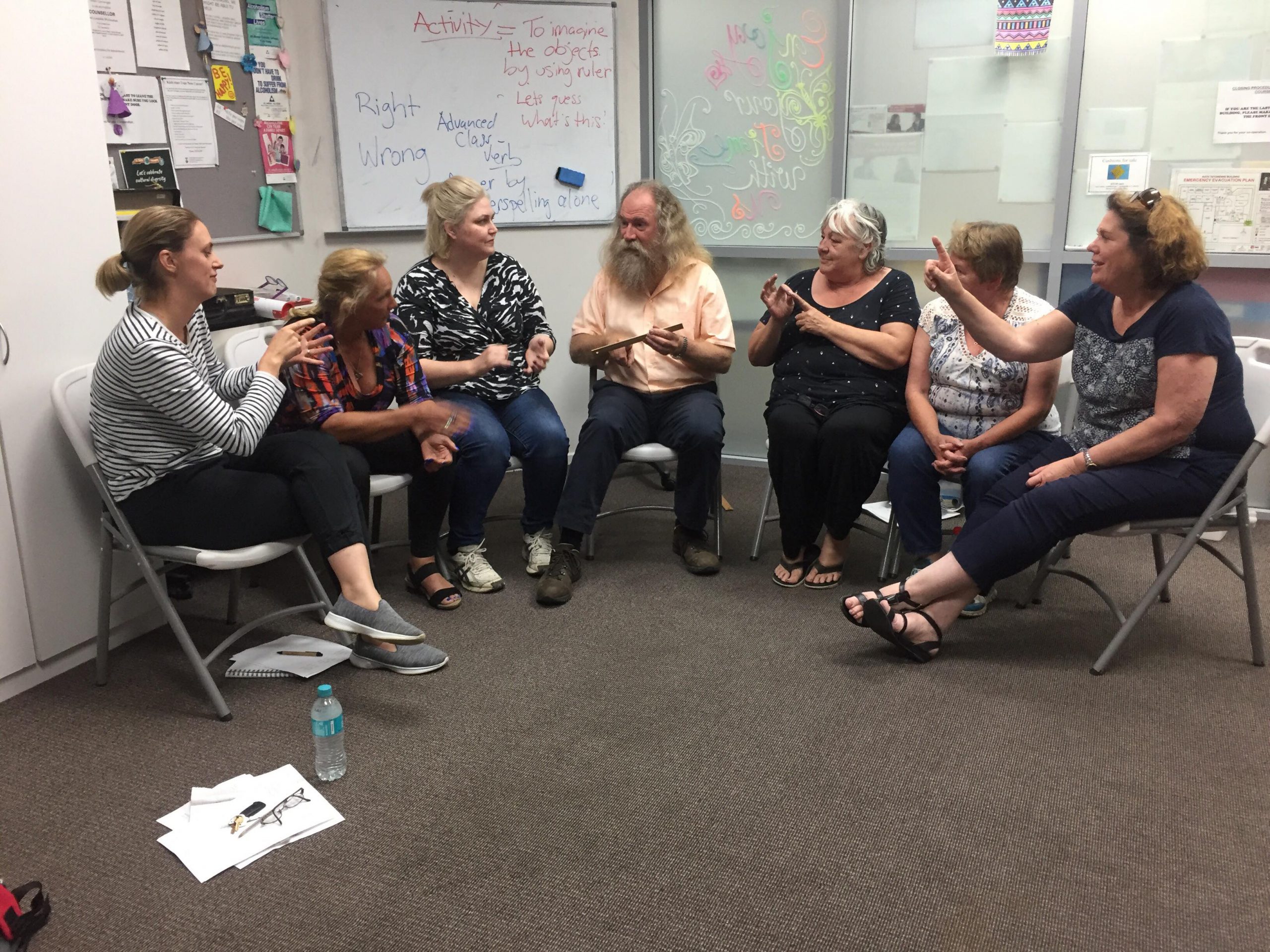 If you walked into the Traralgon Neighbourhood Learning House on a Wednesday night, you might initially be forgiven for thinking there were no classes on in the normally-bustling hub.
Despite the quiet, there is plenty of communication going on.
Artist Peter Adams teaches Auslan, or sign language, classes at the house on Wednesdays and is a passionate advocate of the language.
Profoundly deaf since age two, Mr Adams considers Auslan, rather than English, to be his first language.
Mr Adams never learned to speak English and was educated at various schools, some of which forced deaf children to try to make sounds resembling speech as a way of fitting into a hearing society which left him and other deaf students feeling confused and alone.
Mr Adams is very animated in his classes and teaches the visual language by demonstrating signs and having his students repeat them, also using games and fun activities to help students practise.
Mr Adams' experience of being deaf in Australia was the subject of a documentary, In a Small Valley, which explored how deaf people were treated in the past and what has worked and what hasn't.
In the film, Mr Adams said he was "really struck" the first time he encountered deaf children using Auslan.
"I was really struck with their faces and expressions, it was so powerful, all these signs going on," he said.
Kat Crow is one of Mr Adams' students and described Auslan as a "beautiful, 3D language".
"When we speak it is linear, but [with Auslan] the structure is different," she said.
"I'm talking about that perspective that shifts from first to third to future and how close you are holding to your body."
Ms Crow said it was important for her to learn Auslan.
"I went to a Christmas gingerbread exhibition raising money for a hospital and there was this little girl and I noticed she was deaf," she said.
"When I realised, I knew a couple of signs, and said 'thank you' and told her my name and she was so excited and said 'merry Christmas'."
Carol Stoddart, another of Mr Adams' students, said she was learning Auslan to better communicate with her daughter who is going deaf, at aged 37.
"She has got hearing aids … when she takes them out she can't hear," she said.
"I'm still learning, but she did the course last year."
Ms Stoddart said her sister Helen was learning as well and the three of them would meet and practise Auslan together.
"It is a great thing, which is why I'm doing it. I've always wanted to try it."
Auslan is run each week at the house. Beginners' and/or advanced classes are run depending on the level of interest.
Current classes run from 6pm for beginners and 7.30pm for advanced learners on Wednesday nights.
For more information, call in at 11-13 Breed Street, Traralgon, phone 5174 6199, email tnh@wideband.net.au or visit facebook.com/Traralgon-Neighbourhood-Learning-House.