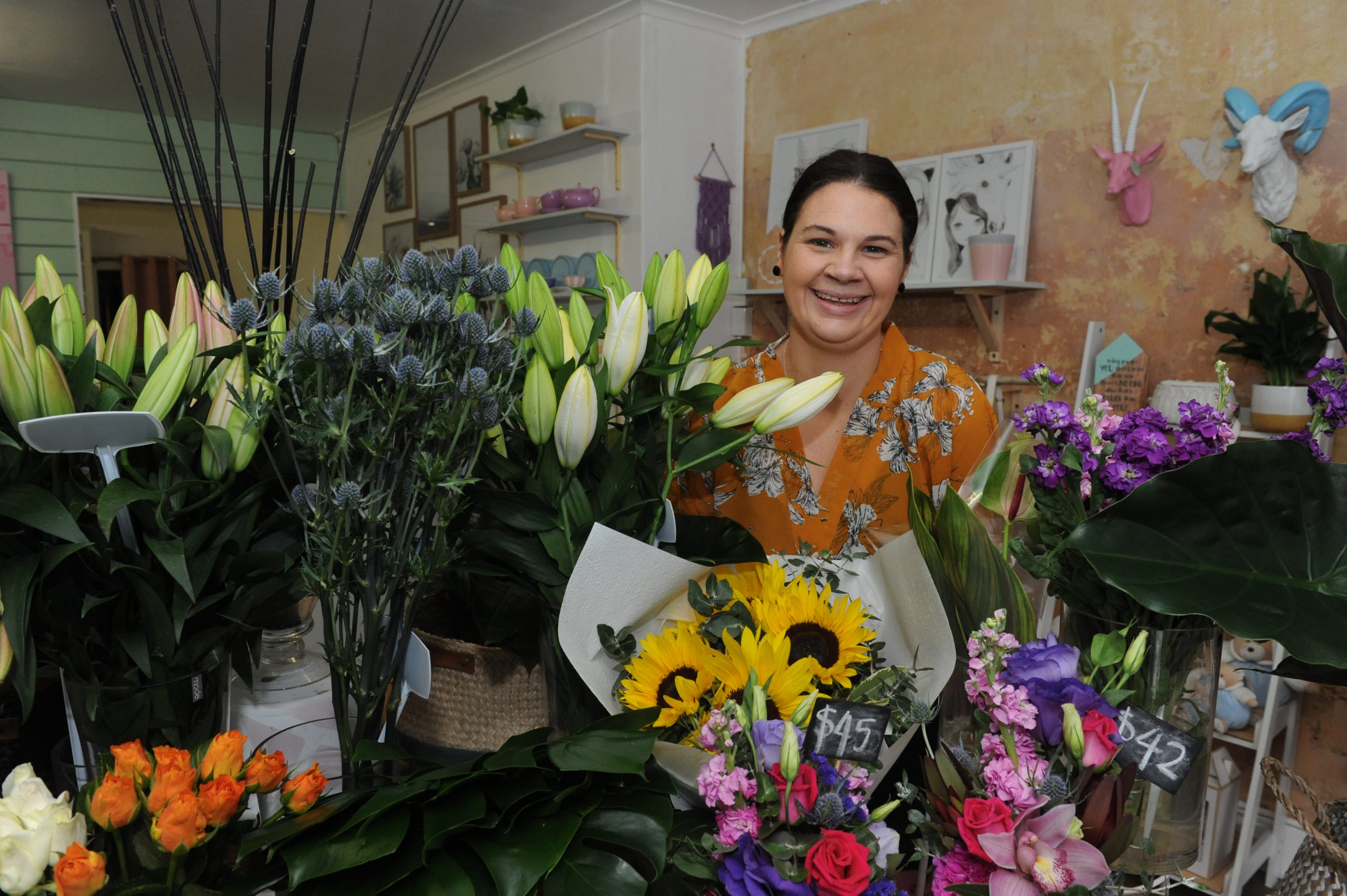 One success story to have emanated from Morwell's retail sector in the past 12 months is the opening of a new independent florist on Commercial Road.
The former model aeroplane and hobby shop sat dormant for years.
Leaves collected on the front doorstep. The shop often used as an ashtray for passing smokers – the shopfront's glass covered in weathered newspapers to deter prying eyes.
But what started as a small home business three years ago, quickly gained momentum, its owner explained, prompting her to transform the derelict and dank shop into a warm and welcoming florist and giftware store.
Donna Hicks, who owns Dear Delilah Florist, said she had received a "terrific" response since opening her store earlier this year, after partially renovating it and applying a fresh, bright coat of paint.
"I've always had a positive outlook on Morwell. There's still people around and like I said there's lots of workers around … it's a really good vibe," Ms Hicks, 37, said.
"I wanted to open a shop in Morwell, I'm from Morwell, I live here and thought there was a market for a florist but we also sell giftware and children's clothing."
Ms Hicks opened the shop without support from government investment or business grants.
"When you mention you're from Morwell it always attracts a negative response and people think if you open a business here it's not going to be successful," she said.
"My business is profitable … and we're here to make money and it's certainly going that way."
Just up the road is Morwell Newsagency.
For the last two decades Ray Burgess has awoken at 2am each day to wrap the daily newspapers before completing the home deliveries himself – with help from his son, Chris, and other staff.
Mr Burgess was less optimistic about the 12 months following Hazelwood's closure but acknowledged there were a number of external issues contributing to a lack of retail confidence.
"You'd have to say [business] has declined since last year," Mr Burgess, 63, said.
"There's a more general lack of confidence in the region after the closure of Hazelwood and people are a little bit anxious that if they lose their jobs, they still have their kids, their mortgage and everything to look after.
"So people aren't going out to buy a new car, or that new TV or whatever they want … people are being more circumspect about their spending, so on top of that you've got the natural decline in our industry with the internet."
Mr Burgers referenced a recent government grant awarded to Ausworkwear and Safety in Morwell during his interview. The business transition grant from the state government following the closure of Hazelwood set out a plan for the company to sell its safety apparel and footwear on a national and international scale.
That business's managing director Andrew Panther said "We have had to develop our exposure beyond the Latrobe Valley" and cited many businesses in the region that faced the dilemma of being too "Valley-centric".
"I see Andrew Panther used a grant to develop an online presence and I think that's probably something we could consider," Mr Burgess said.
"While we have a website it's not a commercial website that you can purchase from. We do have some online capability through our school books' system and we could convert that to an online platform that we could use.
"But having said that, there's a lot of our goods we couldn't ship easily, but nonetheless, that's something to look at."
It is a different story for Morwell-based business Valley Windows, which specialise in manufacturing energy efficient timber and aluminium windows and doors, at its Swan Road facility.
The business is receiving a "significant amount of funding" through the Latrobe Valley Authority's economic facilitation fund to expand its operations and create additional jobs.
Managing director Peter Garth said it would allow the family business founded in 1983 to become more competitive in the marketplace, and provide an opportunity to tap into metropolitan markets.
"We would be hoping to get 10 to 12 new workers, we give young people a good start in life by offering apprenticeships and they will go on to become tradesmen," Mr Garth said.
"We have put a significant growth strategy in place and part of that is we need to invest in our assets here to help with that," Mr Garth said.
"This funding certainly makes it easier for us to look to the future and go out and purchase this machinery which is worth around half a million dollars."
The economic facilitation fund has helped 24 businesses to grow and created more than 570 jobs with more projects in the pipeline, Latrobe Valley Authority data revealed.