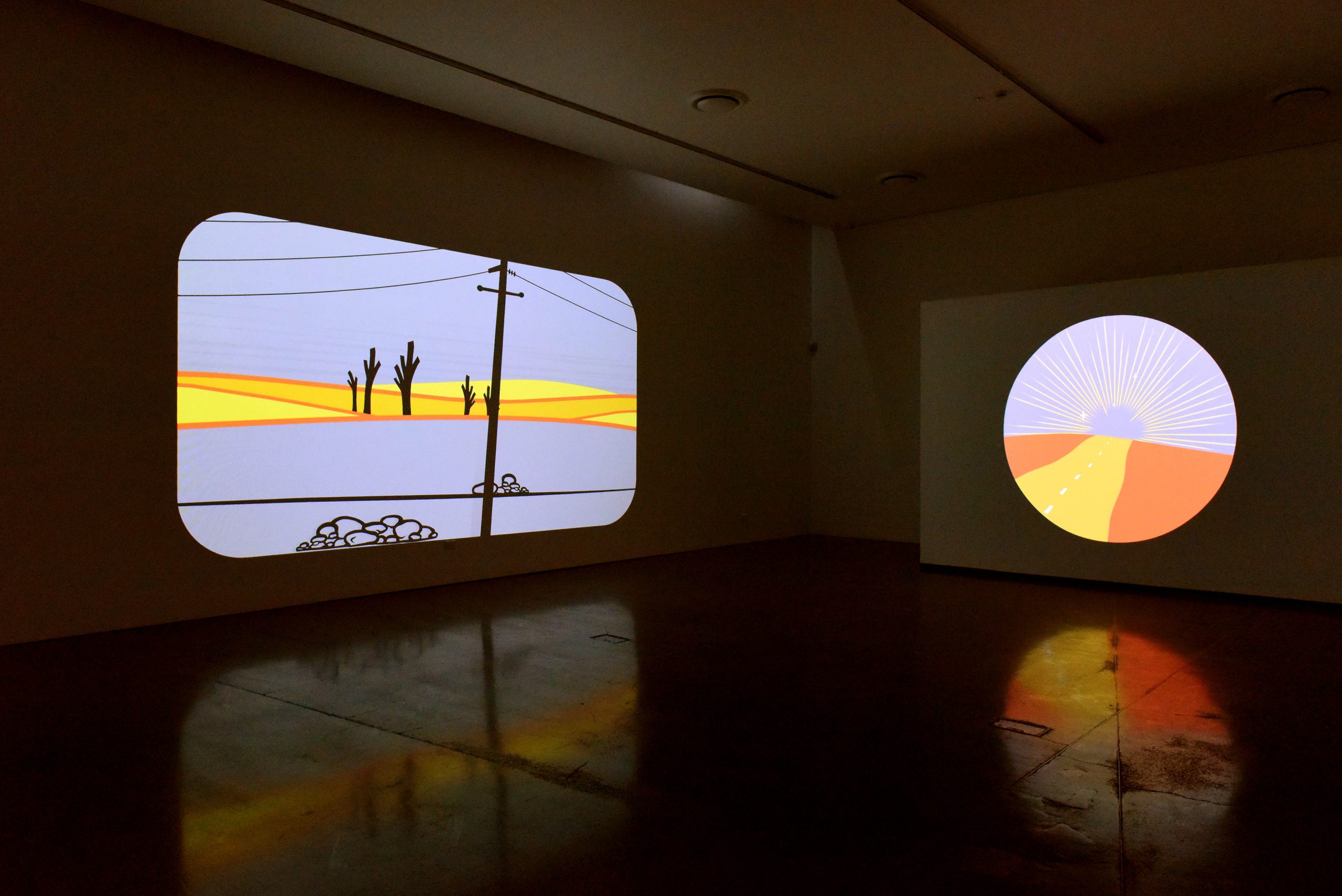 Anne Simmons
For an animation named Beyond the Valley, intriguingly, it never leaves the Latrobe Valley.
"I suppose that's the paradox … in this sense the idea of 'beyond' will never happen, we can only imagine what is beyond," Melbourne artist Martine Corompt said.
Her artwork is on show at Latrobe Regional Gallery and presents a perpetually animated loop of a view out across the landscape, racing across the highway at 100km/h.
The artist chose the Latrobe Valley not only for its "fantastical" power stations planted along the landscape but also its position on the trip back from a family holiday in Mallacoota.
"My first impressions of driving through the Valley were coloured by this gruelling trip coming home from summer holidays," Ms Corompt said.
"By the time we drive through Morwell from Mallacoota, we have been driving for many hours, it's hot, the landscape is parched and it feels as though everything looks the same.
"When the power station appears on the horizon it becomes like a lighthouse – a landmark, marking the time we have travelled so far."
And for a city-dweller, the billowing steam and smokestacks were also a "sobering" reminder "that things we take for granted – like power – actually originate from somewhere".
The artist has worked long-term with the medium and has a particular interest in two-dimensional animation.
Here, she uses repeating panning backgrounds like passing trees and power lines with the same technique as in "low-budget Saturday morning TV animation" like The Flintstones.
"Originally developed in response to economic restraints and largely attributed to Hanna-Barbera studios in the 1960s, the intention was to suggest movement across an expanded distance without the need for extensive drawings," Ms Corompt said.
She said the "cheat process" was like when a viewer noticed the same three trees in a Scooby-Doo chase sequence, or "the endless repetition of passing side tables and flower vases of Fred Flintstone's house as he runs on the spot".
"This visual trope also functions as a gag, firstly because it candidly reveals the mechanical process to the spectator, but also because of the absurd nature of the spatial parameters of the animated world itself," she said.
"With Beyond the Valley this gesture of visual reduction as economic cost-cutting becomes both humorous and tragic when applied to the contemporary Victorian landscape."
Beyond the Valley – A Voyage in Time will be on display in Gallery 3 at Latrobe Regional Gallery until October 28.