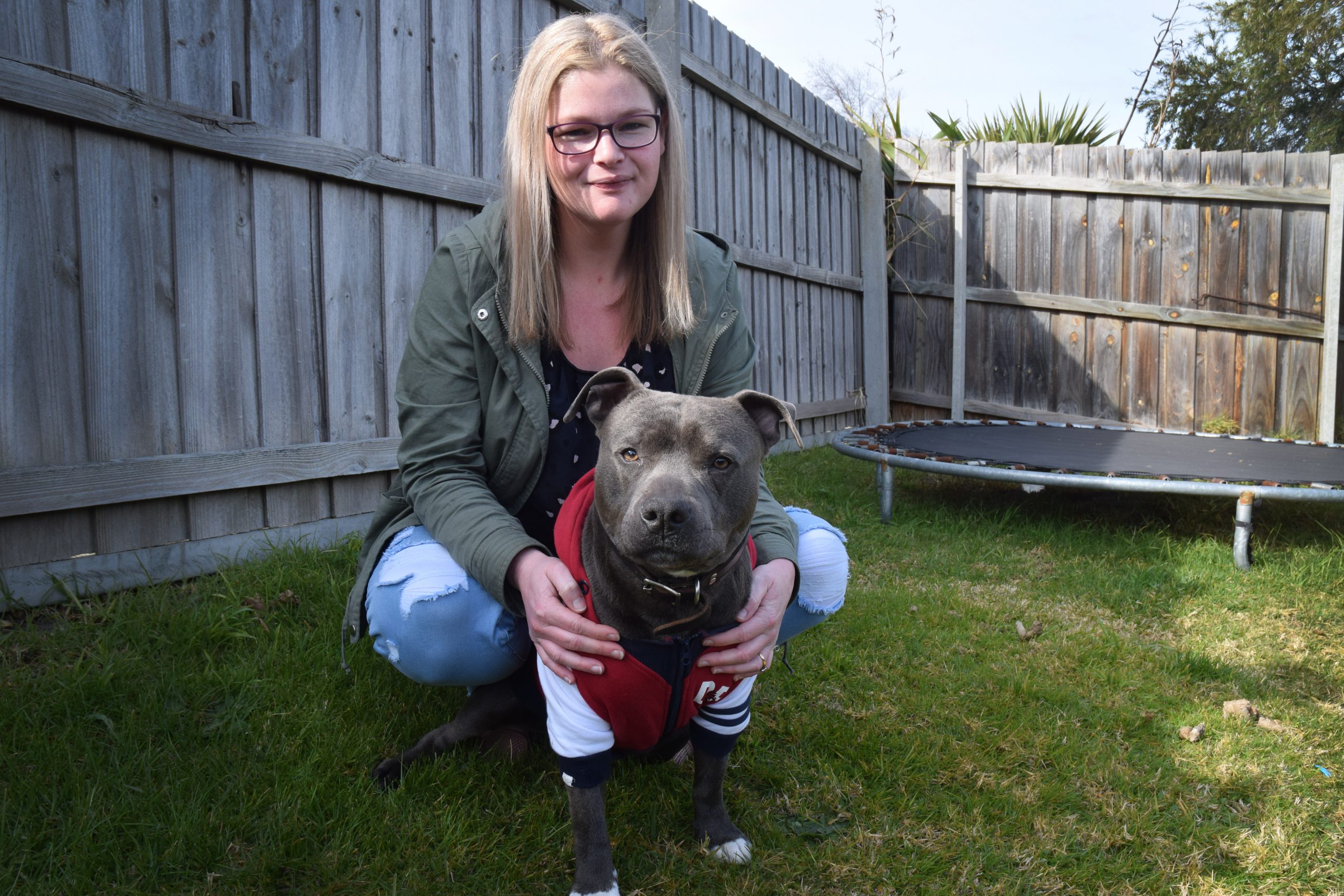 By Kate Withers
At first glance, Kydah the crossbreed looks like a bit of a brute, however, he is anything but.

Described by owner Tineeka Dalrymple as the "biggest, sweetest boofhead you will ever meet", Kydah wins most everyone over with his gentle, gregarious nature.
The soon-to-be-three-year-old was hand-picked from his litter of Staffy/pit bull pups.
"My partner wanted a Staffy because they're so good with kids," Tineeka said.
"My son was only two when we got him so they've grown up together and they're like brothers. They wrestle, they play games … he really thinks he's a baby.
"He's so good with the kids. He's very protective. My daughter will be in bed asleep and he'll be laying right next to her. He's like a little nanny."
Kydah's love for his two-legged brother and sister knows no bounds, and he has been known to go to extreme lengths to seek out their cuddles.
"If he doesn't see the kids regularly, he frets. He dug his way out one day and we couldn't find him anywhere and he was found at the school looking for my daughter," Tineeka said.
"He just loves them so, so much."
When Tineeka's partner is away Kydah also takes on the role of "man of the house".
"He sleeps with us. We had to get a king-sized bed," she said.
Kydah loves nothing more than taking walks in his custom-made, on-trend threads and enjoys socialising with other dogs at the Railway Reserve.
"We take him up regularly and a lot of people with smaller dogs would pull them away thinking he would bite them," Tineeka said.
"But one lady came up and said 'you're just a big boofhead aren't you?' because all he wants to do is play."
Tineeka said the perception of some dogs like Kydah as vicious were often misguided.
"It's the way they're raised. There's too much stigma around some of them," she said.
"He has been raised as a family dog and all he wants to do is lick people to death."

The Express is looking for passionate Latrobe Valley pet owners who would like to tell the story behind their pets and why they matter in their lives.

If you would like your pet to feature in a future edition of this weekly column, email news@lvexpress.com.au with 'You and Your Pet' in the subject line.