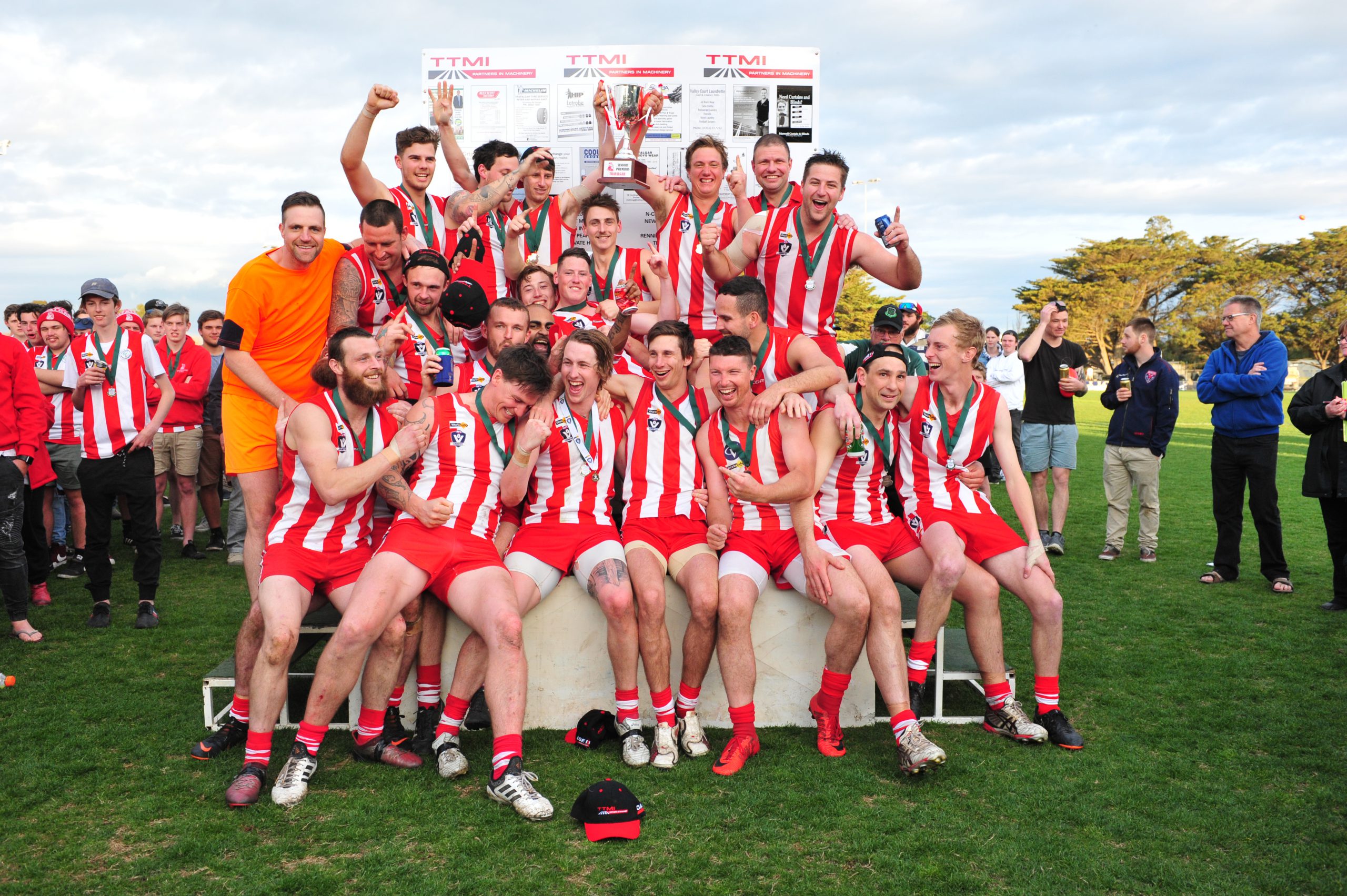 MGFL
GRAND FINAL
Trafalgar claimed a remarkable come-from-behind victory over Yinnar to take the 2018 Mid Gippsland Football League senior premiership on Saturday, 12.12 (84) to 9.14 (68).
The game started with intensity and the mistakes that come with increased pressure and everything on the line.
It took seven minutes for the first goal to be kicked when Matt Goodman got the Bloods rolling.
Matt Van Schaijk built the momentum for Trafalgar when he goaled with a neat kick off the ground in the dying minutes of the first quarter to give his side a 12-point lead at the first break.
Yinnar – goalless to quarter-time – hit the scoreboard for their first majors from back-to-back free kicks.
Ruckman Emerson Hicks made it three-in-a-row inside four minutes, and in the blink of an eye the Magpies hit the front.
Yinnar were beginning to find gaps all across the ground, as skipper and coach Jaime Aitken controlled the back half while Michael Stockdale and Liam Visser combined to make it a six-goal quarter for the Magpies.
The Bloods found themselves in unfamiliar territory as a 12-point lead turned into a 23-point deficit at half-time, increasing to 29 points when Yinnar were first to goal in the third term.
It was going to take something special and that's just what the Bloods did when Rhys Holdsworth goaled after a passage of coast-to-coast play.
Trafalgar had cut the gap back to 17 points at the last change after a late goal to Daniel Hayes, who was starting to loom large.
The margin was reduced again when Matt Swenson goaled in the first minute of the final term.
When Darcy Brock goaled from 30 metres on a 45-degree angle to make the margin just five points, it was clear the crowd was witnessing a grand final to remember.
Trafalgar's Klay Butler, awarded the Bill McConville medal for best on ground, was leading the way and when Lochlan Farrell kicked a reflex goal, as the Bloods hit the front.
Scores were locked at the 12-minute mark before Daniel Hayes marked and goaled from outside 50, but it was Klay Butler who rose to well and truly bury Yinnar's hopes at the 20-minute mark when he goaled to extend the margin to 11 points and seal it for the Bloods.
"The way we were able to finish that game off was fantastic under extreme pressure," Bloods coach Clint Einsiedel said.
"We made a few changes at three-quarter-time … chucked Jesse Stone onto the ball and moved Daniel Puglia forward, Hayden Brock back and just sort of shuffled around a bit and rotated our wings in the last quarter.
"We really started to look more like the side we are. We were more patient, used the ball better and started to play like we had for most of the season."