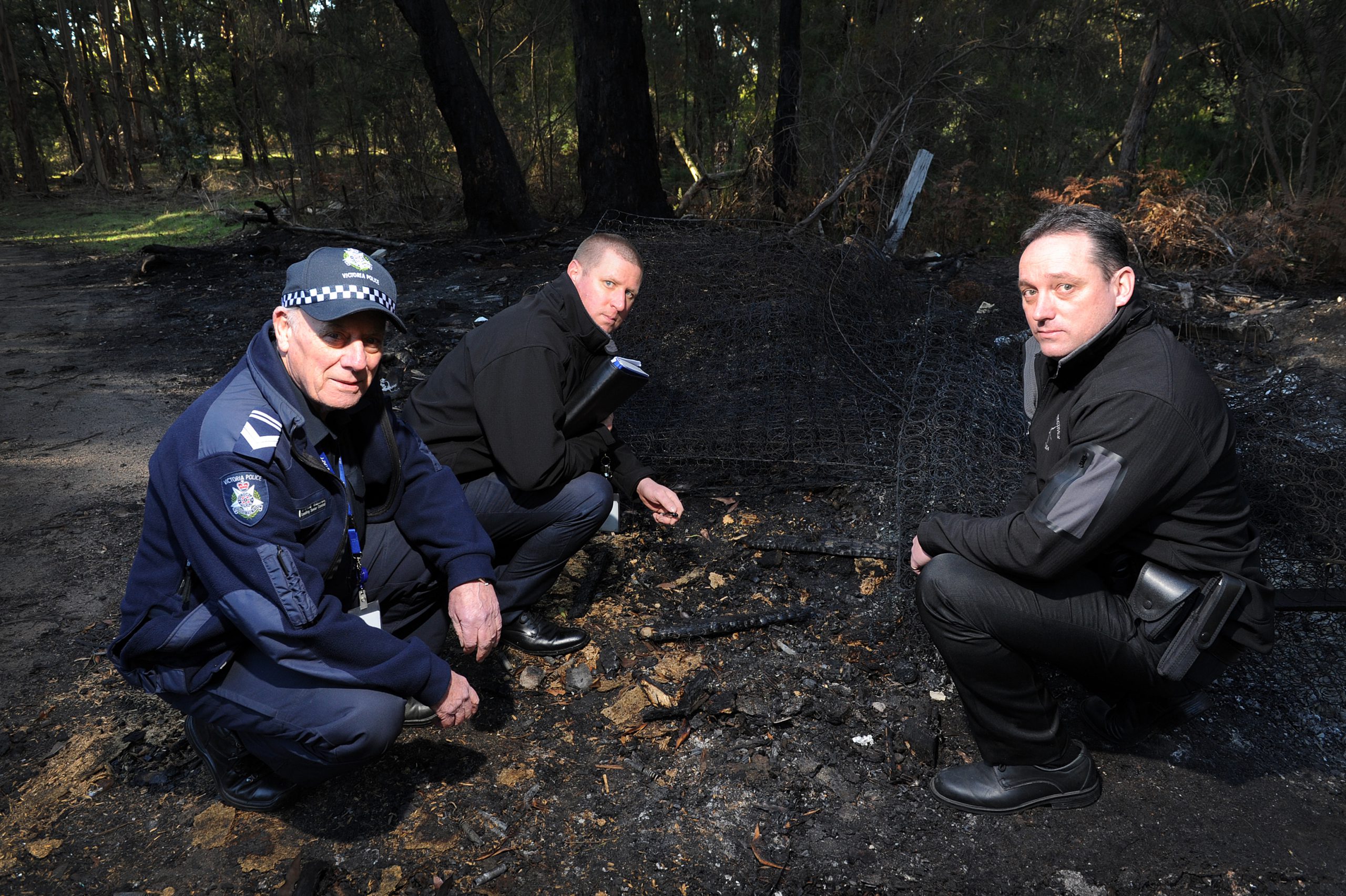 Bryce Eishold
The torching of cars dumped in pine plantations could lead to widespread bushfires in the Latrobe Valley, authorities warned as police this week issued an appeal for people to lock their cars and keep an eye out for unusual behaviour.

More than two dozen cars have been stolen, dumped and set alight since January as detectives and firefighters fear the rate – if it continues to rise – could exceed the amount of cars torched last year.
In most cases, an accelerant such as fuel is being used to destroy the vehicles – with pine plantations the most common place for the act to occur, mainly due to their isolation from the city's major towns.
Latrobe Crime Investigation Unit Detective Senior Constable John Park said car fires were "creating a bit of havoc in the area" due to concerns they could cause a bushfire.
"The motive is that people are just trying to cover their tracks. The cars may be used in some offences and then they're ditched and then the offender moves onto another car," Detective Senior Constable Park said.
On Saturday, police received a call to a car fire at a pine plantation on Jeeralang North Road at Jeeralang which completely destroyed the Holden Commodore.
The day before a car on McMillan Street in Morwell was set alight shortly after 8pm.
Police said the owner of the car was visiting a friend when a person set fire to the vehicle before driving away in a dark coloured Ford sedan.
"We believe the incident in Morwell was a random attack but the second fire at Jeeralang had a potential to cause a bushfire because it was in a plantation," Detective Senior Constable Park said.
"Both fires were deliberately lit which causes a concern because the offender has no regard for the people or property destroyed."
CFA District 27 operations officer Emma Conway confirmed there had been an increase in car fires in recent times, particularly in pine plantations.
While fire restrictions started in the Wellington and East Gippsland municipalities on Monday, a date for Latrobe is yet to be announced.
"This presents a challenge for our brigades – firstly the general dangers posed by car fires and secondly the risk to the plantations themselves," Ms Conway said.
"Fires that start in plantations can cause significant damage to a valuable resource. These fires can also spread to nearby grass and bushland posing a direct threat to our communities.
"In some cases locating these fires can be a challenge because sometimes they're not easily seen from nearby roads and, given the projected fire season, these fires have the potential to spread quickly and containing them can pose difficulties."
Detectives said it was sometimes difficult to determine the owner of the car due to the extent of damage caused by the blaze.
"They're normally dumped to cover the tracks and burnt in plantations just out of town and away from people to prevent the offenders from being caught," Detective Senior Constable Park said.
"It makes it difficult for investigators when these fires occur because when the car is burnt out we often can't marry it up with particular victims who have reported their car missing."
Police reminded people to report suspicious behaviour in and around pine plantations, to lock vehicles when unattended and to store the keys in a secret location.
"If anyone sees or knows information about other incidents, we ask them to contact us and if people suspect people in the area you can always ring 000 and police can come out and see what's going on," Detective Senior Constable Park said.
Anyone with information is asked to phone Latrobe Crime Investigation Unit on 5131 5000 or Crime Stoppers on 1800 333 000.