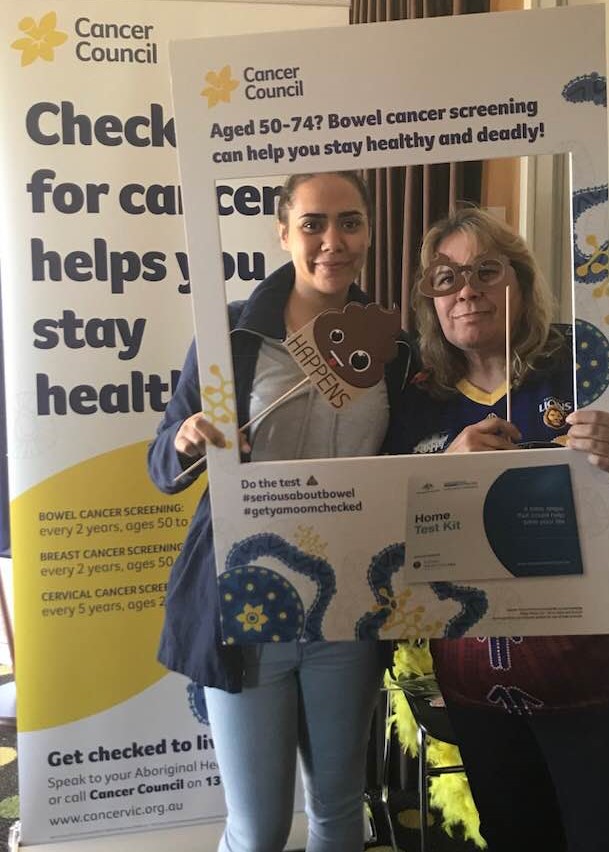 Anne Simmons
Toilet humour will be centre stage for a comedy act dropping into Morwell tomorrow.
Where stand-up meets sitting down is the theme of the event run by the Cancer Council to raise awareness about early screening for bowel cancer.
When bowel cancer is caught early through a screening test, nine times out of 10 the person has a successful outcome, Cancer Council Victoria Aboriginal liaison officer Andrea Casey said.
Flushed! A coonie could save your life is delivered by award-winning comedian Denise McGuinness.
Less than a quarter of Australia's Indigenous community participate in bowel screening, Ms Casey said.
"Some people just don't want to know if they have cancer because they don't necessarily realise if it's caught early they will be alright. They know people who have had cancer and died … and also think a diagnosis is a death sentence," Ms Casey said.
The comedy show begins with past national Deadly Funny comedy award winner Denise McGuinness poking fun at herself and family and medical situations.
Then all questions will be answered about the mystery of taking a sample for the bowel cancer test.
"People consider it embarrassing. If they don't understand how the test is done they think they'll have to touch their poo," Ms Casey said.
"It's simple, clean, it's hygienic and it's effective. Once they see the demonstration they realise they will not be touching their poo."
Cancer Council encourages Victorians aged 50-74 to do the home kit for bowel cancer as bowel cancer can develop with no warning signs.
Flushed! A coonie could save your life will be performed on Tuesday, October 2 at 11.30am at The Gathering Place, 99 Buckley Street, Morwell.
For advice with the home test kit phone Cancer Council Victoria on 13 11 20 or visit cancervic.org.au/bowel.
People aged 50-74 can phone the National Bowel Cancer Screening Program Infoline on 1800 118 868 to find out when they will receive a free test.