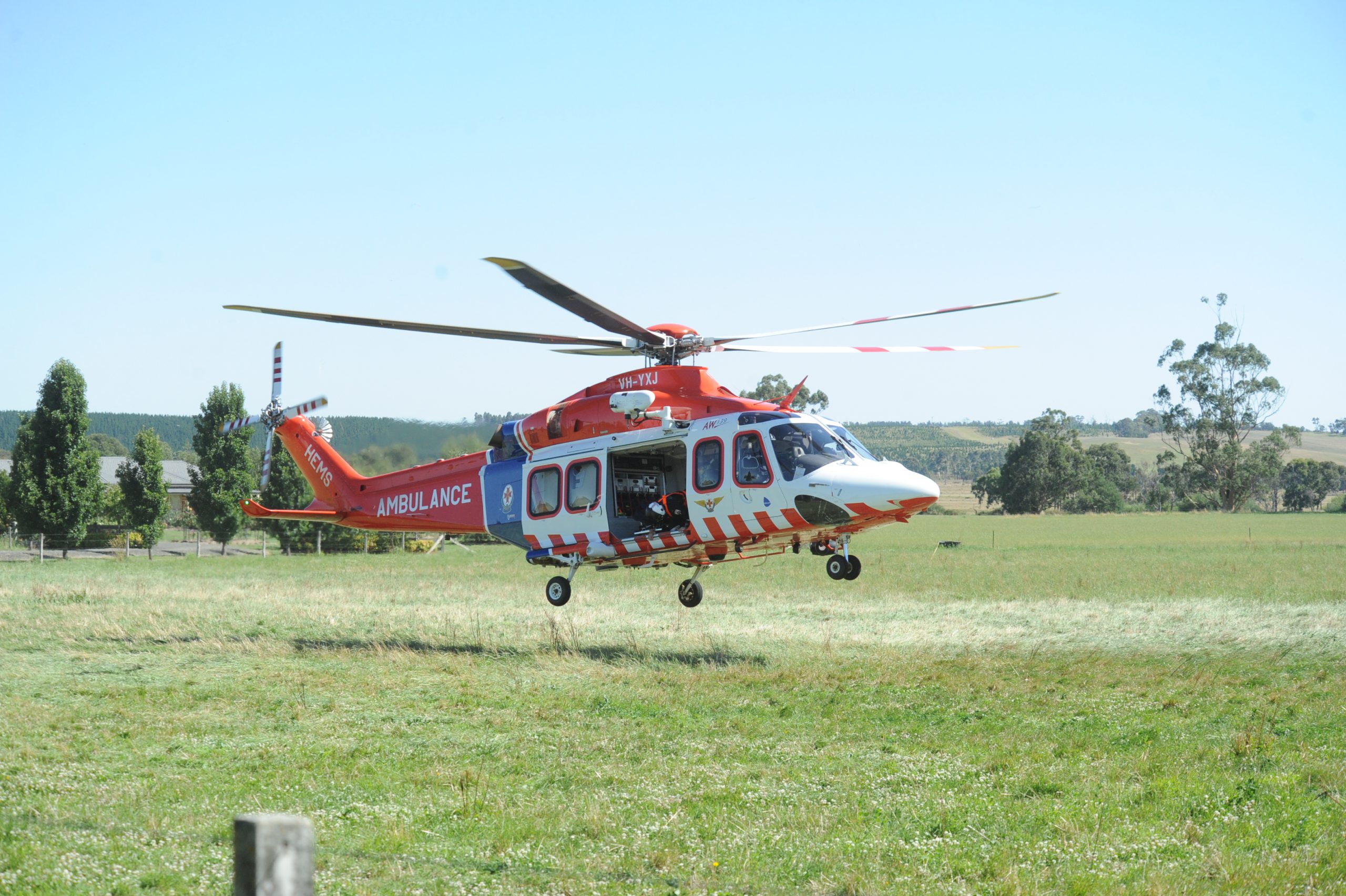 Bryce Eishold
A man has been airlifted to hospital after he was struck by a four-wheel-drive on a "notorious" stretch of road, east of Yallourn North this morning.

The Yallourn North man in his early 50s was flown to The Alfred on Tuesday after being struck on Brown Coalmine Road between Quarry Road and Third Street about 6.40am.
The male driver of the four-wheel-drive stopped to help the pedestrian before a separate three-car nose-to-tail collision occurred as the easterly sun rose, police said.
Morwell Acting Sergeant Dean Zweytzer said the pedestrian was flown to hospital in a serious condition with a suspected broken leg and injuries to his head .

Police said it was a "miracle" the man – or other drivers caught up in the incident – "weren't more seriously injured".
However, police have labelled the pedestrian's actions as "irresponsible" claiming the "regular" walker may have been walking along the 100km/h road.

"A male driver didn't see the pedestrian and clipped him – we're not sure whether the passenger stepped onto the road because where he was walking there wasn't much shoulder," Acting Zweytzer said.
"He's a regular walker on the road … and I think it was a bit irresponsible he was walking on the road and at 6.30am with the sun rising in the east, the visibility was low at best."
The initial incident caused a three-car collision after a woman pulled over to help the injured pedestrian.
"A female driver 500 metres behind the male driver stopped to help and that caused a further accident of two cars ramming into her car – so three cars plus the initial four-wheel-drive," Acting Zweytzer said.
"Two vehicles were towed – the lady who stopped to help and then the car that hit her got towed as well but the third car – the driver managed to drive his away."
Police have raised safety concerns following the incident and said it was "a blessing" those involved weren't "more seriously injured".
"This is the second or third incident we've had on this road in the last two to three weeks and the message is members of the public need to use designated areas for them to walk on," Acting Zweytzer said.
The pedestrian injured was "breathing and conscious" after the collision but "was bleeding from the leg".
The driver of the four-wheel-drive who struck the passenger would not be charged, police said.

Anyone with information is asked to phone Morwell Police Station on 5131 5000 or Crime Stoppers on 1800 333 000.