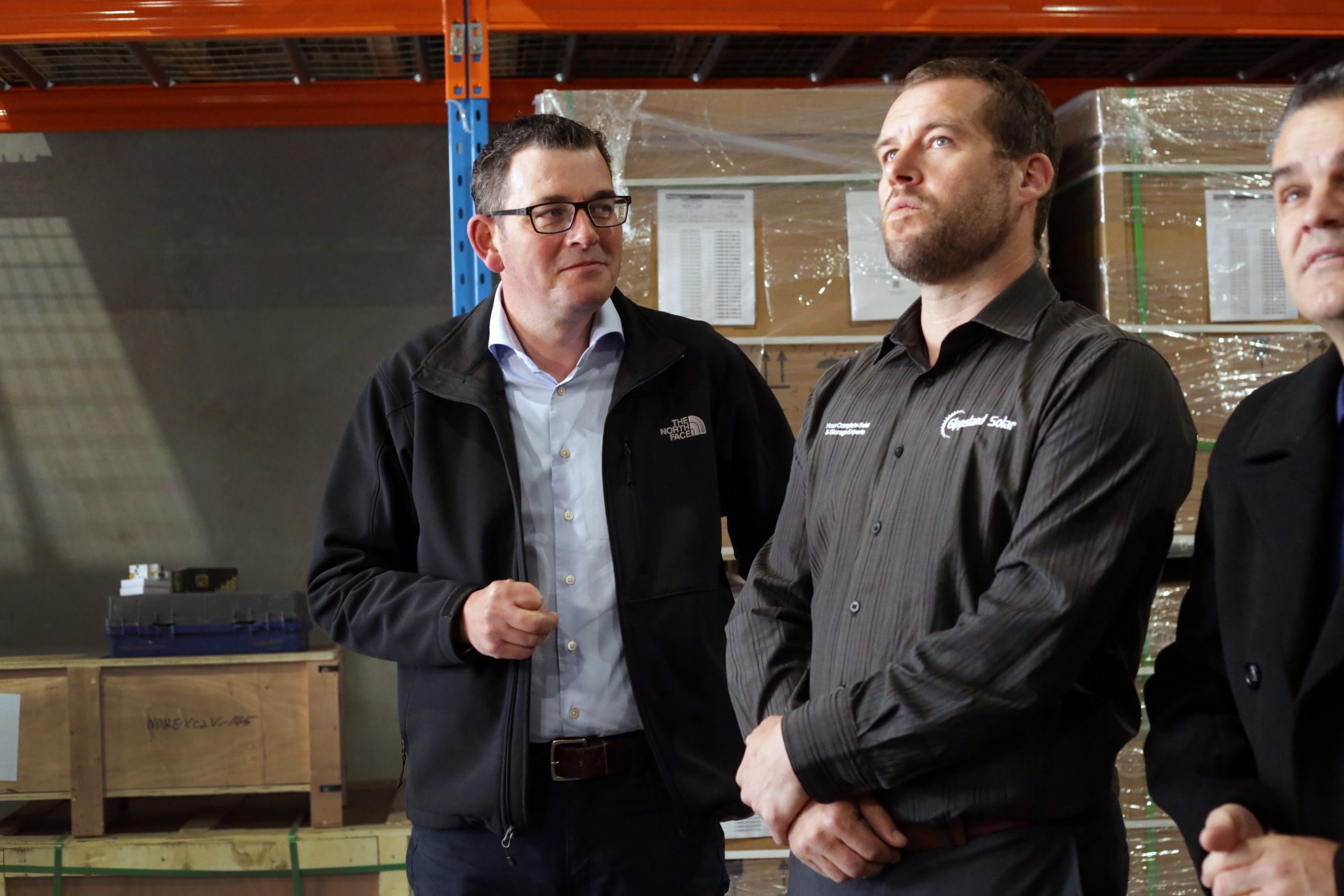 Anne Simmons
A re-elected Labor government will establish a taskforce led by the Latrobe Health Advocate to manage asbestos waste material.

Premier Daniel Andrews made the announcement today at Gippsland Solar in Traralgon East, the same week Latrobe City councillors voted to write to the state government requesting it takes the lead on the issue.
The taskforce would provide a round table for "all the main players" in contaminated waste management to contribute to, including the Environment Protection Authority and WorkSafe and the community.
Mr Andrews said he hoped it gave the community confidence.
"I know this is an issue of confidence for so many people in the Valley," Mr Andrews said.
"This is very painful to think about these issues for many people in the Valley and I think this common sense approach is exactly what the Valley needs and is what we will deliver in full and be quick about it if we are re-elected on the 24th of November."
The issue came to a head when the company responsible for liquidating Morwell Power Station, Energy Brix Australia Corporation proposed to establish an on-site asbestos cell close to the Morwell township.
EPA approved the request, but it was knocked back in October by the council.
The CFMEU had been advocating for a single disposal cell for all industries in the region to use at the Hazelwood mine area.
CFMEU Victorian Mining and Energy Division organiser Duncan MacGregor welcomed the announcement.
"We are well aware that behind the scenes the local [Labor] candidate for Morwell Mark Richards has been pushing this at the state government level for a period of time," Mr MacGregor said.
"It is good to hear the government is listening to the community of the Latrobe Valley and undertaking to address their concerns."
He said even though the union was not listed as a member of the taskforce, it would be seeking to.
Asbestos Council of Victoria/GARDS chief executive Vicki Hamilton said it was "wonderful news" and long overdue.
"Anything that saves lives we are for," Ms Hamilton said.
"I'm looking forward to a great deal of banter and debate and how we go about creating this."
At the announcement, Mr Andrews said the taskforce would not just develop a plan for each issue as it came along, but develop a "proper rule book" to be applied "consistently to each and every occasion when contaminated material needs to be dealt with".
"Whether it be long-term disposal within the community, travel without, all those issues, all those issues need to be considered in a proper process," Mr Andrews said.
Labor candidate for Morwell Mark Richards said he expected the taskforce to be "one of the first thing on our agenda here" if elected.
Jane Anderson is the Latrobe Health Advocate, and the creation of the role was a key recommendation from the Hazelwood Mine Fire Inquiry.