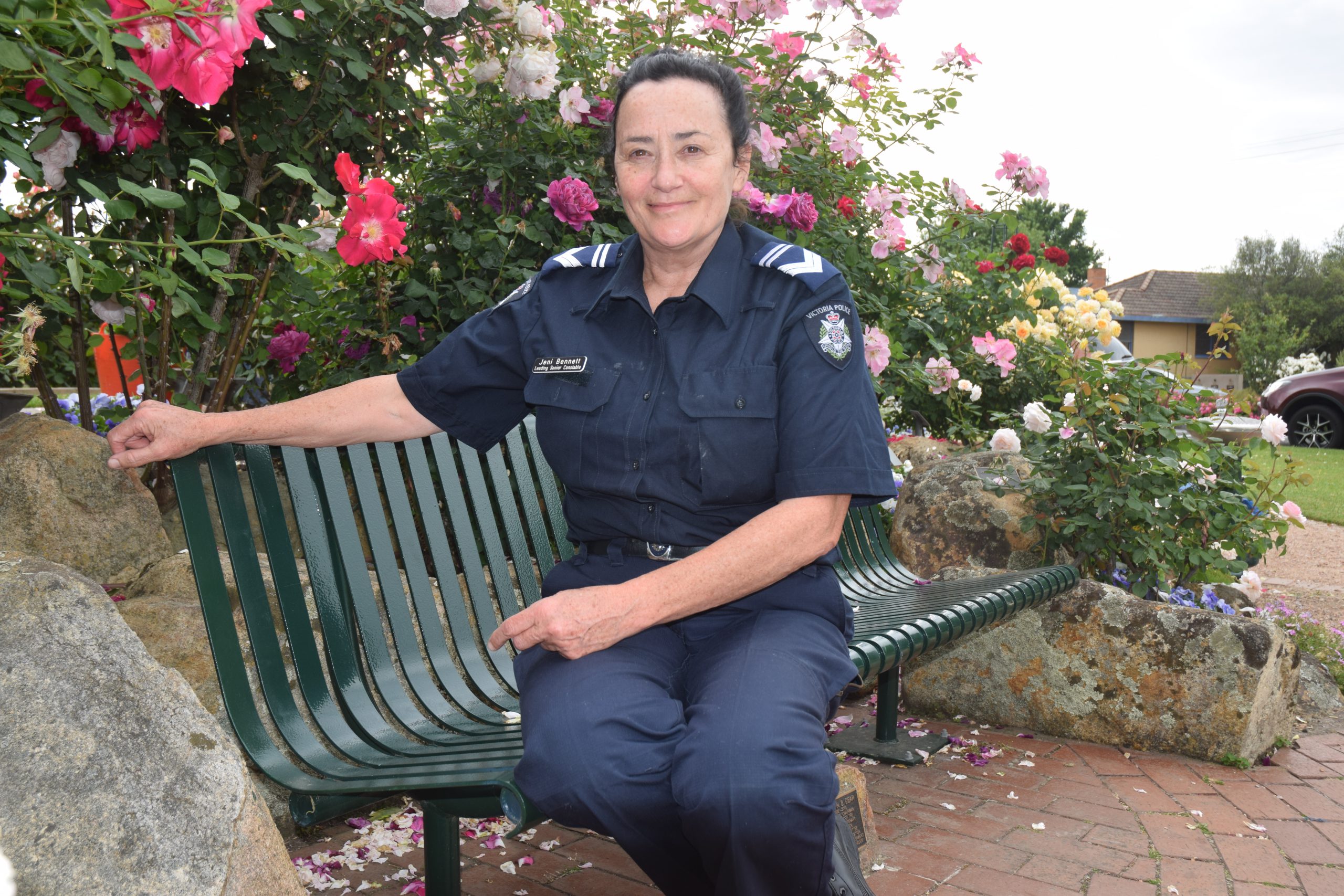 Bryce Eishold
When Jeni Bennett entered the Bullring Spanish nightclub on Johnston Street, Fitzroy in January 1997, little did she know it would spark a move to the Latrobe Valley four months later.

Ms Bennett, a leading senior constable and youth resource officer at Morwell, walked off the job on Friday – bound for retirement – after 31 years in the force.
Starting with Victoria Police as a forensic photographer in 1987, the Hazelwood North resident spent 10 years capturing some of Melbourne's most horrific crimes including the scene following the disappearance of Ringwood woman Elisabeth Membrey in 1994.
But it was in the nightclub where Ms Bennett met the love of her life, Callignee South man Wayne Bennett – a worker in the open cut at Loy Yang, which would spark her 21-year stint as a police officer in Latrobe Valley.
While the timing to retire was "better than ever", Ms Bennett said she was going out on a high and felt it was "time to let the younger kids take over".
"I've been trying to find that right moment to go and I guess I've found it," Ms Bennett said.
"It's a difficult decision because being a police officer for so long is your identity. But I just feel at 61, and I know it's not ancient, but I feel it's time to go and for me to have a life outside of policing."
However, life has not always been rosy for Ms Bennett, having lost her beloved husband, Wayne, to a stroke eight years into their marriage at the age of 43.
"He was an amazing man, he did karate and we got married pretty much straight away. I transferred to Traralgon in general duties and it was a bit of a whirlwind wonderful romance from the get go," Ms Bennett said.
"He did Kyokushin karate, he was very fit and all that sort of stuff but he came home one night, had a stroke, and died from a carotid artery … it was the hardest thing I've ever had to deal with."
But rather than packing the bags to return to Melbourne, Ms Bennett decided to remain in the Latrobe Valley with her school-aged daughter Alexandra before taking up a position dealing with the region's young people who needed support.
"Up here with the kids it's very challenging, it's one of those jobs where you work silently in the background with kids and it takes its toll because you don't appear to be doing much work," Ms Bennett said.
"You get to know the kids and you have to build their trust and rapport and I hope I've made life easier for just some of them."
Retirement will be a mix of photography, spending time at the beach, visiting her grandkids in the Latrobe Valley and relocating to the Mornington Peninsula.
"You get in this job and you meet thousands of people and then you leave; some of those people I'll never see again," Ms Bennett said.
"Thank you to all the people I've met and worked with along the way, it's been amazing."