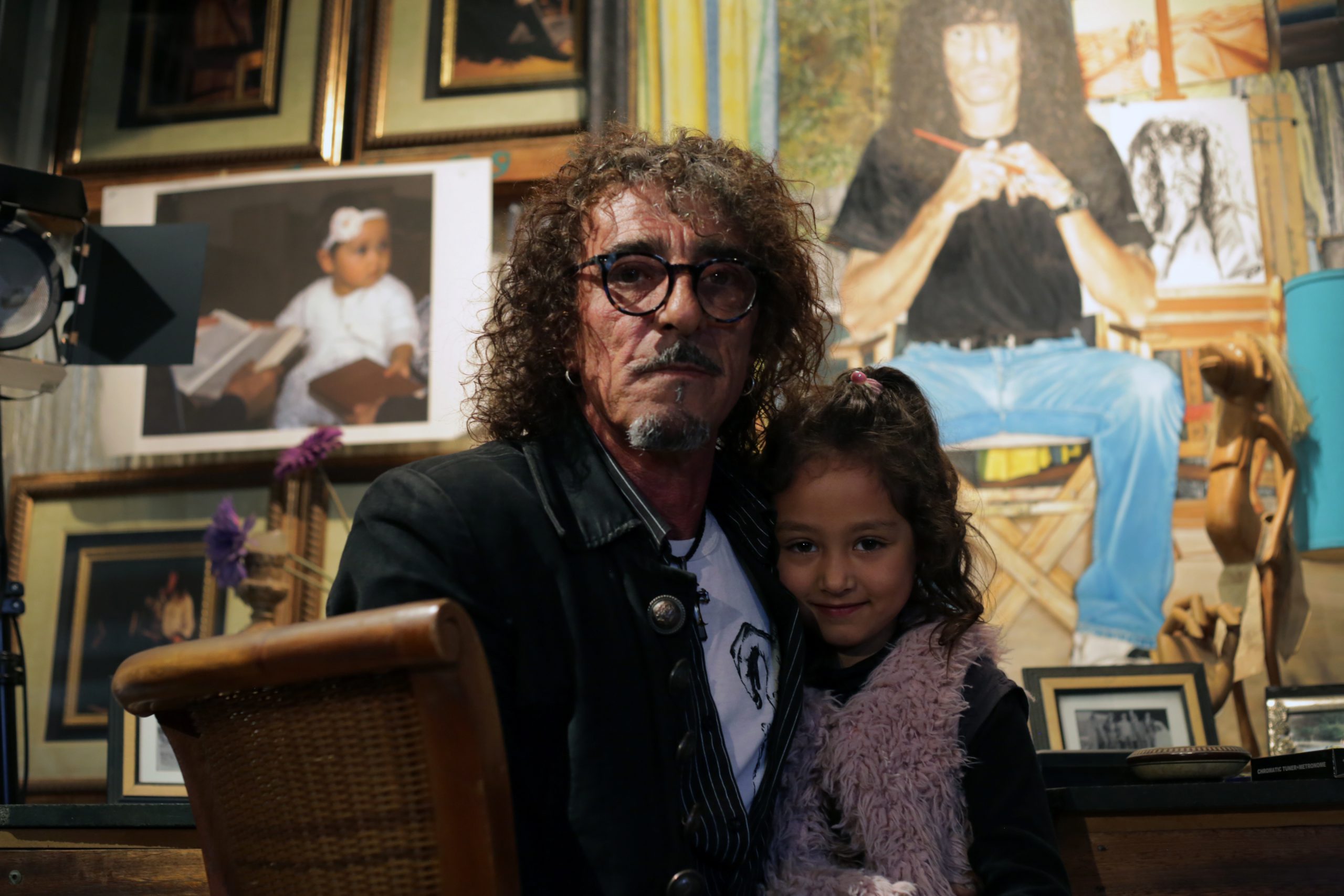 Anne Simmons
Newborough artist Mario Christou says there is some music better suited to painting than others.

"I can't listen to AC/DC or something like that," Mr Christou said.

He prefers classical, and some jazz – something with "a little bit of bite".
"I remember someone used to play me … that relaxing music … I had to get rid of it because it just made me not want to paint or anything, I just wanted to relax," he said.
The Yallourn-born, self-taught painter has a couple of large self-portraits which gaze down at him in his huge backyard studio brimming with artistic creations.
Musical instruments, cameras and lighting give the impression more creativity is on its way.
"It makes you feel warm, really warm … I think as an artist you've got to make your space be you, for it to be something that you want to be in and paint and produce," he said.
Over time Mr Christou gravitated towards portraiture through a desire to recreate someone as they were in the living world.
"It is a challenging process because you know you can make yourself look better than you are," he said.
"For me, when I did the first self-portrait I put everything that I could see on there, even if there was dirt on the shoes."
He has entered portraits into one of Australia's most prestigious art awards, the Archibald Prize.
In 2004, his head-to-toe painting of the late Victoria Cross medallist Edward 'Ted' Kenna was recognised in the Hidden Faces of the Archibald exhibition.
He spent some time in Hamilton getting to know the Second World War veteran whose jaw was "blown to pieces" at New Guinea.
"The nurse that looked after him ended up being his wife. A true love story, isn't it? You don't get that every day," he said.
Mr Christou was stung by a bee while up in Hamilton and remembers Kenna "laughing his head off".
"He was a character," Mr Christou said.
"I met his son actually … they went to the Crown Towers to have a look at the art exhibition and the grandchild says 'There's pop! There's pop!' So that kind of made me feel good because the kids picked him out straight away.
"There's always a stress about the likeness."
During a life engrossed in art, Mr Christou has learnt to manage living with schizophrenia.
Both are skills and experiences he has shared with people at local drug and alcohol and mental health rehabilitation programs.
"I think people need to hear what's real," he said.
"It's not all dark. There are good things that happen in life too. It's just like … what is normal? It's a cycle on a washing machine."
He said years ago he would hide the fact he had a mental illness.
"Now what I do is I pretty much tell people I have a mental illness so they can run away straight away. If they don't want to be in my life that's OK," he said.
The process discovering how to manage his mental illness was a long one, he said, which started with 10 years of being heavily medicated.
"I was on over 400 tablets a month and two injections and I thought I was OK," he said.
"I was on seven Valium a day and if you had given me another seven Valium I probably would have taken them."
He eventually found a doctor he responded well to.
She helped him cut down his medication to one tablet a day and he still goes to her today.
"They both weigh up quite well for me, the counselling and the medication," he said.

"A lot of people they feel good and they cancel their appointment with their doctor and then they usually crash.
"I don't do things like that because it's just like emptying your brain … and off you go again."