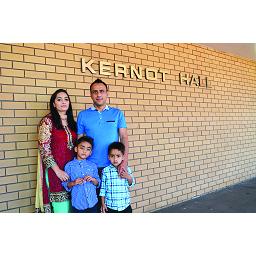 Cher Jimenez
It was the day that mother of two Shaisia Zaffar had been waiting for since she arrived in Australia from Pakistan in 2012.

Ms Zaffar, a doctor, was the only member of her family who was not yet Australian.
"I'm very excited because all of my family members, they've got Australian citizenship and I'm the only one who's left," she said while holding her two sons who were both born here.
Ms Zaffar came to Australia on a partner visa. Her husband, Noman Ahmed, works as a doctor at Latrobe Regional Hospital and became an Australian citizen by conferral in 2015.
On Saturday 16 people from seven countries realised their Australian dream and proudly received their citizenship certificates in front of a jam-packed crowd at Kernot Hall during the Australia Day citizenship ceremony.
Reading a message from Immigration, Citizenship and Multicultural Affairs Minister David Coleman, Federal Member for Gippsland Darren Chester congratulated the new Australian citizens and encouraged everyone to take part in community-building.
"You have decided to take on the rights and responsibilities of Australian citizenship … it's now your responsibility to join all of us in building an even stronger nation," Mr Chester read.
Australia Day ambassador Huss Mustafa acknowledged everyone's contribution in making the country the "envy" of the world.
"Australia Day for me is the day we can recognise the contributions of all Australians – from Aboriginal and Torres Strait Islanders people that have been here for more than 65,000 years to those who have lived here for generations and those, like myself, who've come from corners of the globe to call Australia home," he said.
Mr Mustafa shared how as a 10-year-old he came with his family to Australia from Cyprus on Melbourne Cup Day 50 years ago.
He said he did not know a single English word.
"Not withstanding the initial language and cultural barriers, I have been able to capitalise on the fantastic opportunities that I've been afforded to achieve great success both in my professional and family life," he said.