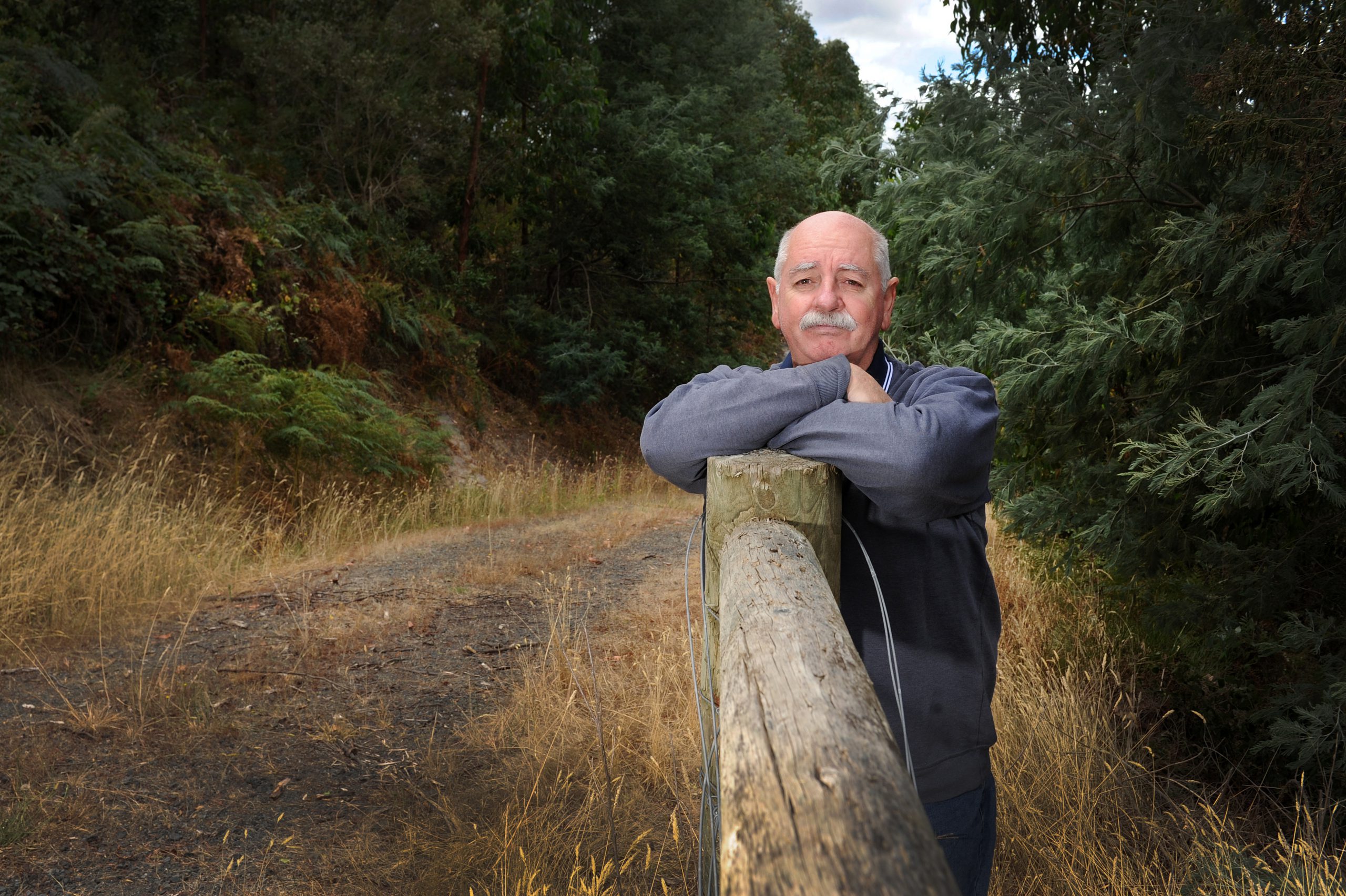 Bryce Eishold
It was an emotional return for former Boolarra resident Bob Lawler, standing on the site of his former Piggery Road home 10 years after he watched it burn from across the creek in his neighbours' paddock.
For Mr Lawler, the experience was somewhat indescribable and "numbing".
He is still "deeply affected" by the loss of his home – not once, but twice, after a landslip claimed his re-built home two-and-a-half years after the 2009 Delburn complex blaze.
But a decade on, Mr Lawler has rebuilt his life for a third time in a neighbouring community where he expects to remain, at least until retirement.
"Nothing's for certain," Mr Lawler said when asked what he learnt from the 2009 fires.
"At the time it was pretty numbing. It didn't really hit me until maybe a couple of weeks later – I didn't have a house, I'd lost all my possessions and I only had my car and myself and that's it."
"I stayed here as long as I could but when the fire came over the hill it was too strong so I went across land to my neighbour's, Ian and Menger Hibbins, hoping if anything changed I would be able to come back but it was just too fierce."
Forty-four homes were destroyed in the Delburn fires, 29 of those at Boolarra on mainly the western and southern outskirts of the town.
The fires, which affected Yinnar, Mirboo North, Churchill and Boolarra, consisted of three blazes lit in close proximity of each other within 24 hours and burnt more than 6500 hectares of pine and blue-gum plantations, and private property.

While police charged a 23-year-old Mirboo North man with arson following the fires, the charges were later dropped, and to this day no one has been convicted of the 2009 Delburn incident.
Mr Lawler was one of two residents on Piggery Road to lose their home in the week leading up to Black Saturday in a blaze which he said started as a "small fire up the hill".
"I remember neighbours leaving and a few people coming in to say 'we're all leaving' … but I said I would stay here as long as I could," Mr Lawler said.
Despite losing his home to fire, Mr Lawler vowed to rebuild, only to have his second home on the same site bulldozed due to land slippage caused by government drainage works on crown land adjacent to his house in July 2011.
"One day there was a crack in the road and the next day it had moved three to six inches towards the house so I watched that happen," he said.

It was followed by a six-year legal battle with council, whereas "the bushfire [compensation] was almost immediate".
"I found it a lot harder with the landslip because of the time factor. I had solicitors involved and everything was very costly," Mr Lawler said.
"The other thing I thought about a lot was that I was in my 50s at the time, and I thought 'it's hard to recover in your 50s financially'.
"You want to be comfortable when you retire and I always thought about that."
After a few years of living temporarily in Boolarra, Mr Lawler bought a new property near Mirboo North but still visits the town he called home for 30 years.
On the odd occasion, residents of Piggery Road have gathered at the crest of the road – near Mr Lawler's entrance to his former property – for a barbecue next to a crooked power pole which has remained there since the land slippage and is reminiscent of what the district and its residents have been through.
"We think the lamp post symbolises what's happened in Piggery Road. You can measure the movement of landslip by looking at the angle of it … it's stood the test of time, that's for sure," Mr Lawler said.
"If anything, the fire brought us closer together and I've been so lucky to have the support of my neighbours."
Nearby resident Roz Carstairs, who moved to Piggery Road in 1977 with her late husband David, said Mr Lawler's story was one of resilience – a quality which she claims the town was built on.

"We may not see each other for a few weeks at a time but in a situation like that we just come together, we put our arms around each other," Mrs Carstairs said.
"In all that 10 years, I reckon I've spoken about this incident once a week. Someone might ask you 'where do you live?' and someone will know what happened here. It will never leave our mind."