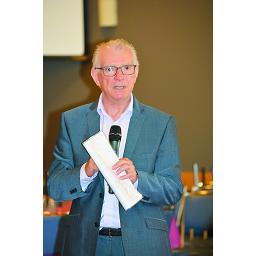 CHER JIMENEZ
Victorian seniors are facing a growing issue of abuse at the hands of their own children, the Commissioner for Senior Victorians has told a meeting in Morwell.

Commissioner Gerard Mansour spoke about the different types of abuse experienced by the elderly during his visit to Morwell on Tuesday.
Mr Mansour discussed the results of the Royal Commission into Family Violence where elder abuse was recognised as a form of domestic violence.
"There are six types but the most common was financial abuse," he told The Express.
Mr Mansour, who was appointed to the job in 2013 as the first commissioner for senior Victorians, said the other types of abuse faced by older people were psychological and emotional abuse.
"The most common forms of abuse in about seven out of 10 cases is financial and it's all the other forms of abuse that make it extremely difficult," he said.
"The most common perpetrators of elder abuse are adult children."
He said there was often a mixture of reasons that included having the children's own personal issues.
"Often it starts off like somebody might go to a hospital and come home and have a time of rehabilitation so their adult children might help with shopping," Mr Mansour said.
"What happens is they give their credit card, they give their pin number, so what can occur is it starts off fairly small and it grows over time."
"Other times the abuse is because the adult children or the grandchildren have problems like gambling or alcohol and drugs so they start off seeking support from their parents. Unfortunately it can turn into abuse where instead of seeking support they take cash against the wishes or the knowledge of their parents."
Mr Mansour said financial abuse against the elderly was often coupled with other types of abuse such as emotional and psychological abuse where children are disrespectful or have sometimes socially isolated their parents from other family members. Other times children felt some sort of entitlement to financially abuse their parents because of issues with inheritance.
"Sometimes they think to themselves one day when my parents pass away I'm going to get an inheritance but I want it now," he said.
Mr Mansour said there were low reporting rates of elder abuse with just 5 to 6 per cent of elderly Victorians reporting abuse before the Royal Commission.
"Often older people are not happy to disclose this because sometimes they feel that it's a slur on them or that somehow they failed as parents so very sadly they turn it around against themselves," he said.
Mr Mansour encouraged elderly people to seek support when they felt that they were being abused and their welfare was at risk.