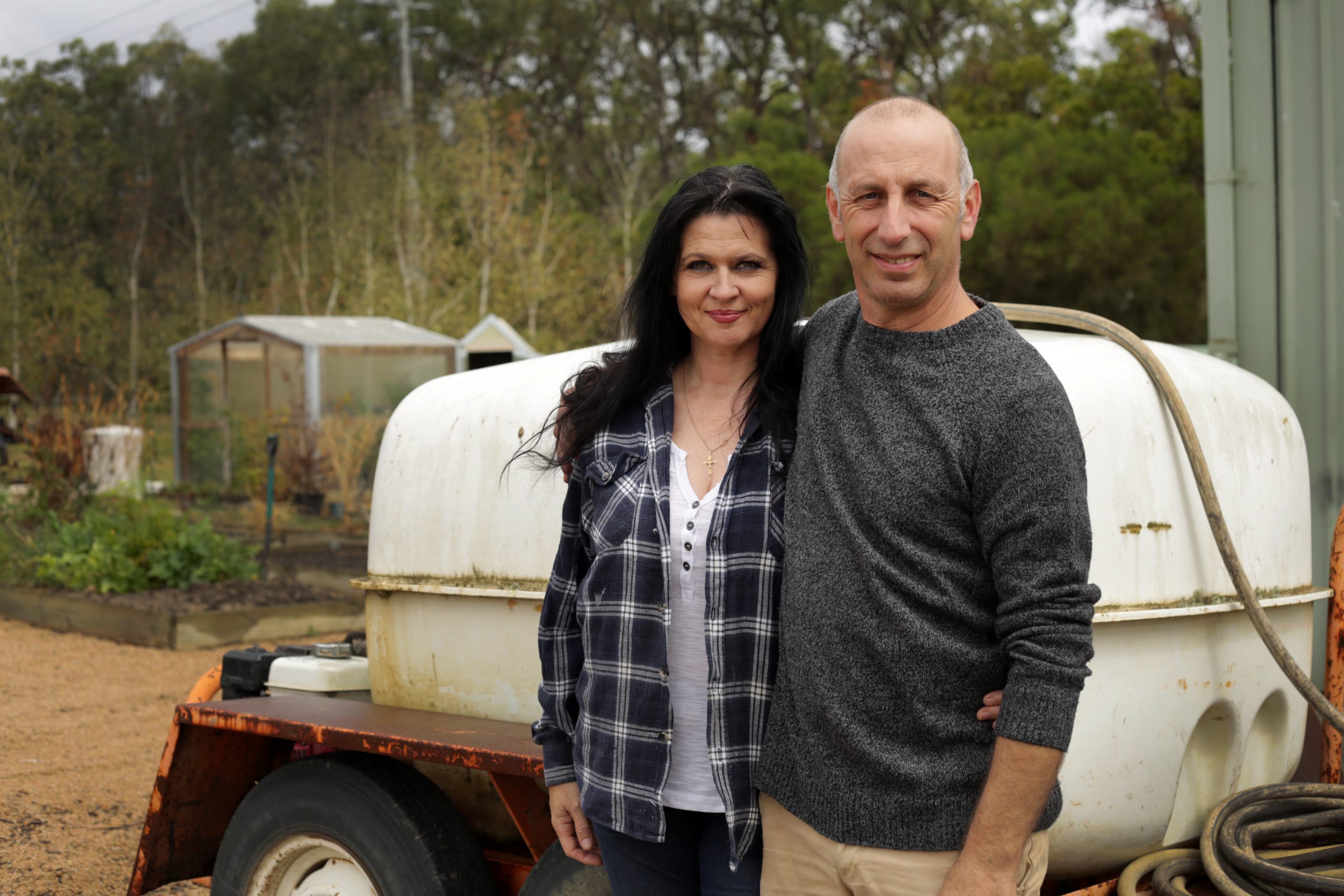 Anne Simmons
This week was not the first time Yinnar South residents Tessa and Thomas Libreri had come under threat of bushfires.

But in 2009 they lived at Kinglake and had no idea Yinnar was even a place.
"We looked at our house at Kinglake after Black Saturday and it was almost like the hand of God had sat on our house," Mr Libreri said.
"It was this little patch of green and everything was total destruction."
Mr Libreri received a bravery award for his efforts during the Black Saturday fires to save his neighbour Michael Flynn who later died.
Today their home in Yinnar South has two large dams, a network of sprinklers, firefighting pumps and "back-up on back-up on back-up".
"We're ready first day of spring. Everything's out. Hoses are out, pumps are out, everything's tested," Mr Libreri said.
"Are we probably a little bit paranoid? We probably are. But we are prepared.
"People become complacent very quickly and you take your hat off to every volunteer."
The couple, who lead the country music band Destiny, know the relentless nature of fires after regularly putting out spot fires at their Kinglake home.
Even when a news crew arrived two days after the 2009 fire was out, a lavender bush in their front yard spontaneously erupted in flames.
The family relocated to Gippsland in October 2010 and Mr Libreri joined the CFA for the first time.
"It's made me a lot more at ease with knowing what's going on, how close it [a fire] is … wind changes, forecasts, all those things you just don't know unless you're in the brigade," he said.
Mr Libreri chooses not to go out on the fire trucks based on his experiences but helps out with patrols and is on call with a tanker at home.
The family saved the home they built in Kinglake but the one-year anniversary led to Mr Libreri's desire to leave.
"They were making it a celebration of life and for me there was nothing to celebrate and I really took it the wrong way. Now looking back it I can see where they were coming from," he said.
"We were just running flat out because we were trying to build as many houses as we could – we were builders – and all our friends had lost houses and I basically wasn't saying no to anything."
Only weeks after the 10th anniversary of Black Saturday their home at Yinnar South came under threat.
Mr Libreri was driving to the city when he received a phone call from Tessa alerting him of the blaze.
"She was not panicked but she wanted me here," he said.
"Then I couldn't get back because they blocked the freeway so then the pressure, the tension."
The trip took an extra hour.
"I can tell you, I wasn't taking it easy," he said.
"I got here and I could feel the relief."
Their Yinnar South home had been spared.
Mr Libreri said he never forgot the memories of Kinglake nor the loss of life.
"I still have all the papers my father collected for me from Black Saturday sitting in a filing cabinet in my shed that I still haven't looked at because I really don't want to know," he said.
"You can look at it two ways. You can sit back and say 'you know it happened and poor me', or you can say, 'what can we do better next time'."
He said he and Tessa's music had been a "saving grace".
"Life's too short and we've seen how quickly life changes," he said.