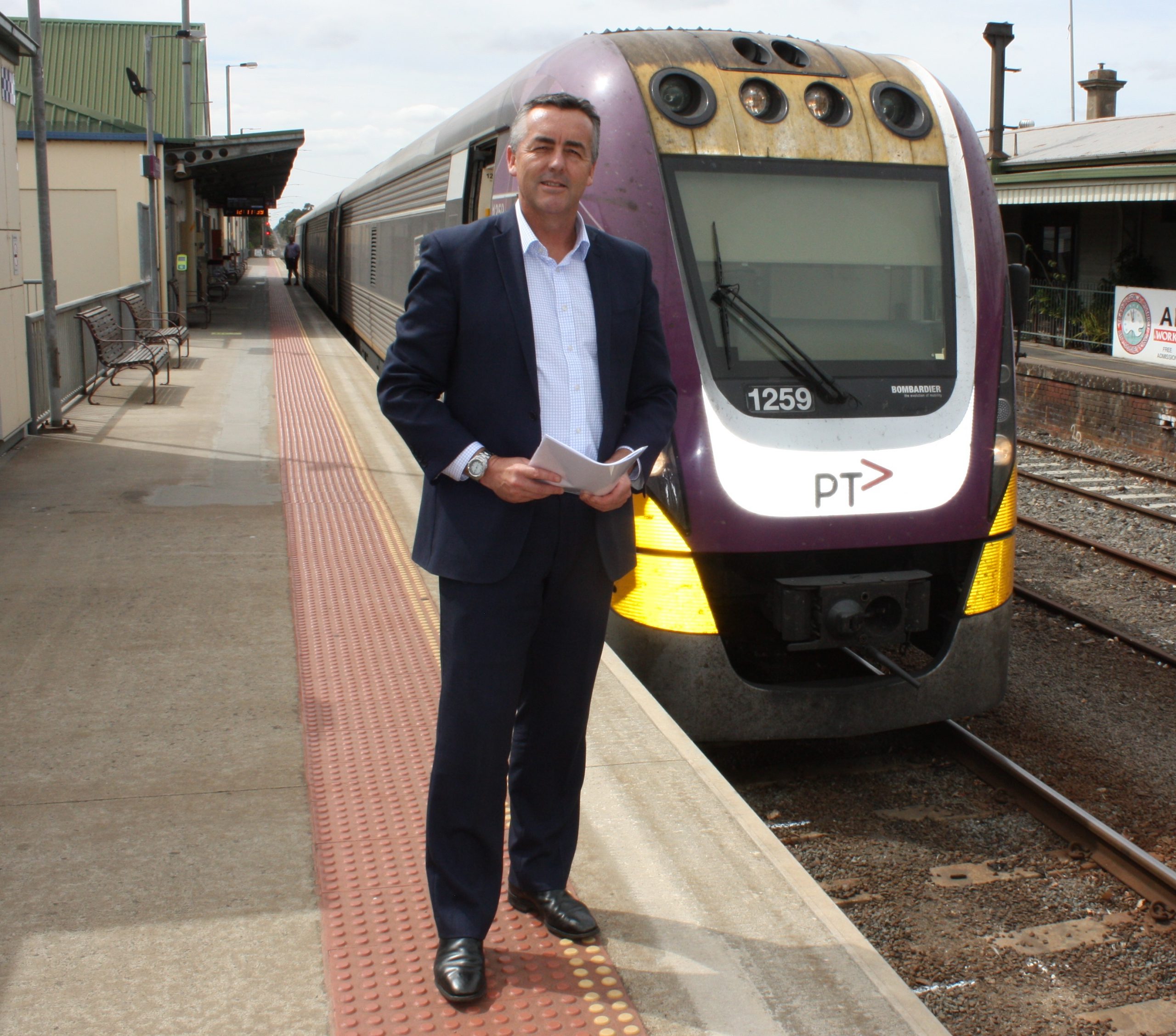 Anne Simmons
An $8 million business case for high-speed trains between Melbourne and Traralgon is back on the agenda as the Morrison government announced its 20-year plan for fast rail across the country.
It renewed a state election pledge made by the Liberal-Nationals in October last year.
The centrepiece of Prime Minister Scott Morrison's announcement last week was $2 billion in federal funding to send commuters from the city to Geelong in 32 minutes.
Under the rail plan, the government would invest $40 million to assess the business cases of five additional lines across Australia, including Gippsland.
The government is proposing travel times from Melbourne to Traralgon would be slashed to under an hour, which federal member for Gippsland Darren Chester said was achievable with the right investment from state and federal governments.
"If we can get the average speed up to 160 km/h and improve the services which link the rest of Gippsland to the Latrobe Valley, we would see significant social and economic benefits to the entire region," Mr Chester said.
"One hour's train travel makes Gippsland an easy day trip from Melbourne. It brings more people into our region to enjoy the range of natural attractions on offer and support local business."
Last year's state election promise raised concerns about the cost of delivering high-speed rail to the Gippsland line.
A non-partisan rail advocacy group, Rail Futures Institute told The Express in October there was no practical way for regional trains from Gippsland to go through the suburbs of Melbourne without being caught behind frequent Metro trains.
Mr Chester said there were well-known issues with links into the city in terms of congestion.
"But we need to develop engineering solutions to overcome those challenges," Mr Chester said.
"If we want to see regional growth the state and federal governments need to work together on improving transport connections."
Gippsland V/Line Users Group convenor Natalie Thorne welcomed the conversation about fast trains but said "we need to walk before we run".
"The irony is our trains already can go pretty fast," Ms Thorne said.
"How are the trains going to get through Dandenong to Caulfield without extra tracks and overtaking lanes?
"If the business case is trying to understand how to unblock that corridor so express services can get through, then I think that is a great thing for Gippsland but if it's a few million to talk about fast trains, then realise we don't have infrastructure for them. That is going to be a big wasted pre-election discussion."
Member for Eastern Victoria Harriet Shing said the Coalition was consistently prepared to look into things without ever going to deliver them.
"I think the Morrison government is treating Victorians simplistically promising something that won't ever come to fruition," Ms Shing said.
"When it was revealed they [state Nationals] were planning to look at an underground tunnel to enable every piece of freight … to travel underground to Melbourne, it was quickly revealed everything from ventilation stacks through to existing infrastructure, gas pipelines and a lack of available land would make that a very costly exercise, if indeed it was possible at all."
Labor candidate for Monash Jessica O'Donnell said fast rail for regions was "absolutely valid" but had taken the six years "on the eve of an election" for the Coalition to see its worth.
Regional Cities Victoria says the federal government's announcement recognises the importance of investing in regional infrastructure.
Regional Cities Victoria comprises the 10 largest regional cities in Victoria – Ballarat, Bendigo, Geelong, Horsham, Latrobe, Mildura, Shepparton, Wangaratta, Warrnambool, and Wodonga.
RCV chair Cr Margaret O'Rourke said greater connectivity between regional cities and Melbourne would make regional cities more attractive and boost local economies.
Recent research by RCV found that, while regional cities rate well in areas such as housing affordability and natural amenities, rail reliability and speeds in regional areas required significant improvement.
"Fast rail will transform regional cities. It would improve access to employment and education opportunities in the regions," Cr O'Rourke said.
"Regional tourism will also benefit from fast rail, making it even easier for visitors to travel to the fantastic attractions, products and experiences across regional Victoria."