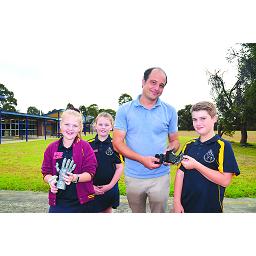 Stephanie Charalambous
The things that make us different make us special.

That was the message engineer Mat Bowtell had for St Kieran's Catholic Primary School grade 6 students last week.
The Phillip Island resident has gained national recognition for his work using a 3D printer to create prosthetic hands for children and the disadvantaged free of charge.
"I worked at Toyota as an engineer for 10 years and then during the automotive closure in 2017 I just decided to pursue some volunteer activities I was doing for those last three-and-a-half years to make that a lifestyle to help people around the world that couldn't access or afford assistive devices," Mr Bowtell said during his visit to Moe.
Since then his operation has grown substantially through crowdfunding and community support to cover the low manufacturing costs.
Mr Bowtell has lost count of how many devices he's created.
"I make all sorts of things like attachments for kids to use skipping ropes if they don't have a hand and attachments to hold a violin bow. This Christmas I gave a girl a violin with an attachment so she could actually learn to play," he said.
Through a presentation and workshops with the grade six students of St Kieran's, Mr Bowtell aimed to help the children "focus on what their core values are and try to live by those".
"It's okay to be different and it's the 'crazy' people that end up changing the world," he said.
Student Andre Battista said Mr Bowtell inspired young people to be great leaders.
"He has a great influence on us to become really good people," Andre said.
"He does great things for people who might not be able to afford the best."
Teacher Emily Haesler said the talk was part of the school's annual grade 6 leadership day which encouraged students to develop friendships with people they otherwise might not.
"It's not about being the loudest voice. It's not about winning the most awards or being recognised. It's about making a difference to people's lives which is what we really wanted to focus in on," she said.