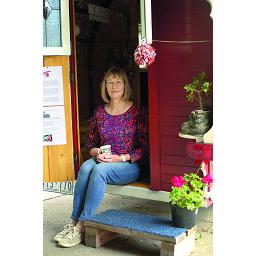 Anne Simmons
If POM-POMS ever had a practical purpose, it would be in Yallourn North resident Susan Lendon's caravan.

"That's to stop anyone who doesn't know banging their head on the door," Ms Lendon said.
The trailer is called a vardo, a traditional-style Romany caravan with modern adjustments for today's roads like hydraulic brakes.
'Our horse is named Nissan', Ms Lendon tells people, tongue-in-cheek.
She and her husband Peter acquired the vardo about five years ago and when it is not pulled up at the beach, it adds luminous colour to their driveway.
It has a bow-top teal roof, bright red ends and painted white window panels between stained glass.
Ms Lendon describes it as "practical fun" for "grown-ups".
But kids like finding the tiny mice figurines inside, she says.
"It means you can travel simply," Ms Lendon said.
"Because traditional Romany, they don't cook inside, they don't wash inside, everything's outside."
While Ms Lendon says she has some common Romany names in her ancestry she had never researched whether she actually had Romany heritage or not.
"I always hoped there might be," she said.
It is the "independence" that interests her.
The flyer fixed to the caravan made by Miguel and Lisa Ovejero in Boolarra describes how the heyday of the living wagon lasted for about 70 years from the mid-1800s.
While the Lendons have no dogs or chickens in tow, it is eye-catching.
"If we … park it in the street, we can sort of watch the action around it," Ms Lendon said.
"Whether you agree with all the [Romany] traditions or not, they're fairly close families often and they have lots of skill, like they make pegs."
Ms Lendon has an appreciation for handmade crafts and is a teacher in Dorset button-making herself.
The skills date back to English villages in the 1600s, she said.
"The craft had crashed in about 1825 with the industrial revolution and new machinery that could make millions of buttons. But it put a lot of people out of work," she said.
"Whole villages had streets with big gaps in the street because the buildings had crumbled, the people had just been sent away.
"There's a lot of history and when I teach buttons they get the history whether they like it or not."
The wagon may not have mod-cons like airconditioning but Ms Lendon finds comfort in the small space.
"It's a bit like the fridge box you used as a cubby when you were a kid," she said.
"I can … read a bit and daydream and the space wraps around me.
"It's calming and meditative and when we are away at the beach, backed up to the sound of the waves, there's nowhere else better to be."
Others must agree – Ms Lendon once went out to change the sheets and found the bed warm.
A stray cat had curled up inside.
"I don't know who was more surprised," she said.