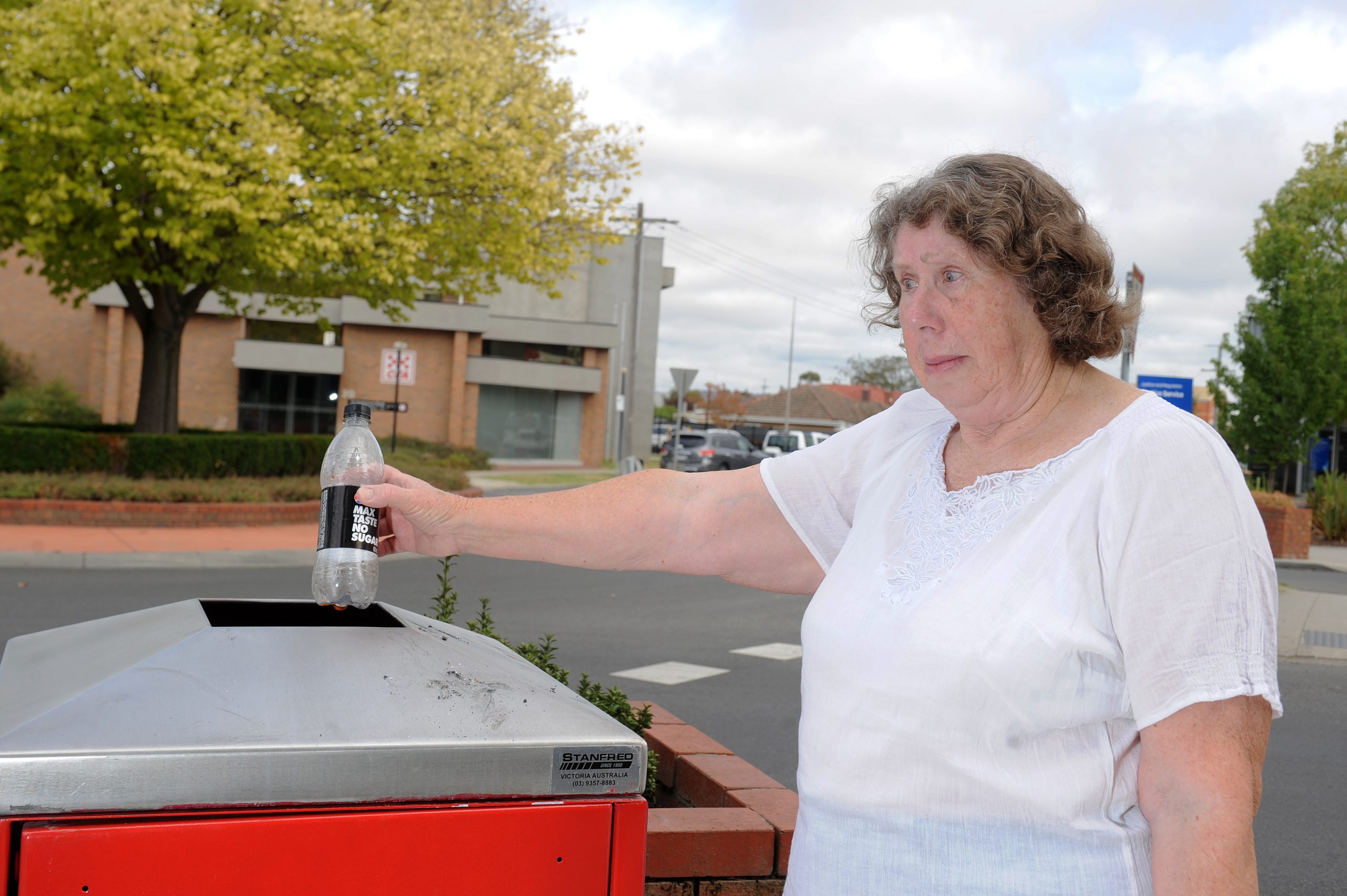 Anne Simmons
Consumers in the Latrobe Valley's towns have no access to recycling bins in busy public areas and concerned local resident Lorraine Bull is pushing Latrobe City Council to offer the service.
Latrobe City's neighbours Baw Baw Shire and South Gippsland Shire both have recycling bins available in some public areas.
Ms Bull, the president of Latrobe Valley Sustainability Group, said the lack of recycling bins in public places had "concerned" her for some time.
"You find them in almost every other council area you go to," Ms Bull said.
"I must say I get a bit annoyed when I go to a park such as Kernot Lake … and you see the single rubbish bin is overflowing with bottles and cans and cardboard boxes.
"To have the bin option at least there's, 'we would like you to do the right thing', rather than 'we don't care, just throw it all in landfill'."
She believes offering public recycling bins showed leadership and would help avoid excess materials going into landfill that could be recycled into other products.
"You can get so many commodities out of plastic because it is created from oil … this is perhaps something we could consider because there is an urgent need for Australia to deal with its own recyclable waste," Ms Bull said.
About a year ago China set restrictions on what recyclables could be imported from Australia.
Australian Paper's plan to incinerate kerbside rubbish to help power its Maryvale mill was another reason to be more conscious of putting recyclables into the right bin, Ms Bull believes.
"If we want to save recyclables and the opportunities they present to create new products then the sorting has to happen at the household level or the street level where people are out having their lunch," Ms Bull said.
Yallourn North advocate Anthony Wasiukiewicz agreed recycling should be available in public areas in Latrobe.
"Other councils that aren't necessarily considered progressive tend to be more in front of the eight ball with generic matters we tend to leave to further down the track," Mr Wasiukiewicz said.
"We should have a decent recycling facility here. We should try to be leaders."
Wellington Shire previously offered public place recycling but later took away the bins.
Latrobe City acting general manager of infrastructure and recreation Larry Sengstock said officers were exploring the provision of public recycling bins.
"The results of this is yet to be finalised for further consideration," Mr Sengstock said.
"Council acknowledges that recycling is a huge benefit to the environment and helps prevent waste from ending up in Latrobe City's natural environment."