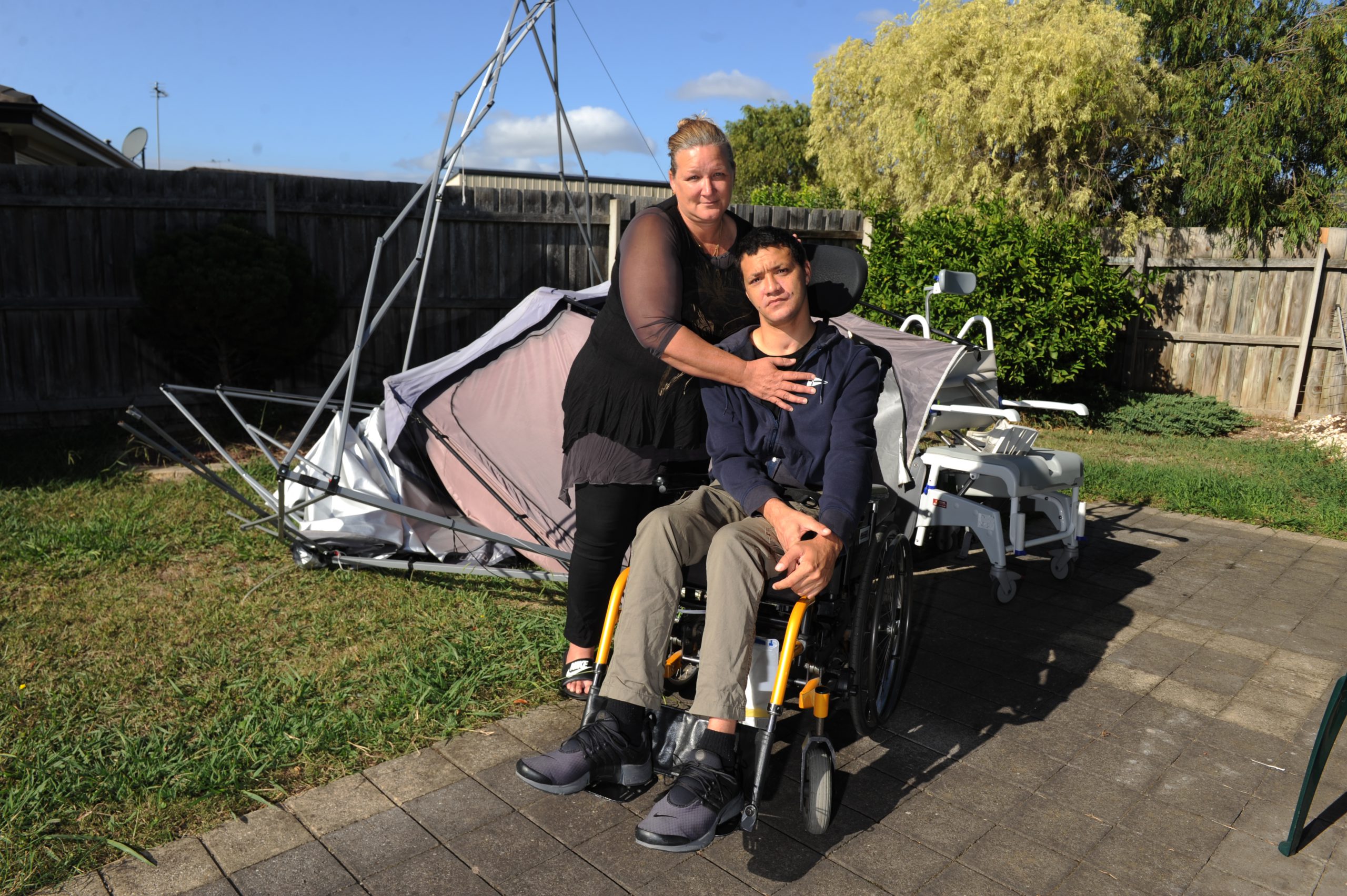 By Cher Jimenez
A Traralgon mum has been struggling to get approval from the National Disability Insurance Scheme to modify her son's bathroom so that he can get a "decent shower".

Kristina Pahulu's son, Michael, who is 29-years-old, has an acquired brain injury and uses a wheelchair.
The family moved to the Latrobe Valley in December 2017 from NSW with Michael already having an NDIS plan that included modification works to fit his wheelchair into the bathroom and toilet.
Mrs Pahulu said Michael's occupational therapist organised a quotes for the bathroom works in April last year but this was initially rejected.
"NDIA [National Disability Insurance Agency] didn't approve the quote because it was a major modification so they said 'we need two quotes' and then we got two quotes and then they changed it to 'we need a whole house plan'," she said.
NDIA manages the NDIS and approves plans for participants.
"Everything changes every time you ring them something else is put in the path," the mother of two said.
Around last Christmas Mrs Pahulu and her husband set up an outdoor shower facility in their backyard so that Michael could shower but this was blown away by strong winds early last month.
Michael is now left having sponge baths in bed and showers weekly in Warragul where he attends hydrotherapy sessions.
"I'm just so frustrated. I mean, it's a basic human right for him to have a shower every single day," she said.
Mrs Pahulu said she was worried about Michael's safety with winter coming if he continued to bathe at their outdoor shower set up.
"Because of his condition he can't be showering outside. He's more susceptible to lung infections than being out in the cold because of pneumonia. My heart goes out to him. I want to give him a shower in my bathroom but I can't even put his wheelchair in," she said.
She said Michael also has continence issues and would need to be cleaned up sometimes between three to four times a day and without an indoor shower facility was only able to be given a sponge bath in bed.
Mrs Pahulu said she had provided everything NDIA required of her and even went to their Traralgon office as she was getting different responses through the agency's call centre.
"It's not right that it takes so long. We've done everything required of us to do. What else can I do?" she said.
In a statement sent to The Express a spokeswoman from NDIA said they apologised for the delays in processing Michael's request and vowed to "continue to work with the family" to get the works done.