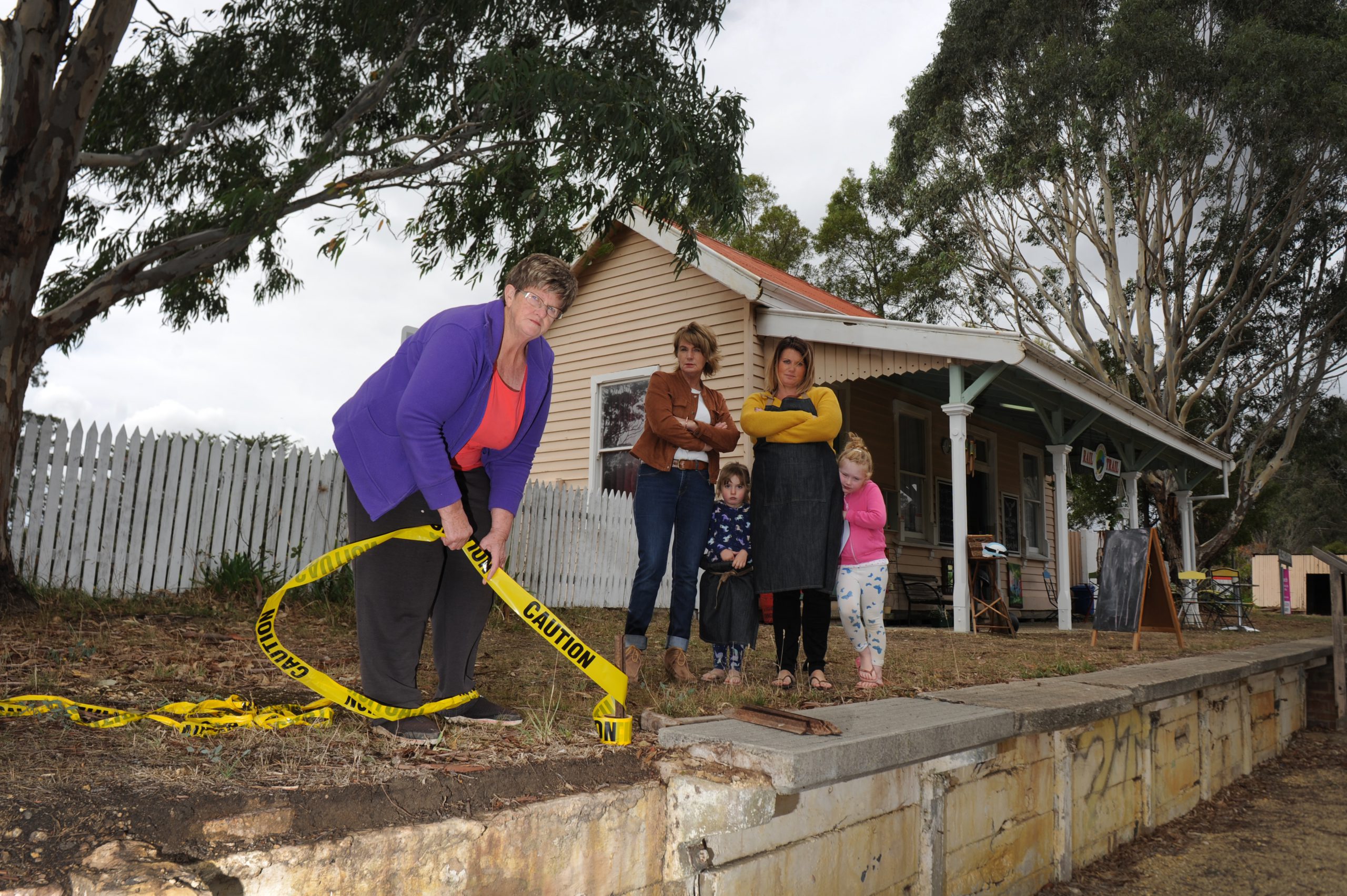 Bryce Eishold
Disheartened volunteers have issued a desperate plea to help find those responsible for ongoing damage and vandalism at the former Glengarry railway station.

Some of the historic railway station's buildings have been targeted in the last few weeks. Volunteers responsible for the site's upkeep estimate the value of damage is in the thousands of dollars.
Gippsland Plains Rail Trail committee chair Helen Hoppner said the 1883 building which links 67 kilometres of rail trail between Traralgon and Stratford was in urgent need of repairs following two months of ongoing attacks.
Most recently, a timber door on a goods shed was destroyed and edging surrounding the original platform was pulled off during two separate incidents.
Police have issued a plea for people with information to come forward and to report suspicious activity to the Traralgon police station.
"Funds are really hard to get at the best of times for different projects, but then you have to turn around and fix up what vandals have done, it just spoils that volunteer effort," Mrs Hoppner said.

Despite damage to the goods shed door, volunteers were able to salvage historic pulleys and latches which once held the door – now reduced to a pile of "firewood".
"You can't even replace that timber, it was specific and hand-built," Mrs Hoppner said.
"We reported the incident to Traralgon police as we do with all vandalism incidents on the trail but unfortunately [they didn't] get the culprits."
With less than a month until the Mother's Day Classic walk and run which finishes at Glengarry, Mrs Hoppner said the vandalism posed a number of safety concerns for the rail trail committee.
"There's hundreds of people who take part in that event and now we have to fix the damage the vandals have done before then because it's a risk management issue for us," Mrs Hoppner said.
"I'd rather put $500 or $600 of work back in the surface of the rail trail rather fix the damage the vandals created."
She encouraged community members and those visiting the area to be vigilant following an incident at the start of the month where a number of "young people" were seen with torches at the station on Friday, April 5 about 10pm.
"That station has sat untouched with no one in it for the last two years. And now we have new people in there who run a gift shop, a nice, brand new business in the town. They, or our community, don't want to see the place wrecked," Mrs Hoppner said.
Traralgon police station acting Sergeant Andrew Purcell said he was unaware of ongoing vandalism at the station, however, encouraged people to keep an eye open.
"People should report suspicious behavior to the Traralgon police station and it would also be of benefit to note descriptions of any suspicious people and registrations and descriptions of vehicles that may be related," acting Sergeant Purcell said.