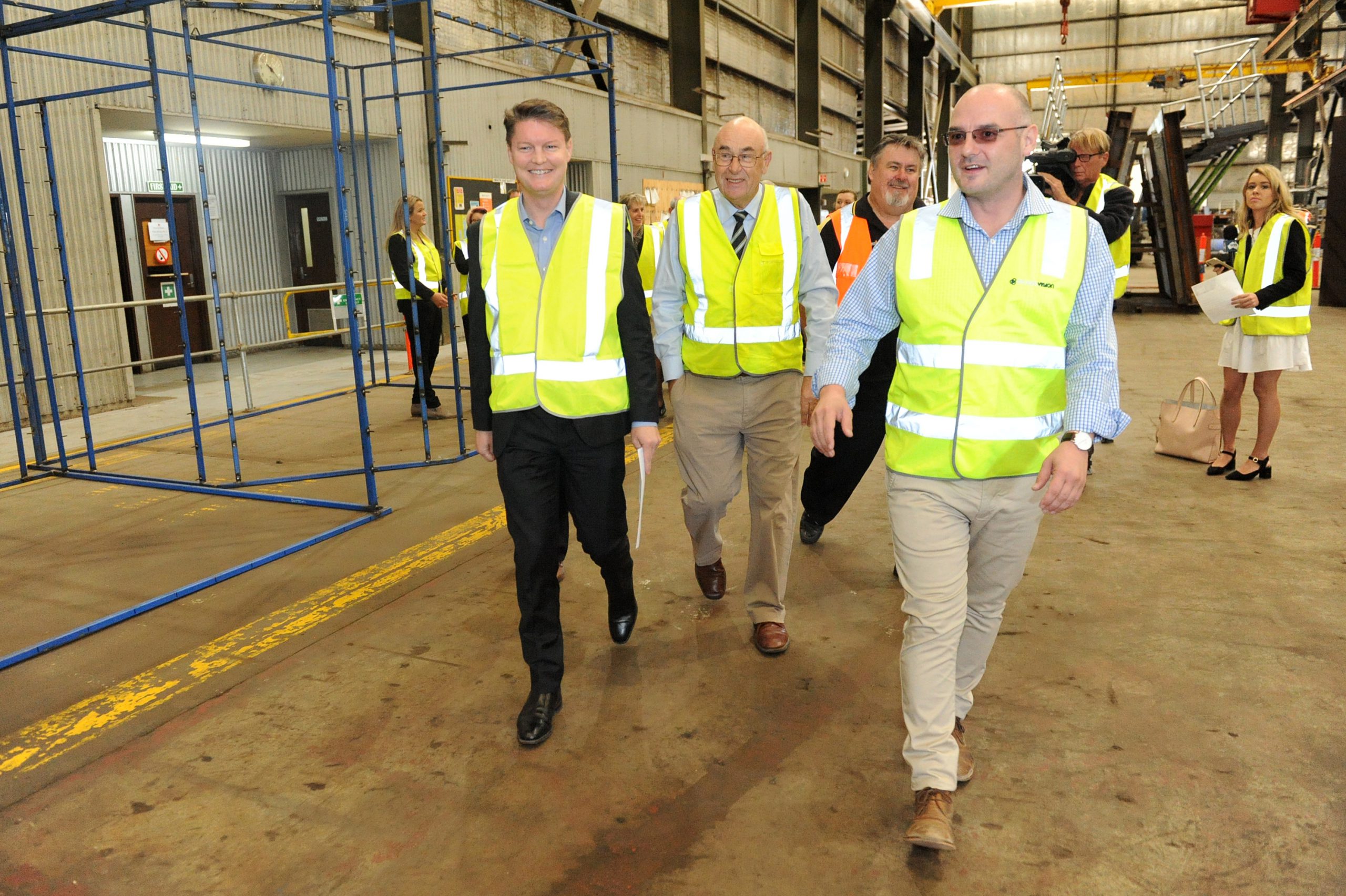 Bryce Eishold
Confidential documents reveal Steelvision sought to shuffle existing employees to its Morwell operation rather than create new jobs for Latrobe Valley workers, despite this being a requirement to obtain hundreds of thousands of dollars in Hazelwood transition funding.

The insolvent steel manufacturing business also requested the state government "pressure" builders to use Steelvision as a contractor to supply pre-fabricated prison cells on two major Victorian prison projects.

Documents obtained by The Express under freedom of information laws revealed emails between the embattled company and Regional Development Victoria, where a senior Steelvision staff member claimed they "could not become fully operational" without financial assistance from the state government.

The Melbourne-based company specialised in manufacturing and installing glass and steel products and relocated its operations to Morwell at the beginning of 2018.
FOI documents show the company sought $650,000 from the state government's Latrobe Valley Economic Facilitation Fund, assistance designed to help create jobs following the closure of Hazelwood Power Station.

Related links:

Steelvision received a first instalment of $400,000 in August 2018 before going into voluntary administration in January and being placed into liquidation in March.

The Express revealed in March the company owed $21 million to more than 400 creditors.

Funding requirements laid out in the government grant agreement state the company had to employ up to 20 new workers by August 30, 2018 to receive the $400,000 payment.
Documents show Steelvision wrote to RDV, the government department responsible for administering the grant, to advise them the company would shuffle 12 existing employees to its Morwell factory in order to meet milestones for its first round of funding.

"For the 20 staff we can use our existing team who are relocated and the new hires …. This means we are up to 12 of the 20 already, good result," an email from a Steelvision employee sent in March 2018 read.

Twenty-four hours after Steelvision raised an invoice for $400,000 in July, a statutory declaration was signed by the company's director which declared the company had employed 20 new staff members for the three-month period ending July 14.
The funding agreement stipulated the company had to create 53 new jobs by August 2021.
In a separate email dated September 4, 2018, a Steelvision staff member claimed the company had achieved its two-year target after employing 40 workers within a six-month period.

The documents show Steelvision was "anxious" to receive its first round of government funding and wrote to the government to request it "pressure" builders to use the company on projects including the Youth Justice Prison at Werribee and the major $80 million extension at Fulham Prison.
In a separate report to Regional Development Victoria, the company highlighted it had failed to secure a "pre-fab prison supply contract for the Malmsbury Prison despite offering 12 cells free of charge … but even this was rejected, as it was deemed as new and risky by the builder," the report stated.

A month later, the state government gave Steelvision $400,000 in taxpayer money.
A spokesman for the state government said it was working with liquidators, former Steelvision workers and suppliers to provide appropriate support, "particularly to employees".
However, it would not comment further as investigations into the funding continued. A review of the Steelvision grant process was due to be released April 12.

Also related:

FOI documents also revealed the company planned to inject up to $3.6 million in capital investment into its Morwell operation, including the purchase of hundreds of thousands of dollars worth of equipment and the purchase of its factory.
The application also laid out plans by Steelvision directors to buy locally from concrete and steel suppliers and to draw on local transport sub-contractors due to the "slowdown" in the timber industry.
In its grant application, Steelvision sought to become a "valued employer" in the Latrobe Valley " and said it would boost other local businesses by purchasing materials and ancillary products locally.
Within a matter of weeks of receiving the funding, the company was brought before the Supreme Court of Victoria to be wound up over unpaid payroll tax concerns.

In January, administrators were appointed and Steelvision's contract to undertake major security upgrades at Parliament House in Canberra was terminated after the company allegedly falsified statutory declarations during the $126 million project.

Employees were locked out of the Morwell factory on Miners Way after Christmas – some owed as much as $30,000 in back-pay and entitlements.
In the lead-up to the company's demise, frustrated Latrobe Valley businesses, who claim they are still collectively owed more than a million dollars, vented their frustration about the state government's decision to fund the company and what they called Regional Development Victoria's lack of due diligence.

Steelvision managing director David Gooley was contacted for comment.

An independent report analysing practices used by Regional Development Victoria to assess, approve and monitor Steelvision's taxpayer-funded grant has been delayed.
The government-commissioned report was due on April 12, however, a spokesman for the minister who requested the report confirmed on Thursday the government was yet to receive the review and investigations were still ongoing.
Victorian Ombudsman Deborah Glass had expected the independent report would be completed more than a week ago, halting calls to launch an investigation into the matter until she had received a copy of the report.
Member for Morwell Russell Northe criticised the government and called on Regional Development Minister Jaclyn Symes to publically release the report once it was completed.
"It's now obviously beyond [April 12] and again we call upon the government to be transparent and provide detail of the terms of reference of that inquiry, who actually undertook that inquiry and to release it publically," Mr Northe told The Express.

"The government should come forward and provide some commentary as to whether this review has been delayed or whether it has been completed and been considered."
A spokesman for the government declined to comment on questions posed by The Express, claiming it was "not possible or appropriate to comment further on the final report at this time".
Ms Symes launched the inquiry after it was revealed Steelvision, a manufacturing company which received Hazelwood transition funding in August 2018, used $400,000 in taxpayer money to pay company debts.
The spokesman said Regional Development Victoria was working with affected businesses to discuss existing government programs that may be of benefit to them.
"We need an independent inquiry and for it to be publicised for the purposes of making sure that whatever the criteria was of that funding program, that it was adhered to and to make sure this situation never arises again," Mr Northe said.