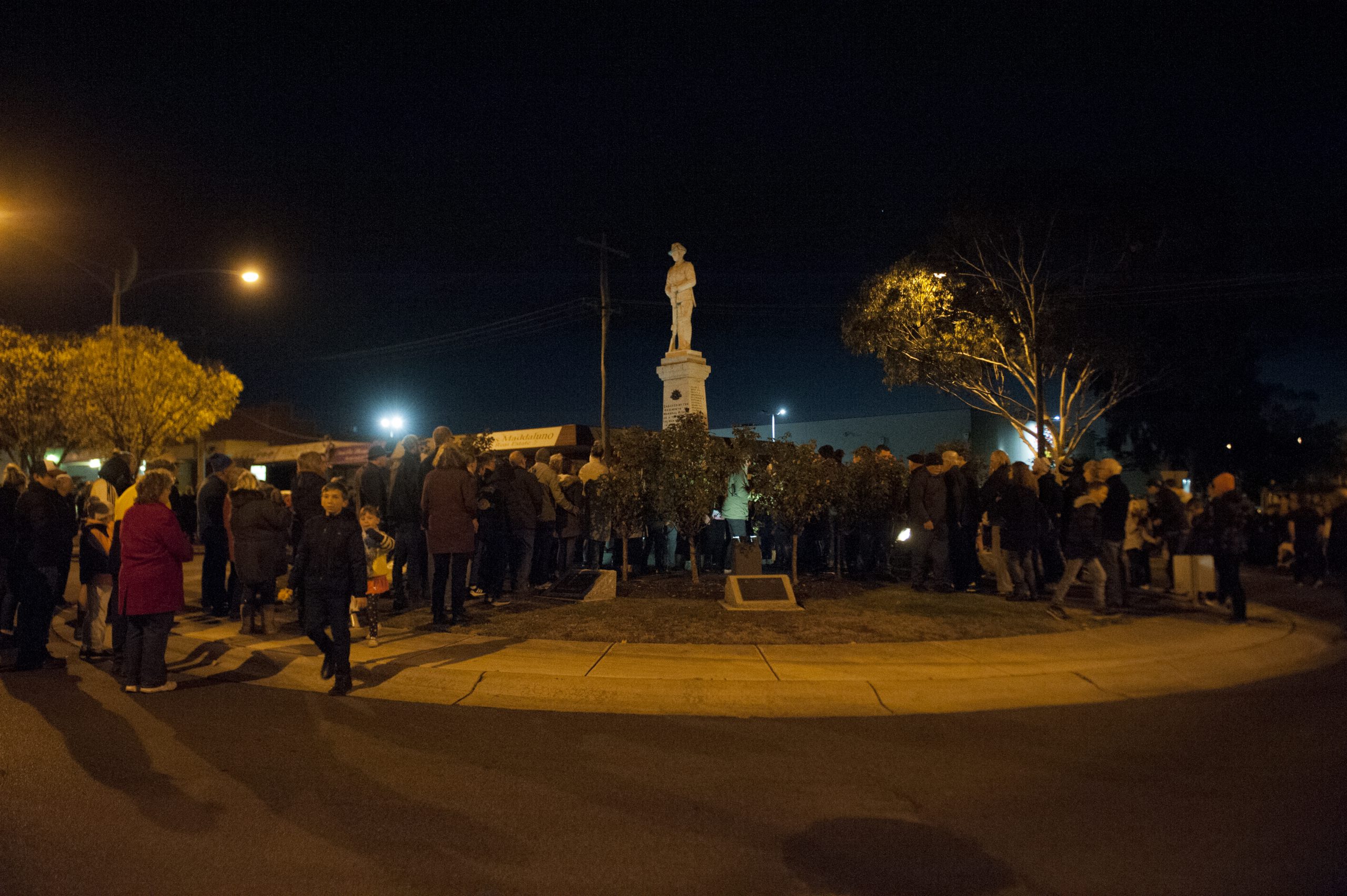 By Bryce Eishold and Anne Simmons
Hundreds of people attended dawn services across the Latrobe Valley on Thursday morning to recognise 104 years since troops first landed on the shores of Gallipoli in 1915.

At Morwell, newly-elected RSL president Wayne Hutchinson emceed his first dawn service where about 400 people attended to pay respects to the nation's veterans.
Mr Hutchinson, who served in the army for four decades and held every rank from private to major, said dawn services across the region had grown in popularity in recent years, mostly due to increasing interest from younger crowds.
"As you can see here today there was 300 or 400 people here and it's great to see people come out and show their respect," Mr Hutchinson said.
"You just have a look around and there's not so many old people now. A lot of the old veterans have passed on but the younger generation are starting to show that they respect our veterans.
"And with the way today's society is, it's important to acknowledge what lucky things we've got and the way we are able to live today. These people forged that."
The day marked 89 years since the first dawn service was held in Albany, Western Australia where about 30 people attended in 1930.
People at most dawn services – including Morwell – had the chance to enjoy a coffee royale, a dawn service tradition, which consisted of a shot of rum in a hot coffee, or sometimes tea.
"It actually warms the body, because as you can see it's fairly chilly outside," Mr Hutchinson, an East Timor veteran, said.
"I did 40 years in the army and it's been a tradition for as long as I can remember, but only at dawn services. In winter, soldiers actually got a rum ration out on the field."
Outside Moe RSL, the new sub-branch president, Steve Mayes welcomed about 300 people gathered under the plane trees for the 6am service.

He reminded the crowd it was 80 years since the start of World War II.
"I always have a bit of a think about the 39th Battalion, the militia unit that actually stopped the Japanese on Kokoda Track. Before they went up there … they'd melt in the heat of battle. But they actually probably saved Australia's bacon," Mr Mayes said after the service.

Mr Mayes said he spent Anzac Day reflecting on his father George and grandfather Joseph Ladd who both served.
"My grandfather was on the Somme in France. He got knocked around pretty badly over there. My dad as a 17-year-old was in the Middle East," he said.
Hundreds in Traralgon met at 6am at the cenotaph on Kay Street for the event Traralgon RSL president Ron Culliver said was always "very moving".
"It must be the time of the day, the bagpiper playing. It's really good," Mr Culliver said.
The sub-branch president, elected for a second two-year term, said Anzac Day was about remembering the sacrifice of those who didn't come home their families.
At Trafalgar, about 300 attended a dawn service and gun fire breakfast at the RSL where an army truck driven by veteran Les Scott in 1969 in Vietnam was on display throughout the day.
Trafalgar/Thorpdale RSL president Ray James said the hall was "bustling" and interest in the service was growing each year, even from younger veterans.
"It is time to reflect on what our Anzacs did and what our service people do this present time. Stop, reflect and spare a thought for them that gave so much for the country," Mr James said.