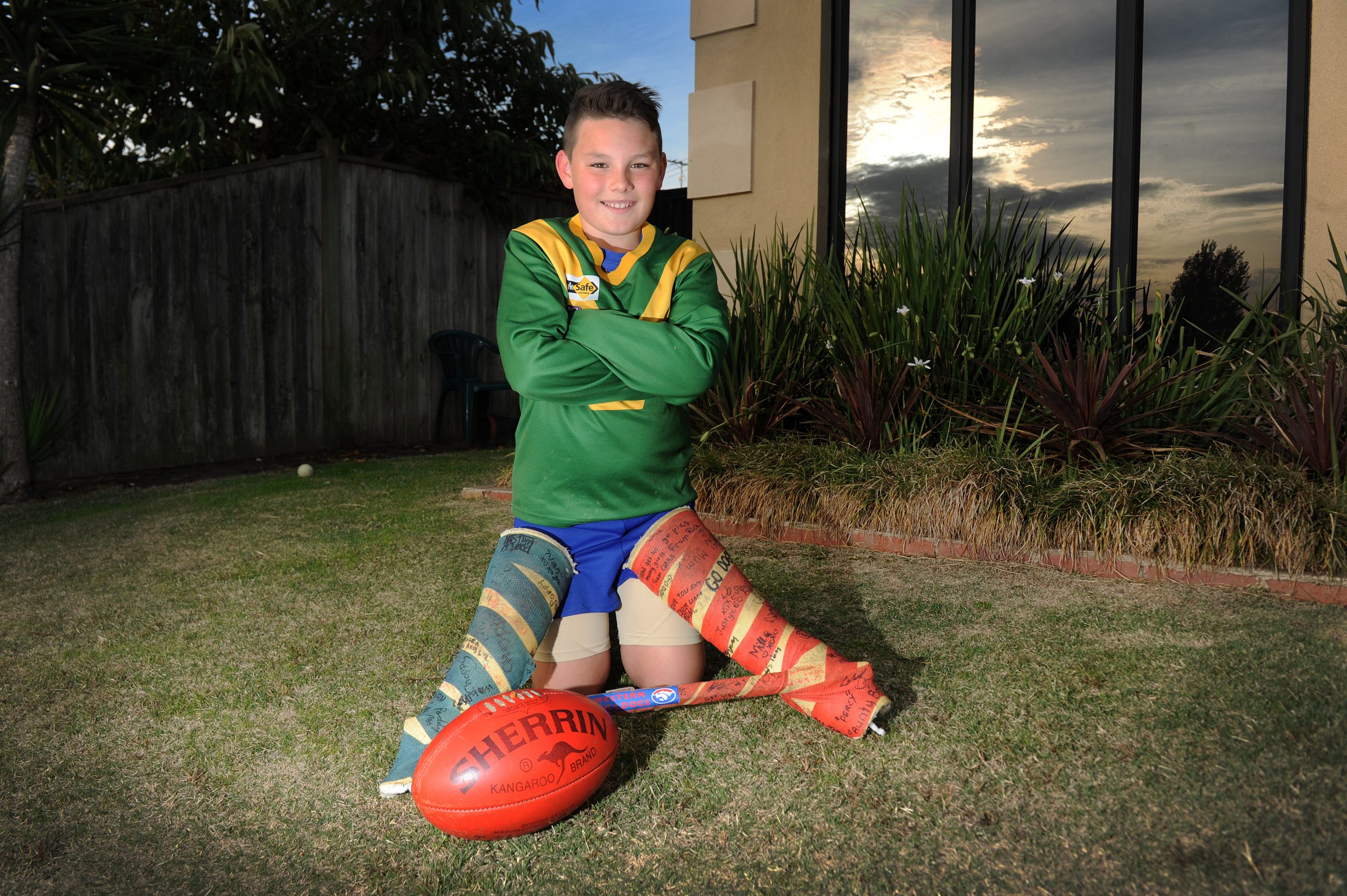 Kate Withers
Every child's first game of football is special but the road to debut for Trafalgar resident Darcy Walsh was more rocky than most.

The 10-year-old Aussie Rules nut was diagnosed with Perthes disease, a childhood hip disorder which stops blood flow to the femur, causing the bone to die and stop growing when he was aged seven.
He underwent three invasive surgeries, spent 12 weeks in a double-leg cast and five months in a wheelchair but never lost sight of his goal to one day play AFL for his beloved Western Bulldogs.
Darcy waited seven long years to take the first step towards his dream and tore through his first banner for Hill End's under 10 side on Sunday in front of a band of delighted family and friends.
"We talked about the moment of him running through the banner lots of times on bad days," mum Naomi said.
"Even when he was going to sleep for his operations that's what we talked about, running through the banner, so that moment was pretty special."
Darcy was restricted to walking for three years while his hip bone regenerated and repaired, a "very tough" sentence for an active, "AFL-obsessed" boy.
"All he ever wanted to do was kick the footy," Naomi said.
"When he was three I used to have to hold a flag up out the back and he'd run through it like a banner … he'd play the game, sing the song and then I'd give him a medal.

"So to have to watch all his mates do what he has wanted to do for years … it was pretty hard."
During the tough times Darcy and family found support in Port Adelaide player Karl Amon, who also overcame Perthes disease.
"When we got home and got over the whole diagnosis we googled AFL players with Perthes disease and there was a boy from Port Adelaide who grew up with it and he had five surgeries and was playing AFL," Naomi said.
"We contacted him through email and he wrote Darce a really nice letter and he's been our motivation."

Darcy was up and walking the day after his final surgery in February last year, determined to heal, and was given the vital all-clear to gear-up for his first game in November.
Captain Darcy's debut, made even sweeter with brother Logan by his side, resulted in a win for the Rovers and the man-of-the-moment showed plenty of promise.
"He went really well. He got lots of touches and nearly got a goal," Naomi said.
"He was waterboy for Hill End and Moe for a couple of years so for him to finally get to play was pretty emotional. We were so proud."
Darcy, who has a lethal right boot and loves to run through the midfield, pulled up well after his debut and will be a regular fixture in the Rovers under 10s this season.