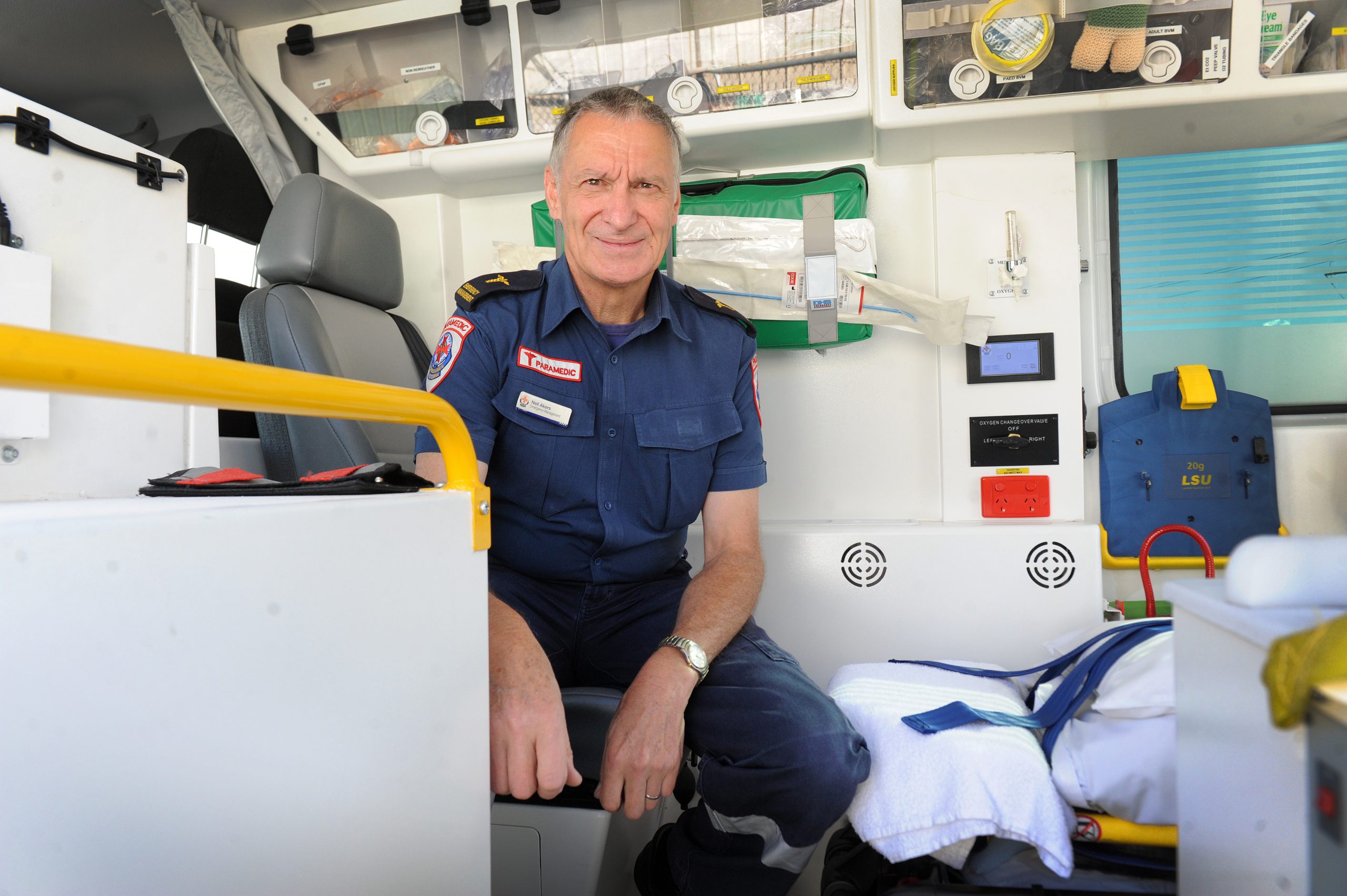 Bryce Eishold
Morwell paramedic Neil Akers will retire after 50 years working for the service, including working as a helicopter paramedic in Gippsland and helping drive Ambulance Victoria's statewide response to major emergencies.

Mr Akers, 67, said the thought of retiring was daunting but satisfying and he would not rule a return to the profession in a part-time capacity in years to come, admitting he may not be able to let it go.
For 30 years of his five-decade career, the grandfather of 11 has worked as part of Ambulance Victoria's emergency statewide response team, and on a number of natural disasters including bushfires and floods.
While part of the role requires him to spend time away from home, there was one major emergency which Mr Akers was able to return to wife Anne at the end of shift; the Hazelwood mine fire where he was in command.
One of his more memorable moments was providing assistance with the emergency response to the Charlton floods, where he oversaw the build of a new doctor's surgery after floods had destroyed the previous medical facilities.
"One day we built a series of tents to form a doctor's surgery and we were fully equipped right down to magazines in the waiting room," Mr Akers said.
However, understandably, the job has a dark side and one of those is responding to incidents of violence.
"The worst of it was the Bourke Street car incident in January 2017, the driver on the footpath – yeah, everyone remembers it. I was the triage officer there so I did the walk from one end right to the other," Mr Akers said.
"I had to assess everyone and determine if they were alive or dead, and if they were alive how serious they were. I'll never forget that day."
One of Mr Akers' more satisfying moments was his first resuscitation of a baby in Morwell in the 1970s.
"The baby had fallen into the pool while the mother was putting clothes on the line," Mr Akers said.
"Knowing I was part of that effort was just wonderful."
Born in Yallourn, Mr Akers spent his early years in Gippsland before moving to South Australia where in his final year of secondary school became a volunteer with St John Ambulance.
He was paid 90 cents a shift, barely enough to cover his bus fare he recalled.
During a visit to his grandmother in Morwell, he dropped into the local ambulance branch to enquire about the cadet program, and after three years of training, he started working as an officer at stations including Warragul and Moe.
"I also worked for a number of years in the 1980s on the Traralgon-based helicopter, which was a great job," Mr Akers said.
He said the biggest change he had seen in five decades was an improvement in training for paramedics and the results of the 2008 merger, which produced a single statewide service.
"There's going to be some travel in my retirement, my wife Anne and I have that in mind, including some caravanning," Mr Akers said.
"I wont be able to stop so there will be community work and perhaps some part-time work in the emergency management sector if I can't let go.
"I'll miss the people I've worked with. They're a wonderful group of people and of course I'll miss the opportunity to serve the community."