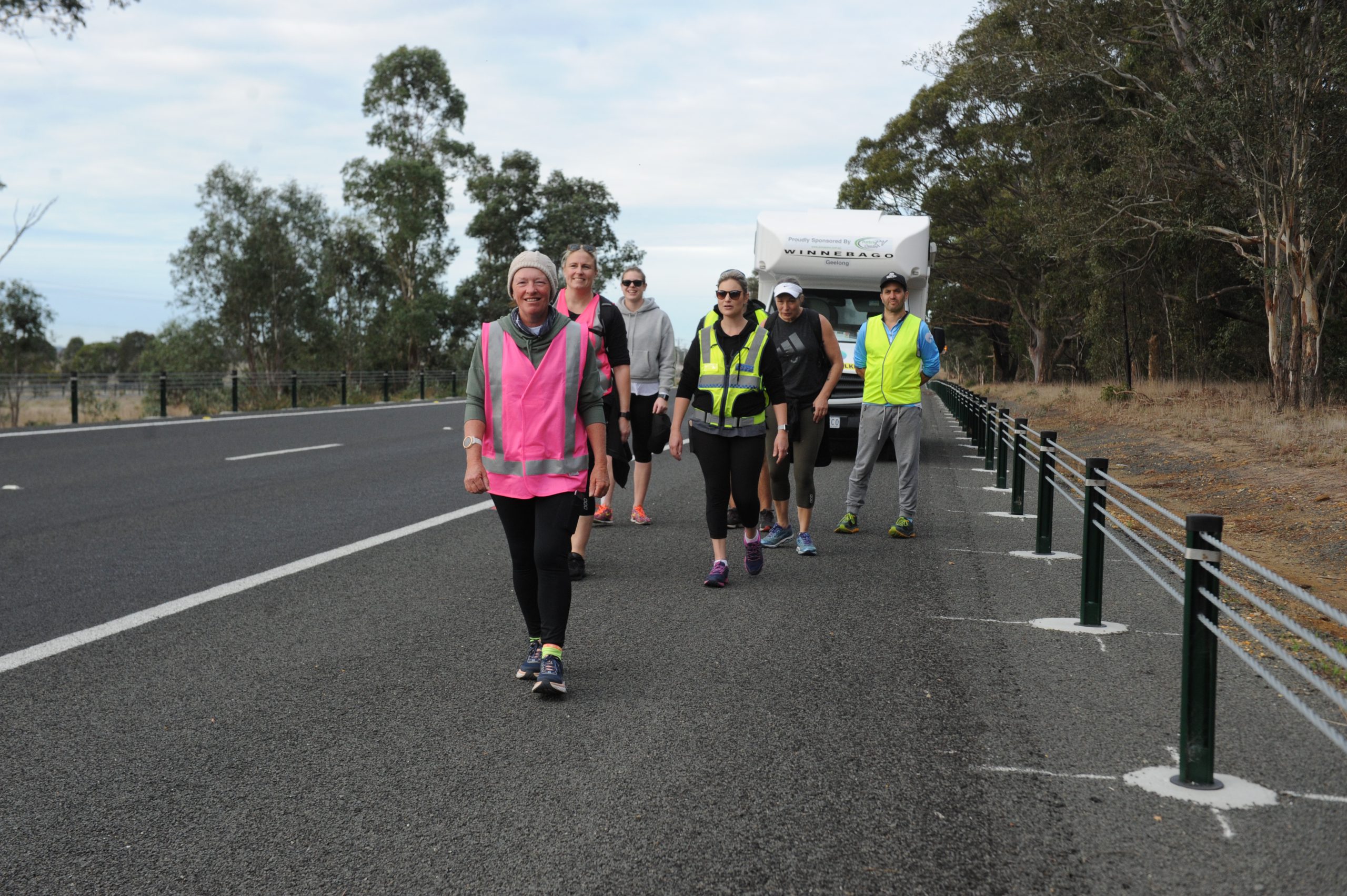 Heidi Kraak
Walking 3000 kilometres around Victoria has, at times, been a lonely journey for Donna Bowman.

However, the road is coming to an end for the Geelong resident, who set out on the trek to raise awareness of the need for people to talk openly about mental health.
The cause is personal for Ms Bowman – just over a year ago, her husband Tony took his own life and Ms Bowman has been living with the "indescribable" trauma ever since.
Ms Bowman was unaware Tony, a retired policeman, was experiencing depression or PTSD prior to his death.

Along her walk, which she has titled Those Left Behind, Ms Bowman has spoken to police and community members in the towns she has passed through about the importance of talking about mental health.
Speaking to a lady along the way who was having suicidal thoughts, Ms Bowman encouraged her to seek help at the local hospital. However, the woman was terrified that if she went to the hospital, people in her small community would learn about her mental health condition.
"That is the message I'm trying to get across – who cares who finds out," Ms Bowman said.
"If she had diabetes, it wouldn't matter if people found out. If she had broken her leg it would be OK – it should also be OK to get help for mental health as well.
"We need to remove that stigma."
Ms Bowman said she was surprised at how supportive police officers she had interacted with along the way had been of her cause.
"I think it has taken me by surprise the support I have gotten from the front line members who are saying 'we really need this'," she said.
"I thought they would be more closed off about it or not what to talk about it."
When she finishes the walk, Ms Bowman hopes to form a taskforce to implement mandatory debriefing in the police force after a critical incident.
"It would encourage them right from the time of the incident to get everyone in a room together and talk about it, and for the ones who don't like to talk, it is showing them that it is OK," Ms Bowman said.
"If they can begin to talk about it and see that everyone is suffering, it is not such a taboo."
Starting in Geelong and stopping in many smaller towns along the way, Ms Bowman has walked to Ballarat, Mildura, Swan Hill, Bendigo, Wangaratta, through the Alpine Ranges to Bairnsdale.
A motorhome driven by volunteers has been travelling with Ms Bowman and she has had people walking with her on some days.